Online Robotics Camp
Young Gates - Kids Online Personalized Classes

Artificial Intelligence with Scratch Online Camp
Young Gates - Kids Online Personalized Classes

Spark Math: Free Trial Class
Virtual
Sign up for our free newsletters.
Things to Do on New Year's Day in Connecticut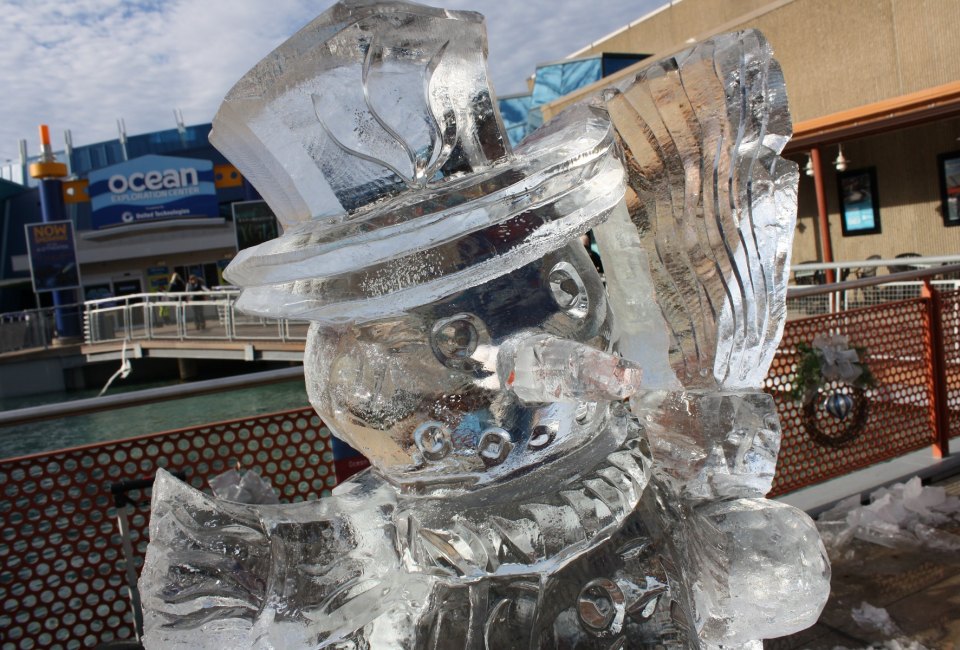 12/25/18
- By
Ally Noel
Sure, you have amazing plans watching the clock strike midnight, but if your kids are anything like mine -- they will still be up at the crack of dawn on New Year's Day looking for something to do. Whether you choose to bundle up and head outdoors, or leave the coats at home and check out an indoor activity, there is plenty of excitement awaiting in every corner of the state. Spend a nice day with your family skating by the Sound, or take in the IMAX at the Maritime Aquarium. From First Day Hikes to the Connecticut cience Center, something on this list will ensure that everyone starts 2019 off right.
Connecticut Science Center - Hartford
Enjoy a day in this amazing science center full of interesting and fun information and activities for the entire family. The usually-tropical Butterfly Encounter will be transformed into a winter wonderland through mid February, and you can also enjoy the Sock Skating Rink until then.
Winterfest Ice Skating - Hartford
Head over to Hartford's Winterfest for free outdoor ice skating (including free ice skate rentals!) from 11 a.m. to 8 p.m. If you work up an appetite, you can grab something to eat at the Channel 3 Kid's Camp Candy Cane Café.
Holiday Light Fantasia - Hartford
Take a drive through Connecticut's annual sparkling attraction at Goodwin Park and feast your eyes upon more than a million lights. Last day open is January 1, 2019!
Talcott Mountain State Park - Simsbury
Go for a hike with your family on New Year's Day and see amazing sites from the top of this mountain. Maybe there will be a fresh coating of snow to make it sparkle. Don't forget to check out these other places to hike as well.
East
Winterfest at Mystic Aquarium - Mystic
Have bubbly with the belugas while watching talented artists chisel away to create ice sculptures. The Mystic Aquarium has a full day of activities on tap including meeting a sea princess and and an ice princess, crafts, face painting, and musical fun.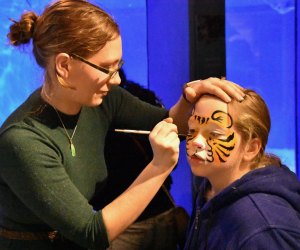 Image courtesy of Mystic Aquarium
New Year's Day Open House at Wadsworth Mansion - Middletown
The Wadsworth Mansion has you set for a day filled with family fun: docent tours, horse-drawn carriage rides, and a concert featuring singer Steve Cleary.
Rocky Neck State Park Hike - East Lyme
This one-hour New Year's Day hike makes for great family bonding time, while allowing sweeping views of Long Island Sound. Suitable for young children. No dogs allowed.
Fairfield County
Maritime Aquarium - Norwalk
Spend the first day of the New Year with the fish at this Fairfield County family favorite. Watch the sharks being fed and witness a seal-training demonstration. As an extra special treat, don't forget to check out Pandas in the IMAX Theater.
Wonderland at Roseville - Fairfield
If you haven't checked out the Wonderland of Roseville, today is your LAST chance! This home is decorated with thousands of lights, nutcrackers, and other collectibles. Lights go on around 5:00 p.m.
Westport PAL Rink at Longshore - Westport
Skate in to the New Year with a view. Enjoy panoramic views of the Sound while gliding cross the ice at this outdoor rink. Open skate starts at 12:45 p.m. and runs until 3:45 p.m.
Photo courtesy of Westport PAL Ice Rink
Litchfield County
First Day Hike - Burlington
Meet at the kiosk in the Sessions Woods parking lot at 10 a.m. for this 5.5 mile hike through the Great Wall and Beaver Marsh.
New Year's Day Hike - Ansonia
This free program will give you a healthy start to the new year and teach you a little history trivia along the way. Pre-registration is required.
New Haven Area
Festival of Silver Lights - Meriden
This is the last day to enjoy more than 350,000 twinkling white lights wrapped around more than 200 figures and buildings.
First Hike Day - Killingworth
​Start the new year off right with a moderate 2.5 mile hike through Chatfield Hollow State Park. Brings snacks and water. Friendly dogs are welcome, but must be leashed.
Happy New Year!
Cover photo courtesy of Mystic Aquarium.
Originally published 12/21/7.
​