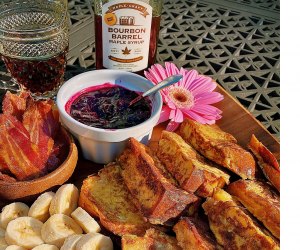 Mother's Day Brunch or Dinner Delivery and Takeout in Connecticut
Mother's Day festivities might be different this year, but being housebound doesn't mean moms need to deprive themselves of a special brunch or dinner. Connecticut restaurants and catering companies are giving mom a break from kitchen duty with takeout meals, from mimosa kits to DIY bacon, egg, and cheese sandwiches, that can be delivered or picked curbside.
Along with a special brunch or dinner, these homemade Mother's Day cards are sure to complete mom's special day.
Delivery
For those of you who like a good DIY, Maple Craft Food is delivering the ultimate Connecticut care package for moms across the country. Choose from a variety of options that include pancake mix, fresh challah from the Blue Colony Diner, and locally roasted coffee. Order by May 6.
Curbside pickup
The Griswold Inn has been serving meals since revolutionary times, so you know a pandemic can't stop this restaurant from getting food on the table! The special Mother's Day Menu includes fully cooked family-style options, like tenderloin and roast chicken. Order by May 5.
Curbside pickup
Hub & Spoke is dishing up a delectable Mother's Day meal this year. For $126, you will receive a french toast bake, deviled eggs, fresh fruit, house-made cream puffs, and more. Add on a mimosa or bloody mary kit to give mom the full "Mother's Day" experience. Order by 8pm on May 6.
Delivery
You don't even have to leave the house to enjoy this Mother's Day treat. Fortuna's Catering Co. is delivering an entire meal plus a bouquet of flowers. Order by May 6.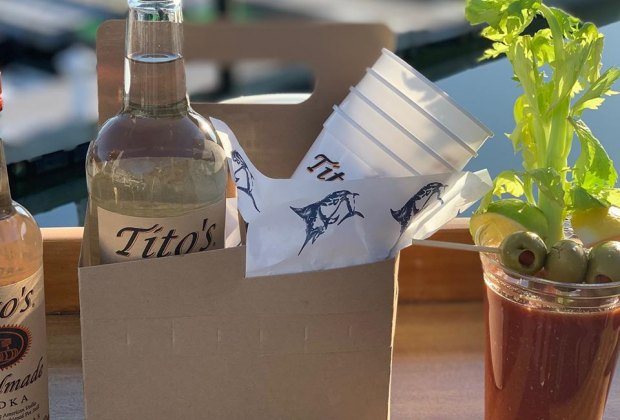 Rowayton Seafood is preparing "cocktail boxes"—including a Bloody Mary box—to order with to-go brunch. Photo courtesy of Rowayton Seafood
Curbside pickup
Delight mom with an indulgent brunch from Rowayton Seafood. Brioche french toast, crab quiche, caviar, and specialty "cocktail boxes" will all make mom feel like a million bucks. Order by May 8.
Curbside pickup
Westport's The Pearl always serves up a delicious Mother's Day brunch, and this year is certainly no exception. You can order ready to heat or eat for curbside service. The menu includes a choice of two appetizers, three entrees, side dishes, and dessert. Order by May 6.
Curbside pickup
If mama craves bacon, egg, and cheese then SoNo Bakery is your spot! Pick up a "BEC Kit" from its storefronts in Darien and Southport and make mom the perfect breakfast in bed. The bakery is open daily from 8am to 3pm.
Curbside pickup
Let Rooster Co pack the most perfect picnic to celebrate mom. Treats include quiche Lorraine, fresh fruit, and carrot cake. Order by May 8.
Curbside pickup
Get Mother's Day To-Go from the Union Kitchen in West Hartford. For $135, its prix fixe menu offers a choice of protein, sides, and dessert. Order by May 7.
Curbside pickup
The Boathouse offers several a la carte options from its special brunch menu for Mother's Day. Orders must be placed by 5pm, May 7.
Curbside pickup
Positano Restorante is offering two different menus for mom to enjoy, and each package comes with a complimentary flower bouquet. Order by May 7.
Pickup
Prix-fixe family-style brunch to go features strawberry ricotta brioche french toast and heart-shaped quicheTiffa. Order by May 7.
Curbside pickup
In addition to its superb take out menu, the White Hart will be offering a special menu just for mom. Let mom indulge in lobster rolls, asparagus and ricotta tarts, topped off with rhubarb and strawberry galettes for dessert. Yum!