Apple Picking Orchards in the New Haven Area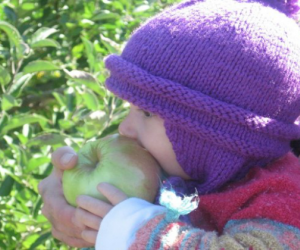 There's something about the way the air feels as summer fades to autumn that is uniquely New England. It's that time of year when we begin to break out hats and scarves and crave warm drinks on nippy days. One of our favorite fall activities is apple picking and the New Haven area surely doesn't disappoint when it comes to Pick Your Own orchards. In fact, the whole state is spilling over with fresh fruit just waiting to be harvested. Find an orchard near you in our CT Apple Picking Guide. And not to worry if your apple harvesters go a little overboard, we have some awesome recipes to help you turn your autumn bounty into a fruit-filled feast.
Bishop's Orchards
Family owned since 1871, Bishop's offers 110 acres of apple crops. During the off-season find fresh apples at the farm store or PYO at three orchard locations when the time is right. Bishop's provides bags at no cost and on weekends enjoy a tractor ride to the orchard. An entrance fee applies on weekends in addition to the cost per pound of fruit picked. Call Bishop's information line before heading out to the orchard (203) 458-PICK.
Belinsky Farm
Small, scenic, and brimming with PYO apples, Belinsky Farm has PYO hours from 9 am-5 pm on weekends. For weekday hours, call ahead.
Drazen Orchards
Stroll the scenic acres of this Cheshire farm, bring a picnic to share under a shady tree, and pick your own apples all season long. On weekends enjoy a wagon ride. PYO guests are asked to finish up their harvest by 6 pm. Crops vary season to season, always call before you go.
Hickory Hill Orchards
Now in their 40th year, Hickory Hill Orchards in Cheshire offers more varieties of apple than you may have even heard of. Farm stand hours are 9:30 am - 6:00 pm and PYO apple orchards opened for the season in August with early varieties. Call ahead to ensure your best experience.
Norton Brothers Fruit Farm
Monday-Friday, from 8:30 am-5 pm, and Saturday & Sunday from 9 am-4:30 pm PYO at this Cheshire farm. Visit the farm market loaded up with fresh produce and other goodies.
High Hill Orchard
Offers PYO and fresh apple cider Fridays from 12:00 pm-6:00 pm and Saturday & Sunday 10:00 am-5:00 pm. The farm is closed Monday through Thursday.
Rose Orchards
Located in North Branford, Rose Orchards offers seasonal PYO as well as a farm market and a creamery serving up old fashioned frozen custard.
Blue Hills Orchard
Sells freshly harvested fruits from their orchards. There is no PYO option, but this farm merits a mention all the same. On weekends beginning at the end of September enjoy hayrides around the property for $5 per person. Kids age four and younger ride fore free. Seasonal fruit served along the route which lasts about 45 minutes.
Lyman Orchards
Centrally located in the middle of the state, is a large and popular orchard with amazing views. PYO is open daily from 8 am-5 pm. Apples are $1.50/lb. You can sign up on their website for "pick your own alerts" so that you never miss a fruit season. Also check out the Apple Barrel market, open daily from 9 am-6 pm, featuring fresh local fruit, baked goods, and specialty items.
Photo courtesy of Julia Tolstrup.
Originally published 9/15/15.