Best Things to Do in Connecticut's Coastal Town, Niantic
6/12/17
- By
Jennifer Coe
As you approach Niantic on the highway, you can begin to smell the fresh sea air. Niantic is one of several little sea towns in Connecticut that will make you wonder if you are still in the same state. Filled with history, cute little shops, places to eat, and places to play, including a great children's museum - it's a great day trip.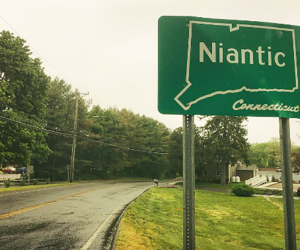 Photo by o__d__p via Instagram
Our day in Niantic always starts with a stop to our ultra-favorite book store, the Book Barn. this crazy, eclectic, and interesting place has become popular within all sorts of circles and especially with kids. We always stop by to pet the animals and take in a quick game of chess. This time we also checked out their playground and petted some of their friendly book-cats. Book Barn has 4 (they says 4.75) locations to choose from but for families the two locations to hit are the main barn and the midtown shop. The main barn has all the fun places to play and the midtown shop has all of the children's books.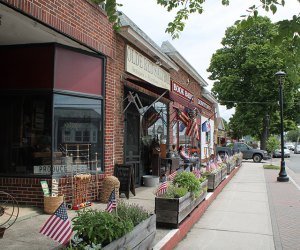 Cute little shoppes line Main Street.
Book Barn, 41 West Main Street, Niantic CT 06357 860-739-5715
After Book Barn, take a stroll down Main Street. There are a few little places that mommies and daddies would love, but there are also a few that the kids will want you to stop at. Niantic Cinema, located right on Main Street, is an old fashioned looking movie theater. You can't miss it because of the big Charlie Chaplin face on the outside. Niantic Cinema plays first-run and second-run movies and all seats are just $6.00!
Niantic Cinema, 279 Main Street, Niantic, CT 06357 860-739-6920
Across the street is Guiliano's Bakery. The big, fluffy bread they have in the window will entice you to step inside. Once you are inside, somebody will want you to get a fresh bagel, cookie, or pastry. On a nice day, there are little cafe tables outside for you to sit and enjoy your treats.
Guilianos Bakery, 284 Main Street, Niantic, CT 06357 860-739-5495
If the kids are starting to get hungry, you can stop by some old familiars like Subway (like we did), Dunkin Donuts, or go local and eat at Family Pizza, Smarty's, or the Hartford Giant Grinder Store.
Family Pizza, 233 Main Street, Niantic, CT 06357 860-739-0466
Smarty's, 215 Main Street, Niantic, CT 06357 860-739-8818
Hartford Grinder Store, 8 Hope Street, Niantic, CT 06357 860-739-3181
After lunch, when your energy has rebounded, walk back down Main Street and discover a terrific little place called the Niantic Children's Museum. This is a go-to spot for kids to stretch out and play. Enjoy the Imagination Station where kids can play with gigantic blue foam blocks, or stop by the Discovery Room where you can say hello to a tortoise or lizard. If you want to make this the highlight of your visit, check their calendar for different monthly events.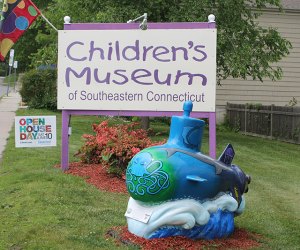 Children's Museum of Southeastern Conn. is a guaranteed good time for your younger kids.
Children's Museum of Southeastern Conn, 409 Main Street, Niantic, CT 06375 860-691-1111
Down the street from the museum is Niantic Toy Shop.
Niantic Toy Shop, 377 Main Street,Niantic, CT 06357 860-739-0600
And of course, before you leave, take a stroll on the Niantic Boardwalk. This is an easy stroll right next to the beach, and yes, you can access the actual beach from here. You will see amazing scenery and the kids will connect with nature. You may even see a train go by.
Niantic Boardwalk, 30 Main Street,Niantic, CT 06357
At the end of the day, when your kids are getting tired, there is one more place you must stop by before leaving Niantic. Gumdrops & Lollipops Candy, Ice Cream and Diner. Just the outside of this place looks so fun! It is a 1950's themed ice cream shoppe. They offer sundaes, floats, shakes, cupcakes, and classic diner food. The perfect way to end a pretty perfect day trip to Niantic.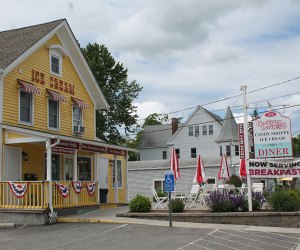 Get an ice cream sundae or crunchy French fries at this great little place to stop.
Gumdrops & Lollipops, 334 Main Street, Niantic, CT 06357 860-739-7800
All photos by Jennifer Coe except where noted
Cover Photo by stephaniemariax via Instagram ​
Sign up for the Mommy Poppins Newsletter today!