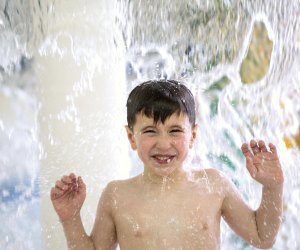 25 Things To Do with Toddlers in Fairfield County
When you are looking for something to do with your toddler, there are two priorities: that your child will be allowed to touch things and that you don't have to drive too far to get there. There is nap time to think about! Below are twenty-five awesome places to take your little ones before they start Kindergarten. For further reading, don't forget to check out 120 Things to do with Kids Before They Grow Up!
1 - Visit the Bruce Museum Seaside Center - Greenwich
Located at the Innis Arden Cottage in Greenwich Point Park, this beach-side museum educates visitors on all things Long Island Sound. Toddlers love the touch tank and animal feedings and you'll love the family friendly activities scheduled throughout the week. There is no admission charged to visit the seaside center, but from May thru October, residents and non-residents alike need a beach pass from the Town of Greenwich to enter the park.
Bruce Museum Seaside Center, 1 Museum Drive, Old Greenwich, CT, 06870. 203.869.0376
2 - Check out the Hilfiger Children's Learning Center at the Audubon - Greenwich
The Hilfiger Children's Learning Center is an indoor playspace. It is a very toddler friendly play space with a puppet theater, hands-on nature-themed exhibits and a working beehive (behind plexiglass, of course). Kids can explore and use binoculars to look through the wildlife observation window and learn about bird species. You can also take a nature walk along the many paths in the 285 acre nature sanctuary.
Audubon Greenwich, 613 Riversville Rd, Greenwich CT, 06831, 203.869.5272
3 - Make a splash at the Splash Zone Indoor Water Park at Chelsea Piers CT - Stamford
Come and frolic year 'round, rain or shine, in this 6000 square foot mini water park inside the Chelsea Piers CT sports complex in Stamford. Toddlers can splash around and enjoy a zero-depth entry into warm water and head towards little slides and spray features and older siblings who are taller than 42" can climb the 18 foot tower to plunge down the 3 amusement park style water slides.. Reservations recommended, especially on weekends.
Splash Zone at the Aquatics Center, Chelsea Piers Connecticut, 1 Blachley Rd, Stamford CT, 06902, 203.989.1000
4 - Meet Bert and Sadie the Otters at the Stamford Museum and Nature Center - Stamford
Bert the otter just had a new friend join him, Sadie. Come and see these playful, active characters who live at the Stamford Museum and Nature Center. Little kids love to see the flock of friendly, free-range Guinea Fowl who hang out on the farm. Don't miss the Wheels in the Woods nature trail, which is a stroller friendly boardwalk which takes you on a path through the woods.
Stamford Museum and Nature Center, 39 Scofieldtown Rd, Stamford CT, 06903, 203-322-1646
5 - Sample authentic Italian gelato at Gelatissimo Artisan Gelato - New Canaan
We can't think of a better and more delicious way to expand your toddler's palate than tasting different flavors of gelato. This rich and creamy frozen treat is made fresh daily at this gem of a store in New Canaan. The gelato flavors rotate daily, with flavors such as apricot, fig, blood orange, and chocolate chip. They also offer made-to-order crepes.
Gelatissimo Artisan Gelato, 25 Forest Street, New Canaan, CT, 06840, 203-966-5000
6 - Ride the double-decker carousel inside the Danbury Fair Mall - Danbury
Carousels are fun, but this one is special since your little ones have the option of going up to the top level of the carousel to choose their horse to ride. It's a beautiful, ornate and well-maintained ride which operates year round. Many of the horses and chariots rock, instead of going up and down, which may provide a gentler experience for toddlers who find the experience a little overwhelming. $2 per ride.
Double Decker Carousel, Danbury Fair Mall, 7 Backus Avenue, Danbury, CT, 06810, 203-743-3247
7 - Visit the Little Farm at Stew Leonard's - Norwalk
This seasonal attraction features baby farm animals in an enclosure next to the entrance of Stew Leonard's fabled supermarket and garden center. Children can see baby goats, sheep and cows and press a few buttons to hear songs. You have to buy groceries anyway, so why not?
Stew Leonard's, 100 Westport Ave, Norwalk CT, 06851, 203-847-7214
8 - Ride the rails at the Danbury Railway Museum - Danbury
If you have a train-obsessed toddler, then you'll love taking a ride on the Railyard Local at the Danbury Railway Museum. This 20 minute ride takes you on a tour of the railyard and includes a spin around their working turntable. Admission to the museum is $6 for adults, $4 for children 4-12 and children 3 and under are free. Train rides are an extra fee of $3 and these trains run on weekends and during special events, see website for details.
Danbury Railway Museum, 120 White Street, Danbury CT, 06813, 203-778-8337
9 - Drop in and play at Tot Town Party & Play - Brookfield
This happy, bright indoor playspace is geared towards kids 8 and under, but it's especially great for toddlers. Open 7 days a week, kids in Northern Fairfield county have a space to play, imagine and create. Toddlers will love all of the pretend play stations like dress-up, a beauty salon, a kitchen, workbench and supermarket.
Tot Town Party & Play, 14 Del Mar Drive, Brookfield, CT, 06804, 203-885-0554
10 - Catch a fish at the Great Hollow Pond Trout Park - Monroe
A Trout park is a pond or stream that is stocked with trout from the state's fish hatcheries. Easily accessible and full of fish, these locations are great for a child's first fishing experience. The nearby playground is great for post-fishing fun. You can't fish until the fishing season opens in April, but you can always sign up for a free Youth Fishing Passport online.
Great Hollow Pond William E. Wolfe Park, 285 Cutlers Farm Road, Monroe CT, 06468, 203-452-3768
11 - Pick-Your-Own berries at Jones Family Farm - Shelton
Fairfield County is full of farms that offer families the chance to pick their own berries, apples, peaches and pumpkins. Jones Family Farms is easy, you can park very close to the fields and the Berry Ferry will give you a ride the rest of the way during strawberry and blueberry season. Call the crop line before heading out for more details.
Jones Family Farm, 120 Beardsley Rd, Shelton, CT, 06484, Farmer Jones Crop Line - 203-929-8425
12 - Check out Tot Town at the Stepping Stones Museum for Children - Norwalk
Stepping Stones is a terrific, educational children's museum. Tucked inside the larger exhibition space, you'll find Tot Town which is a separate, contained, safe play area for babies and toddlers.
Stepping Stones Museum, 303 West Avenue, Norwalk, CT 06850 203-899-0606
13 - Learn about the stars at the Discovery Museum and Planetarium - Bridgeport
This museum has a lot to offer little kids. Never mind that kids get to investigate the solar system on a six foot diameter globe, they also get to try all kinds of hands on learning, check out the Moonbase and take their picture in a full-size replica of a spacesuit that astronauts have worn. On the upper level, there is a section called 'preschool power' where little ones can play in a soft, contained space.
Discovery Museum and Planetarium, 4450 Park Avenue, Bridgeport, CT 06604 203-372-3521
14 - Get out into nature at Earthplace - Westport
Learn all about nature at Earthplace in Westport. Check out Natureplace where hands-on learning is the goal. Children can learn about ecosystems, wildlife and the seashore as well as get up close at the Animal Hall and Birds of Prey exhibit. When you're done inside, there are 62 acres of trails to check out. Earthplace offers many Pre-K programs on a regular basis.
Earthplace, 10 Woodside Lane, Westport, CT 06880 203-227-7253
15 - Check out Ridgefield Playhouse Ridgefield Academy Family Series - Ridgefield
The Family Series is a special way to introduce live acting to your little ones. Seasonal shows like the Nutcracker and Dickens are part of a well-rounded series designed for kids. The 2017 season will include Broadway for Kids! and Mutual of Omaha Wild Kingdom.
Ridgefield Playhouse, 80 East Ridge Road, Ridgefield, CT 06877 203-438-5795
16 - Indulge your sweet tooth at MacKenzies Candy store - New Canaan
Stop by MacKenzies for a tasty treat! They have everything from fancy chocolates to 110 jars of fun, colored sugary confections.
MacKenzies, 7 South Avenue, New Canaan, CT 06840 203-972-1277
17 - Trumbull Nature and Arts Center - Trumbull
Come visit the butterfly garden, explore natural habitats, play on a playscape, picnic, catch frogs and enjoy the outdoors. This center also has regular programming and all-ages hiking events.
Trumbull Nature and Arts Center, 7115 Main Street, Rt. 25, Trumbull, CT 06611 203-452-4421
18 - Shake all the wiggles out at Fun Factor - Brookfield
Every kid needs to work out their energy sometimes and at Fun Factor, your littles may actually come home with a little bit more! Bounce houses, arcade games and a great location for a high-energy birthday party.
Fun Factor, 1106 Federal Road, Brookfield, CT 06804 203-546-8470
19 - Spend some time with animals at Castle Hill Farm - Newtown
What toddler doesn't love holding a chicken or petting a sheep? Castle Hill Farm You and your toddler can even foster a chicken for them! They also offer seasonal annual corn maze, hay rides and pumpkin picking. Kids three and under are free!
Castle Hill Farm, 25 Sugar Lane, Newtown, CT 06470 203-426-5487
20 - Practice gross motor skills at Rockin' Jump Trampoline Park - Trumbull
This trampoline park offers Rockin' Tots, a time for little people to bounce and bounce - which of course will mean awesome nap time. Rockin' Tots is a dedicated time when you can jump with your preschooler. Held several times a week, you and your child (up to age six) can jump for $15.
Rockin' Jump Trampoline Park, 25 Trefoil Drive, Trumbull, CT 06611 203-880-5577
21 - See things you have never seen before at Beardsley Zoo - Bridgeport
Every child has to make a visit to Connecticut's premiere zoo. Kids will be treated to a true Zoo experience and see reptiles, birds, mammals and insects. Come and see interesting animals such as the Red Panda and the Amazon Boa. Beardsley runs a Zoo Tots program twice a month where children ages 2 to 4 are able to enjoy activities, crafts and "not scary" animals.
Beardsley Zoo, 1875 Noble Avenue, Bridgeport, CT 06610 203-394-6565
22 - Meet sharks, seals, otters and more at the Maritime Aquarium - Norwalk
Kids can touch a sting ray, learn about terrapins, jiggle with a jelly and frolic with a frog at this amazing 140,000 square foot complex. Children will enjoy the 177,000 gallons of water and sea exhibits including a new coral reef exhibit. The Aquarium has over 3,000 marine animals and reptiles on site.
Maritime Aquarium, 10 North Water Street, Norwalk, CT 06854 203-852-0700
23 - Experience history at Sherwood State Park - Westport
Sherwood Island is Connecticut's very first state park! Bring a picnic lunch for you and the kids and view marsh life from their observation platform. Swimming is available as well as a nature center at this 235 acre location. Learn more about it's history by visiting the Friends of Sherwood Island State Park website before you come.
Sherwood State Park, Sherwood Island Connector, Westport, CT 06880 203-226-6983
24 - Learn all about nature at Webb Mountain Discovery Zone - Monroe
The Discovery Zone has 171 acres for families to explore nature together, for free! Walk one of the three trails on-site and look for salamanders and frogs. The nature center has a scavenger hunt for families to follow with 27 different learning stations.
Webb Mountain Discvoery Zone, 71 Webb Circle, Monroe, CT 06468 203-556-9737
25 - Create a work of art at Hands on Pottery - Fairfield/Darien
What grandparent doesn't love to have something handmade by their grandchild? At Hands on Pottery, you can help your toddler make a one-of-a-kind creation to share with a family member. There is an $8 studio fee plus the cost of the piece you choose to paint.
Hands on Pottery, 1700 Post Road, Fairfield, CT 06824 203-319-1273
Photo Credit: Splash Zone
Originally published 4/15/15.