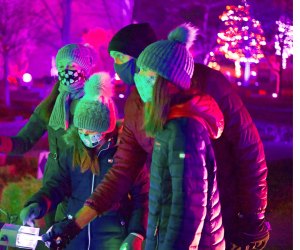 Best Things To Do in Chicago in January with Kids: New Year's Eve, MLK , Jr. Weekend
2020 has (mercifully) come to a close! Whether your family is a group of winter warriors or more into cozying up at home, there's something for everyone to enjoy this January. While many venues are still closed, families can bundle up and do tons of fun things outside with kids in Chicago. Kids can listen to a story presented by the Chicago Children's Theater while taking a guided walk in several neighborhoods, or wander through one of these light shows (before they vamoose like 2020). Outdoorsy families might enjoy some pond hockey at The Forge's Winter Classic Shinny Tournament, or take advantage of the chilly weather for some ice skating, skiing, or snowboarding.
When you need a break from the cold, reserve a time slot for an indoor play space in Bucktown or on the South Side. Or simply stay home and watch the Rose Parade or enjoy a virtual presentation of The Snow Queen.
This is the month when we kick off a new year with celebrations from all around the world, send the kids back to school (however that may be), honor Dr. Martin Luther King, Jr., and even watch history happen as a new President is sworn in. January is giving families an action-packed start to what promises to be a much better new year.
While we are trying to promote safer activities that occur outdoors or with social distancing guidelines in place, please keep your family and others safe by always wearing a mask and maintaining appropriate distance. If you arrive at an event that appears too crowded, try using the "nearby" search feature on our event calendar to find something else to do.