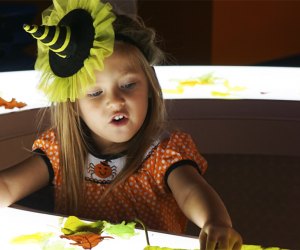 Best Things To Do in Chicago in October with Kids: Halloween, Fall Fests, and Outdoor Fun
Halloween plans may be up in the air, but there are plenty of fun activities on the docket for Chicago area families this October. We still have apples and pumpkins to pick; there are scarecrow related activities in Lisle, Downers Grove, and St. Charles, and kids can check out a variety of Jack-o-Lanterns in Geneva or Glencoe. The weather is even still right for a boat ride or a local hike.
Of course, we've got you covered for Halloween events, too. If door-to-door trick-or-treating isn't an option, consider a trunk-or-treat in River Forest or Naperville, or haunted trail events in Glen Ellyn or Itasca. And if you're more comfortable staying in for the holiday, we have some fun Halloween games to recommend.
There's so much going on this month, though, you're definitely going to want to pop on a seasonal face mask and head out to indulge in a little October fun!