Camps, Activities, and Free Transport for Kids During the Chicago Teachers' Strike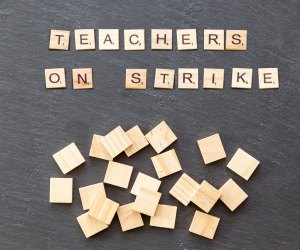 Chicago families in need of childcare solutions during the teachers' strike, take heart: There are some great resources, camps, and activities available. We've rounded up some helpful information for Chicago families affected by the strike, as well as options for day-off camps and activities. We'll keep this list updated as the strike continues.
Free Resources for Families During the Chicago Teachers' Strike
Chicago public schools are not in session while teachers are on strike, but Chicago school buildings will remain open and will even serve breakfast and lunch to students. Principals and non-union staff will provide supervision and activities during school hours.
CPS has also provided a contingency site locator where parents and caregivers can find schools, centers, and other facilities offering a safe place for kids during school hours—with almost 700 locations sortable by grade level and location type. Libraries and parks are open, and the CTA is providing free rides to students during the strike.
Camps and Activities for Kids During the Chicago Teachers' Strike
The Mommy Poppins Calendar is always full of great things to do with kids, many of which are free. For those parents who can't take off work, the following local businesses are also providing day camps during the teachers' strike that promise to keep kids engaged and learning.
Chicago Children's Theatre —West Loop
Kindergarten through 5th grade
Kids can let out their inner thespians at the Chicago Children's Theatre, where activities include acting, singing, puppet making and performance, choreography, design, and collaborative storytelling.
Green City Explorers Club — Bucktown
Ages 4-10
Green City Explorers Club teaches little ones about sustainability while they explore the outdoors and enjoy a variety of hands-on projects, games, and themed-activities.
Kids Science Labs — Roscoe Village, South Loop, Lincoln Park, Northbrook, Vernon Hills, Naperville/Wheaton
Ages 4 and up
Kids Science Labs will keep your little scientists busy all day with fun, hands-on experiments and activities.
The Kids Table — Lakeview and Wicker Park
Ages 4-10
The Kids Table will put your kids to work in the kitchen, teaching them valuable life skills they can be proud of, and (hopefully!) making them a little more helpful at home.
The Laboratory Chi — Lakeview
Ages 6-12
At The Laboratory Chi, your kids can have a blast building a robot out of LEGOs, learning valuable critical thinking and problem solving skills through science and math.
Music House School of Performing Arts — Humboldt Park, West Rogers Park
Ages 3.5-11
Music House School of Performing Arts teaches performance and visual arts to kids, including dance, hands-on musical instrument instruction, theatre and improv games, and creative art projects.