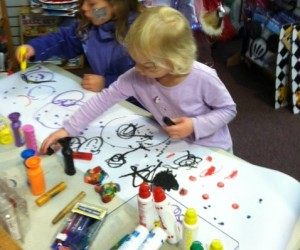 Arts & Crafts Places for Kids in Boston
There are many reasons for taking your children to an artsy-craftsy place: Bringing out their inner artist, encouraging creativity and self-expression, doing something fun together, having access to teachers, equipment and materials… I could go on and on.
While all those things are important, this is the number-one reason for visiting the fabulous places I have selected: The mess isn't in your house! So take the kids out, unleash the creative spirits within, have a great time.
---
Mama & Me
At Mama & Me in Jamaica Plain, art making is a hands-on, process-oriented, sensory experience. If you really want to get messy, register your little one (ages 1-5) for Paint Playground; a crazy, fun experience using hands, feet, spaghetti , marbles and corn cobs to paint on canvas, a playhouse – even on the walls! The class is offered twice a month, and spaces fill up fast. Check out the website for specifics.
While you're there, take a look at the other delightful-sounding art classes at Mama & Me, like Homemade Art, Paint & Play, and Canvas Studio. If you think your toddler is ready for a tiny taste of independence (or maybe you are ready for some mama me-time), register for the Toddler Enrichment Program. Once a week, you'll drop off your bundle of joy (and energy) for three hours of art, music, creative movement and dramatic play.
Location: Jamaica Plain Brewery Complex, 284 Amory Street. Free parking in the Complex. MBTA: Orange Line to Stony Brook.
Contact: 617.477.3432; info@mymamaandme.com
---
Museum of Fine Arts (MFA)
As you might expect, terrific art-making opportunities for kids are plentiful at the Museum of Fine Arts: Sketching on Wednesday nights, drop-in art projects during school vacation weeks and open houses, and an Art Cart for families every Saturday. (The interactive activities in the Art Cart bags have been a great way to really get my kids thinking about the art in the museum – I couldn't believe how much time my son spent sketching a silver piece made by Paul Revere).
On the first and third Mondays of each month (except Jan 16, Feb 20, and Apr 16), take your toddler to an MFA Playdate from 10:30am to 11:15am for storytime, art-gazing and an art-making activity.
The museum offers studio classes for kids to learn about the world through drawing, painting, sculpting, collaging and printing. The MFA also has pretty awesome birthday party packages for the kids ages 3 and up who are just crazy about art.
Location: Avenue of the Arts, 465 Huntington Avenue, Boston. MBTA: Green Line "E" train to the "Museum of Fine Arts" stop, or the Orange Line train to the "Ruggles" stop.
Contact: 617-267-9300
---
Diablo Glass School
Make the art of glass blowing a family experience at Diablo Glass School, a public access glass arts studio in Boston. For $15 per person, you can enjoy the unique experience of a glass blowing demonstration. You can also make pendants for an additional $10 per person. The school offers classes for kids ages 8 and up, and will allow younger kids if they are accompanied by an adult.
Location: 123 Terrace St, Boston. MBTA: Orange Line to Roxbury Crossing.
Contact: (617) 442-7444; info@diabloglassschool.com
---
Institute of Contemporary Art (ICA)
The Institute of Contemporary Art offers wonderful workshops for families, ranging from Claymation to 3-D collages. During school vacation weeks, you pay adult admission and your kids get to create art based on a theme from a current exhibit.
On the last Saturday of the month, the ICA rolls out the red carpet for families – It's called Play Date, and it's the best deal in town. Adults (up to two) accompanied by a child (ages 6-12) get in free, and the whole family can make some great art together. We have come out of ICA Play Dates carrying architectural structures, hilarious animation drawings, and other works of art that graced our home for some time.
Location: 100 Northern Avenue, Boston. MBTA: Silver Line Waterfront to either World Trade Center or Courthouse station.
Contact: Visitor Services at 617-478-3100; info@icaboston.org