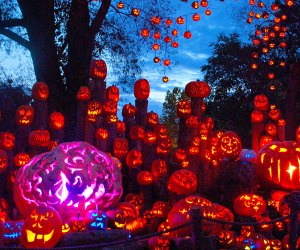 Pumpkin Festivals and Jack-O'-Lantern Displays in New England in 2020
New England is brimming with fall festivals, but kids are particularly enamored with events celebrating the humble pumpkin: the symbol of autumn and Halloween. Whether you stick close to home or make a day or weekend trip out of it, going to a pumpkin festival or visiting a glowing jack-o'-lantern display is a family-friendly way to get into the spirit of the season. While some festivals are on hold until next year, many event organizers have recreated these seasonal celebrations with social distancing in mind. Here's a sampling of 2020 pumpkin festivals and parades that are happening in Massachusetts, Connecticut, and Rhode Island this month.
Inspired by these amazing pumpkin designs? Find your perfect jack-o'-lantern-to-be at these Boston pumpkin patches, Fairfield pumpkin patches, or Hartford pumpkin patches.