5 Indoor Go-Kart Race Tracks around Boston
If your kids have outgrown their Power Wheels, they may be ready to add a little extra speed—behind the wheel of a go-kart! Today's kid-friendly go-karts have moved indoors for year-round fun. From multi-level tracks to racing leagues, we've rounded up five spots where your kids can put the pedal to the medal.
While some indoor go-kart tracks focus on just car racing, others have even more indoor fun like trampolines, ninja courses, and arcades. They're a great destination for a big-kid birthday party or just an exciting day trip. Enjoy the ride!
1. Supercharged Entertainment—Wrentham
A quick 45-minute drive from the city will bring you to the world's largest indoor track. Supercharged has two tracks that feature multi-levels and can be combined to form a huge 80,000 square foot—you guessed it—SUPER track. You can also breathe easy knowing the facility is a zero-emission, climate-controlled area. Drivers must be 58 inches to race. You can pay per race or purchase multi-race bundle packages if you plan on spending some time at the tracks, but the challenges don't stop there! Supercharged Entertainment also has a Ninja Wipeout Arena, trampolines (including a special toddler zone), and arcade games. If you need to fuel up while visiting, The Thirsty Beaver Hometown Pub & Grub is their onsite restaurant that is literally designed to look like a beaver's home—from tree tabletops to pine wood floors to log lighting.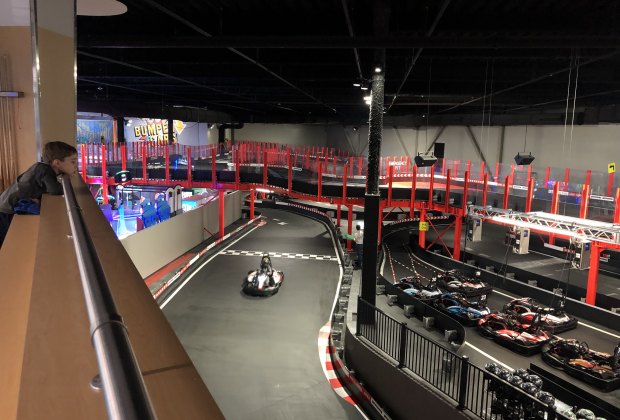 Apex's multi-level track makes its kart races even more exciting. Photo courtesy of Kelley Heyworth
2. Apex Entertainment—Marlborough
Your speedsters will love this multi-level track featuring hairpin turns and level changes. To drive their high-speed electric cars you must be 58 inches tall and Friday through Sunday kids under the age of 16 may not drive after 6 pm. You can pay for one race or purchase a three-pack. But no matter how many races you choose to do, make sure you leave time for other fun—there's A LOT to do at the Apex. From bowling to a ropes course to laser tag, you can easily spend an entire day here. Which means you're also bound to get hungry while visiting! Luckily, they have an onsite restaurant serving pizza, sandwiches, and more. Make sure to read our full review of the Apex and plan your visit ahead of time.
3. X1 Boston—Braintree
While only adults can drop in and hit their tracks, kids ages 7 to 17 can take courses and join race leagues. So if you've got an aspiring NASCAR driver on your hands, sign them up! All kids must start out in the Junior Racing Academy, which is a two- to three-day course that teaches the basics of driving and safety. Once they've completed the courses, your adrenaline seekers can join Junior League Racing, where they can ride on all the tracks—X1 has two indoor tracks, a city course and country course—and compete against their peers. Along with the Braintree location, X1 also has a 1.3-mile long outdoor course in Bridgewater.
4. K1 Speed—Wilmington
K1 features electric cars and two different tracks for racing. Drivers pay per race, with multi-race options available. Junior drivers must be 48 inches tall to ride, and K1 keeps the adults and junior drivers in separate races. (Junior drivers are also given smaller and slower cars than adults.) Along with taking a spin on the track for fun, you can also sign your speed racers up for Junior League if they're between 48 inches and 58 inches tall (taller kids bump up to the Teen Cup). If you need to refuel, the Pit Cafe serves snacks and drinks.
5. NH 1 Motorplex—Seabrook, NH
Just over the border in New Hampshire, this 49,000-square foot racing venue and New Hampshire's only electric go-kart racing facility as both junior and adult karts. While you can walk in and race here, NH1 highly recommends making reservations in advance. After your laps, reward your racers with some games in the arcade room!