SPONSORED
Get Free School Supplies and Cash Back on Online and In-Store Purchases With Ibotta
With school supplies evolving from the Trapper Keepers and Scooby Doo lunch boxes of our childhoods to pricey tablets and fancy headphones, savvy parents' money-saving tips and tricks for back-to-school shopping have also come a long way. And, after spending far too much of the last few summers clipping coupons and hunting for promo codes myself to tackle expensive supply lists, cash back apps are one modern-day hack I'm totally adding to my shopping arsenal this year.
Now, with programs like Ibotta, you can download a free app or browser extension, create an account, and immediately start earning cash when you shop online or in-store. By saving special offers to the app, syncing your online shopping accounts, or even submitting photos of receipts after an in-person shopping trip, there are a number of ways to earn cash back on your purchases with minimal extra effort. Plus, the network of participating partners is so huge—including popular retailers like Walmart, CVS, Best Buy, Bed Bath & Beyond, Walgreens, Costco, Whole Foods, and Trader Joe's—that I truly can't believe I haven't been using this rewards program all along.
Now, to take some of the stress out of tackling long school supply lists at a time when so many families could use a little extra support, Ibotta is offering 100% cash back on select learning essentials and groceries on top of the usual savings. Read on to learn more about Ibotta's cash back app, and find out how to secure your free gear before it's time to pack up those backpacks.
Ibotta's cash back browser extension is free to download and easy to install on Chrome.
Get Cash Back on In-Store and Online Shopping
I'm a big fan of Ibotta's cash back app because it's free and easy to use, plus the huge network of partner stores includes sites and retailers where I already buy a ton of stuff for my kids (hello, Target!). Once you've downloaded the mobile app or browser extension, you can earn cash back rewards on everything from school supplies and groceries to home goods and electronics by simply taking photos of receipts, connecting your loyalty cards, or browsing and saving offers in the app. Once you've earned $20, you can choose to withdraw your money through PayPal or a variety of gift cards at any time. You can also enter exclusive sweepstakes, snag special bonus discounts on select items, and earn extra cash by inviting friends to join Ibotta or hitting shopping milestones.
How to Get Free School Supplies and Groceries with Ibotta
Yes, Ibotta is marking a fresh new school year with a FREE bundle of learning essentials. Just create an Ibotta account and purchase the following items by the end of August, and you'll actually get 100% cash back.*
1 5 Star Notebook ( 3 subject)
1 package of Ticonderoga #2 Pencils (12 pack, any variety)
1 box of Kleenex (110 count, any variety)
1 loaf of Nature's Own Bread (20 oz, butter bread, whole wheat, or honey wheat)
1 jar of Skippy peanut butter (15-16.3 oz, any variety)
1 squeeze bottle of Smucker's Fruit Spread
1 3 pack Paper Mate Eraser (3 pack pink pearl premium)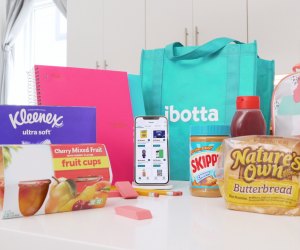 This year, Ibotta is helping families feel ready for school with 100% cash back on a number of learning essentials.
Save Without Coupons and Promo Codes
Before Ibotta, I spent so much time searching for promo codes that often turned out to be expired and sticking coupons up on my fridge only to forget them once I finally got around to heading to the store. I love that Ibotta gives you cash back on in-store and online shopping without requiring codes or coupons, but I also appreciate that when you find one of those unicorn-like working promotions, you can apply it to a purchase while also earning cash back from the app.
Is Ibotta Legit?
It's completely reasonable to be skeptical about a program that's free and seemingly gives you something for nothing. Fortunately, we're all about vetting the products and services we share with our readers, and we've done our research and given this one a go. Ibotta is a U.S. company that's been around since 2012, and it's got over a million reviews and a 4.8 star average in the Apple app store. I'm clearly not the only one who can't get enough...
If you're shopping online or in-store without Ibotta's cash back app, you're undoubtedly missing out on the opportunity to save money on school supplies, groceries, electronics, clothing, and more. Join Ibotta now, and you'll quickly see for yourself!
*All offers were valid as of publish date. Don't forget to check your app for details, as offers change frequently and may not be available in all areas.