Preparing for Summer Camp and a (Printable) Camp Packing Checklist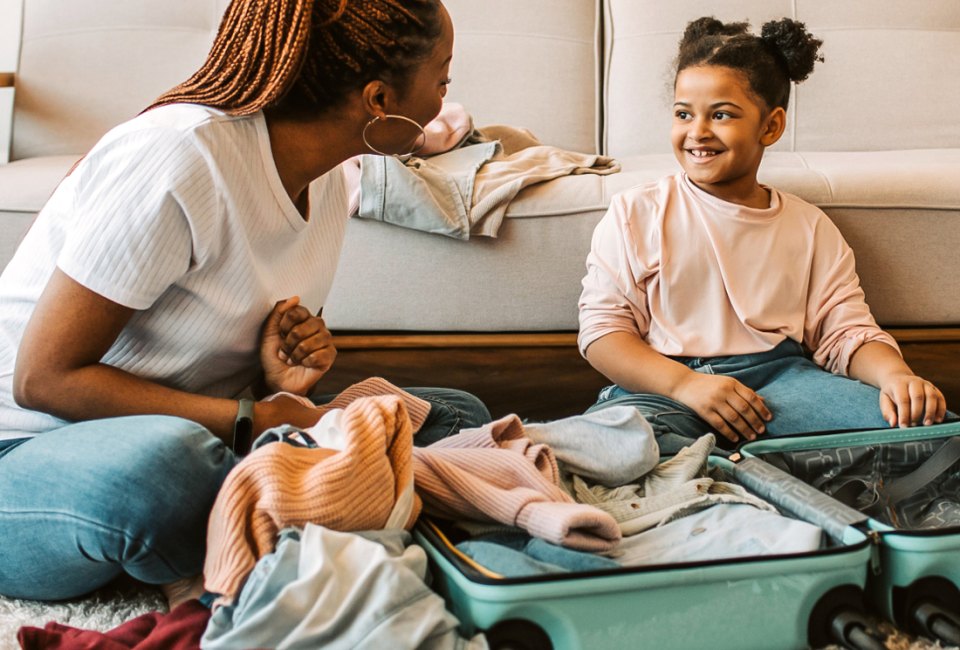 4/27/23
- By
Ally Noel
We've got the ultimate summer camp packing list included below, plus 10 great tips for preparing your experienced or first-time camper for summer camp this year.
You've done your research and picked out the right summer camp for your kiddo. Whether it's a shorter camp for first-timers or a unique summer camp that fits their latest obsession, now is the time to start preparing your child for a quintessential childhood experience: going to an overnight camp. These tips will help make going away to a new sleepaway camp as easy as a summer's breeze.
Looking for the best summer camp options in your city? Be sure to bookmark your local Summer Camp Guide and check out our Sleepaway Summer Camp Guide to the Best Overnight Camps in the US.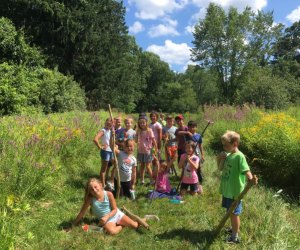 Will your kids spend all their time in the woods or water? Massachusetts Summer Camp photo courtesy of The Trustees
Top 10 Tips for Preparing For Summer Camp
1. Know Your Camp
Sending your kid to camp for the first time is probably not the best time to introduce the element of surprise. Whether your kiddo is going to scouting camp or not, "Be Prepared" is a great motto for camp prep. Allowing your camper to figure out exactly what to expect when they are at camp can calm even the most anxious kids.
Most camps have an open house scheduled in the spring. Don't skip it! This is a great opportunity for you and your camper to go and see where they will be sleeping, eating, and calling home for the summer. If you can't make an open house date, check out the camp's website for a typical daily schedule and check out any special events and traditions that may be happening while they are there.
2. Try New Things
Camp is a great time to try new things! Even though most camps offer a wide variety of kid-friendly eats, even the most familiar of foods may taste a little different when mom's not cooking them. Remind your child that camp is a great time to test out new foods in a safe and fun way. It's also a great time to try out a new activity or hobby.
From basket weaving to high ropes courses, encourage your camper to try at least one new activity and one new food while they are at camp.
3. Practice, Practice, Practice
Gaining more independence is one of the best takeaways from camp. You can give your kid a head start by practicing some of their routines at home. This includes hygiene routines like independently brushing teeth and hair, and scrubbing off a day's worth of sunscreen. It's also a good idea to make sure that they know how to sweep a floor, make a bed, and fold all their clothes.
4. Have a Sleepover
Here's something else to practice: If your child has never spent a night away from home, you can do some practice sleepovers with friends as a warm-up.
RELATED: Summer Camp Snacks for Kids That Aren't Boring

While kids may be homesick at first, they will make new friends fast! Photo by Ally Noel
5. Be Prepared
This one is for the grown-ups: make sure you have all your camper's papers filled out on time. If you need a physical, now is the time to book that doctor's appointment. Refill prescriptions in advance, too.
Prepare for homesickness. Let your child know that homesickness is normal and will probably pass and make sure that they know they can always talk to their counselor if they are having a rough time. However, do not promise your camper you will come and get them if they want to come home.
I know it's hard (and those sad letters home from camp will make it even harder), but you need to trust that the camp will contact you directly if camp life is not agreeing with your child.
Parent pro tip: When it's time to say goodbye, make sure your exit is quick and positive. And give yourself room to be sad, too. "I-Miss-My-Kid" sickness is a real thing! Just save your tears for the car ride home so your kids don't see them.
6. Don't Overpack (Stick to a Packing List)
A lot of thinking goes into the individual packing list that your camp provides. Although it may be tempting to pack an extra 20 t-shirts for your super sloppy eater (fun fact: they are all super sloppy eaters), keep in mind that the more stuff they bring with them, the more stuff they will have to organize, and the more chances they will have to lose stuff. If your camp doesn't provide a list, check out ours, below!
7. Be a Cheapskate When Packing
Regardless of how many labels you use (and you should use lots, see tip #10 below) losing stuff is inevitable. I like to imagine that everything that goes to camp is not going to come home. With that in mind, this is not the time to pack a brand-new wardrobe. Nice things will get ruined and lost. This is the time to stock up on sales at places like Old Navy, Target, Walmart, and local consignment shops. In fact, do not send favorites: not favorite bathing suits, towels, blankets, or anything.
Although it may be super tempting to purchase a set of monogrammed packing cubes, clear resealable plastic bags and a Sharpie are the perfect solutions for organizing their trunks or cubbies.
RELATED: Why Trunk Shipping is Our Favorite New Summer Camp Life Hack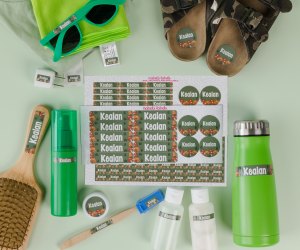 Label anything and everything! Photo courtesy of Mabel's Labels
8. Label Everything
When I say everything, I mean everything. Every sock, every pair of underwear, toothbrush, hairbrush—everything. If you want it to come home, it needs to have first and last name clearly labeled. I really love Mabel's Labels, and my daughter and I always have fun designing a new label every summer. The Mabel's Labels Camp Packs come with labels for everything and then some. (I'm looking at you, shower shoe labels!)
One of my favorite products is the Custom Clothing Stamp—it is a time saver for sure. It makes labeling each and every sock a breeze! Especially if you're not handy with an iron. I am not handy with an iron, and I adore the stamp for t-shirts, underwear, and socks.
RELATED: Easy Finger Crochet Friendship Bracelets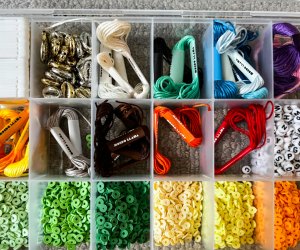 Pack a fun, shareable craft! Photo by Ally Noel
9. Pack Some Fun Things (Bunk Junk) for Downtime
I like to include some conversation starters that will make it easier to get to know the other campers in my daughter's bunk. This doesn't have to be complicated. One of my favorite things to do is make a craft tackle box filled with supplies to make friendship bracelets or keychains. T-shirts or items with your hometown or favorite vacation spot are also a great way to spark conversation with a new friend.
We also make sure to always include books for bedtime or free time reading and a few pre-addressed and stamped envelopes to make sure that those letters from camp actually make it home! Another fun idea is to create a "business card" for your camper to hand out to their new friends. Depending on their age, make sure to include their name, number, messenger, and social media accounts.
Additionally, my daughter always packs a small address book to collect new friends' information.
10. Let Kids Do the Packing
Now that you know what you're packing, here's a tip on how to pack. First and foremost, help your camper pack for camp, but do not do it all for them. You will probably not be there when they unpack everything and set up their bunk, so it is important that they know where everything is. Packing their own belongings is both a first step towards independence and a great way to make sure they know where to find things.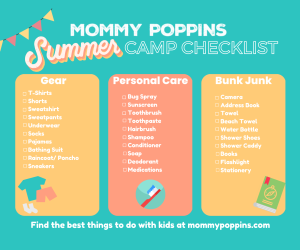 You can download our handy checklist below.
Mommy Poppins Ultimate Summer Camp Packing List
Most summer camps will give you detailed packing lists. But just in case you don't have one, or want some additional suggestions that veteran summer camp parents have found useful, I polled all the parents here at Mommy Poppins and put together the ultimate summer camp packing list. From gear to personal care to bunk junk fun extras, we've got all the little things you might not think to pack, but your campers will be happy to have handy.