Why Trunk Shipping is Our Favorite New Summer Camp Life Hack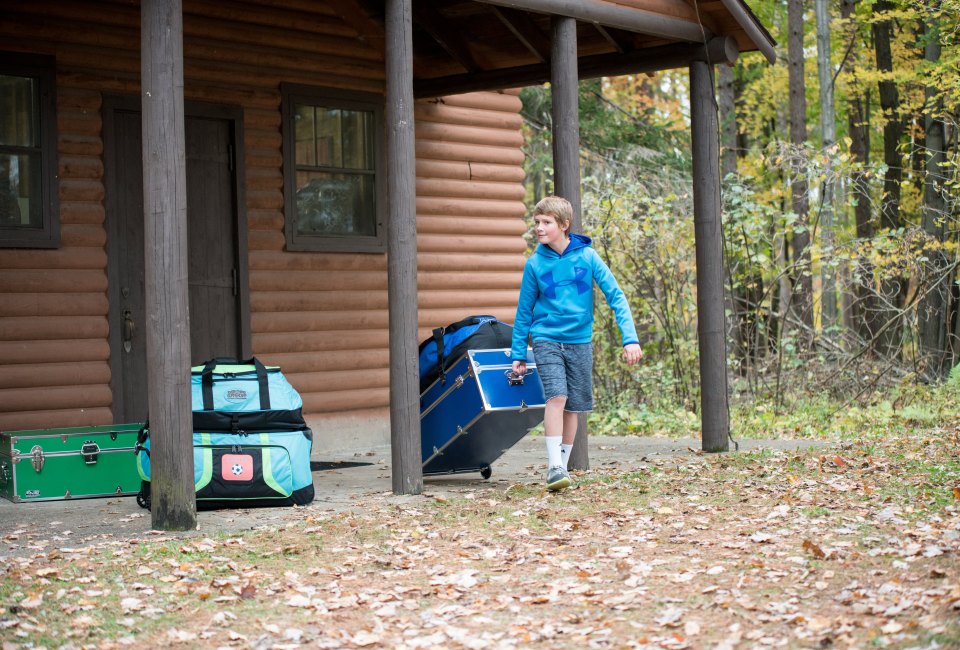 6/18/22
- By
Jessica Laird
If the packing list alone doesn't get you, shipping all those trunks, duffle bags and boxes off to summer camp surely will!
But gone are the days of cramming suitcases (and fans, and loose toiletries, and last-minute purchases) into your car or dealing with ever-increasing overweight bag fees and lost luggage hassles at the airport. Ship Camps is the affordable service that helps families seamlessly ship luggage and boxes to sleepaway camps across the globe–and we might be in love.
Ship Camps launched in 2021 and parents have been singing its praises ever since. With campers often needing a ton of gear and sometimes traveling to far off destinations–or even overseas–the reliable service removes the headache of lugging everything yourself and lets you purchase some peace of mind at a very affordable upfront price.
Read on for answers to some of the most commonly asked questions about camp shipping with Ship Camps.
How does Ship Camps work?
Setting up your camper's shipment can be done entirely on the Ship Camps website by simply entering details including pickup address, destination, number of bags, and arrival date. If you're looking for a little more summer camp shipping guidance, customer support will also happily help you make arrangements over the phone.
Once you've confirmed your order, you'll receive shipping labels to affix to your kid's luggage. On the predetermined date the luggage will be picked up contact-free at your home, office, or other designated address, and you'll be able to track its movement online in real-time–plus, you'll get a confirmation email once everything arrives at its final destination.
Of course, round trip shipping is also available if you'd like Ship Camps to help you get all your kiddo's gear back home!
How do I know my child's bags will be delivered on time?
Backed by the most reliable on-time delivery guarantee in the industry, Ship Camps is totally dedicated to getting your kid's bags to camp on your requested date. Note that they still recommend scheduling luggage to arrive at least one day before your child does–just to ensure that it's all there no matter what time of day your camper shows up.
You can always reach out to your camp to find out just how early luggage will be accepted. In fact, Ship Camps is trusted by dozens of world-class camps, including Camp Menominee, Camp Matoaka, Lake of the Woods and Greenwoods Camps, Camp Horseshoe, Camp Birch Trail, Red Arrow Camp, Camp Kamaji, Camp Kawaga, Camp Chippewa, Surprise Lake Camp, Camp Dudley and Kiniya, and more.
What can I ship using Ship Camps?
Duffle bags, trunks, boxes, and more! Just pack as you would for airplane travel and Ship Camps will take care of the rest. Take a detailed look at approved bags and boxes here–including dimensions and weights.
How much does Ship Camps cost?
While Ship Camps feels like a luxury service, they work with FedEx, UPS, and DHL to offer a low industry rate that's often 5% to 60% less than other similar services. Compared to renting a larger car or ever-rising airline baggage fees, we think Ship Camps is quite a bargain.
Prices for luggage and trunk shipping start at $34.99 and vary based on the weight and size of your child's camp gear, how far it's traveling, and how quickly it needs to be delivered. When you enter your pickup address and destination, you'll immediately be given an estimated price, which will automatically adjust as you add other shipment details. Once you reach checkout, your summer camp shipping price is locked in and you won't be charged any additional fees.
Is my child's luggage protected or insured?
Yes, $500 of complimentary value protection is included with every Ship Camps shipment. For a small additional fee, you can select from a number of options to insure your shipment up to $10k.
Does Ship Camps cover international shipping?
The service is available in 180 countries and territories worldwide! And Ship Camps will handle all customs paperwork on behalf of your camper, so even less camp shipping stress for you.
What if I have more questions about Ship Camps?
The same experienced customer service agents who are available to help you when your luggage is on the move are also available to answer any of your questions by live chat, text, phone, or email. Send an email to customersupport@shipcamps.com or give Ship Camps a call at (855) 540-2267.
Visit ShipCamps.com to learn more, or jump right in and set up your happy camper with a smooth start to the summer!
Click Here to Sign Up!
i