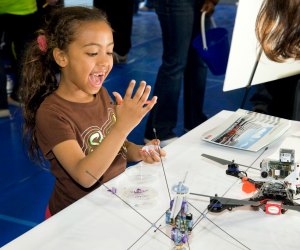 25 Great Things to Do Over February Break with DC Kids
If your plans for winter break include a staycation here in Washington, DC, you're in luck. There are countless things to do while the kids are off from school during February break, including exhibits, theater performances, ice skating, and other fun activities.
Here is a just a sample of some of the possibilities for kids and families from Saturday, February 15 to Sunday, February 23, including special Capital District events on Presidents Day, Monday, February 17.
Whatever you do this week, know that your friends at Mommy Poppins DC will be with you throughout 2020 with updates on the best family happenings in the capital area. Check our events calendar for the most up-to-date happenings in DC and beyond, and remember to sign up for our FREE newsletters to receive posts such as this right to your inbox.
Best February Break Activities in Washington, DC
1. Experience the magic of your favorite fairytales as Disney on Ice Presents: Celebrate Memories at Capital One Arena through Presidents Day.
2. Join thousands of hockey fans in cheering for the 2018 Stanley Cup champion Washington Capitals, who take on the Montreal Canadiens on Thursday, February 20. The rival Pittsburgh Penguins visit Capital One Arena for an afternoon game on Sunday, February 23.
3. Whether your style is double axels or merely teetering and tottering on skates, enjoy the last few weeks of winter by heading to the Washington Harbour Rink for an exhilarating session of outdoor skating fun. You can also skate in a parklike setting on the National Mall, at the National Gallery of Art Sculpture Garden Ice Rink.
RELATED: The Best Ice Skating Rinks in DC for Family Fun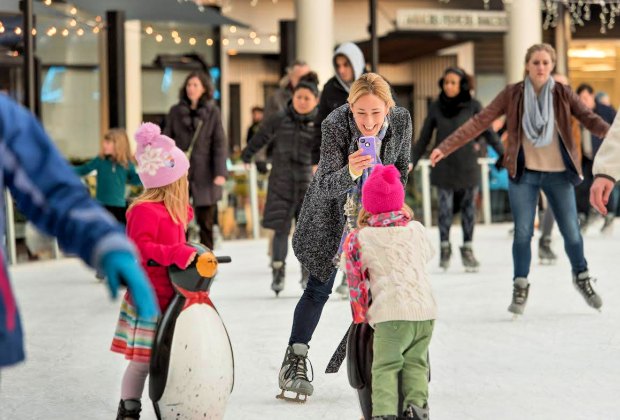 Whisk yourself around the ice at Washington Harbour Ice Rink. Photo courtesy of the rink
4. We're tempted to suggest a playful and kid-friendly snowball "battle" with the folks at the Washington, DC Snowball Fight Association, but it doesn't appear as if snow is in the forecast. Well, we can hope.
5. Keep yourself logged in to Mommy Poppins DC because the National Children's Museum is scheduled to open at its new Pennsylvania Avenue location in February 2020. We'll let you know as soon as the museum announces an official opening date.
6. Unleash creativity and foster learning in the Spark! Lab at the Smithsonian National Museum of American History.
7. Get your head in the clouds with flight simulators and storytime at the Smithsonian Air and Space Museum.
8. Be inspired by great human feats during the Going the Distance theater production at the S. Dillion Ripley Center.
9. Do a little career exploration at the National Postal Museum. Take on the challenge of sorting mail, deciding which letters to deliver and which are meant for the Dead Letter Office.
10. Awaken and satisfy your taste buds at the National Museum of the American Indian's Inka Road Food Fiesta, which explores cuisine found in South American communities.
RELATED: Museums in Washington, DC That Are Free Every Day

Celebrate George Washington's birthday at his home in Mount Vernon. Photo courtesy of Mount Vernon
11. Celebrate the first president on his birthday and enjoy a free day of exploration at George Washington's Mount Vernon.
12. Practice investigative skills with crime scene fiber at the National Law Enforcement Museum during its Science Saturday program.
13. Along those lines, why not plan a visit to the International Spy Museum at L'Enfant Plaza, where kids can test their sleuthing skills on a series of undercover missions.
14. Learn about Frederick Douglass' impact on the world during a guided tour of his historic home in Anacostia.
15. Join members of Capital City Symphony at an Instrument Petting Zoo, where you can meet musicians and give instruments a try.
16. Live the life of a secret agent or make sure that dinosaurs do not take down the nation's capital at Escape the Room. Note: Some rooms have minimum age requirements, others require children to be accompanied by parents.
17. Paint a piece of pottery and make a memory at All Fired Up, which has studios in the Cleveland Park area and in Bethesda, Maryland.
18. Head to Anacostia Library for a special week of recess activities, including storytimes, presidential coloring games, and family movies.
19. Learn new culinary skills and master French and Italian classics with a Continental Cooking class for kids at Cozymeal in DC.
RELATED: 25 Great Things to Do With Preschoolers in Washington, DC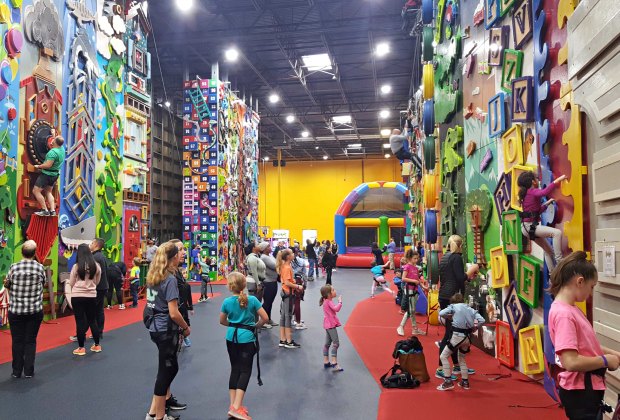 Kids can climb the walls—not yours—at Climb Zone. Photo courtesy of ClimbZone
20. Encourage kids to climb walls, just not the ones at home. ClimbZone in Laurel, Maryland has you covered with visually stimulating, individual-themed walls.
21. Pretend it's summer by exploring the United States Botanic Garden, where admission is always FREE. Visit the conservatory if it's too chilly to linger outside.
22. Mingle with hundreds of butterflies or have a play date at the National Museum of Natural History.
23. Become part of the show at the interactive, multisensory Imagination Stage's Mouse on the Move theatrical performance.
24. Get lost in the music and enjoy a spellbinding production of Swan Lake at the National Theatre.
25. Be dramatic while making new friends at The Theatre Lab's weeklong spring camp. Drama activities are scheduled from 9am to 3pm.