Now Open! Westchester's Newest Spot Has Something Better than Ice Cream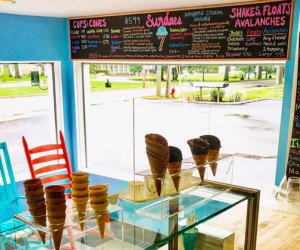 Owned and operated by the mother/son duo of Sue and Sean Davies, Seven Scoops dishes out cups and cones of homemade frozen custard. What's the difference between ice cream and frozen custard? Unlike ice cream, frozen custard uses egg yolks, making it softer than hard ice cream but richer than soft-serve. The Davies source their dairy from a farm in Pennsylvania and make the custard on site.
Occupying the former site of the frozen custard franchise Abbott's, Seven Scoops takes its name from Sue's seven children—Sean is the second eldest of his six siblings. Both Davies are lifelong residents of Yorktown Heights, and they're running with the "seven" theme both inside and out. Seven Scoops offers seven frozen custard flavors each day, as well as seven flavors of dairy-free Italian ices. Outdoor seating, meanwhile, features seven rocking chairs. (There's also picnic tables and tables shared with neighboring Lakeland Deli).
Flavors are swapped out often, the elder Davies told us, with at least one flavor changed each day; vanilla and chocolate will be regular standbys. As with ice cream, frozen custard can be ordered in cones, bowls, shakes, floats, sundaes or avalanches (think DQ's Blizzards), or it can be served in Seven Scoops' homemade waffle bowls. Other treats include frozen custard sandwiches, cookies, custard-filled cannoli and chocolate-covered bananas. Soft drinks and water are also available.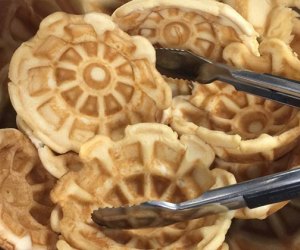 Seven Scoops is even making homemade waffle bowls for the custard.
The store had its soft launch over Memorial Day weekend and is planning a grand opening on July 7 — 7/7, of course!
Seven Scoops is open Sundays through Thursdays from 12-9pm, and 12-10pm on Fridays and Saturdays.
Check out our Summer Activity Guide for more ways to have fun with your kids this year!
Photos courtesy of Seven Scoops.