New Play Space in Westchester Offers Fun for Little Ones and Caregivers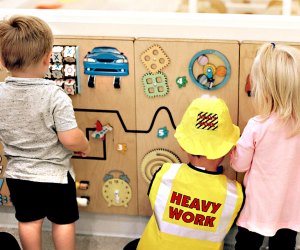 Looking for an indoor play space for young children in lower Westchester? You're in luck—a new destination for classes, free play, retail, and parties for the 6-and-under set has just arrived in Pelham: Tig & Peach. We paid a visit and were dazzled by the use of the space.
Read on for the lowdown on Tig & Peach, which opened in September. And be sure to subscribe to our newsletters and follow us on Facebook to stay in the know about other news for Westchester and Hudson Valley families!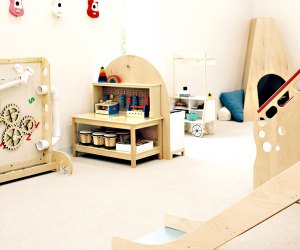 There's a lot for kids to do in the beautifully designed open play space.
When Amanda Tigges Star and Emily Donnelly each moved to Westchester, they were disappointed by the lack of indoor play spaces for young children that they had found in abundance in the city. Lamenting about this gap bonded the two, and they took matters into their own hands. The idea was first conceived in January 2019, and a mere nine months later, the ribbon was cut on Tig & Peach.
Partly what makes the swiftness of this execution so impressive is the magnificence of the décor. The space was previously occupied by an antiques store with an open floor plan but now is sectioned for three different purposes—play space, retail, and classes and parties—with dream-like fixtures, furnishings, toys, climbers, and other stimuli that were perfectly imagined for this age group. A private room for nursing further confirms the care that went into space design.
RELATED: Top Indoor Play Spaces for Kids in Westchester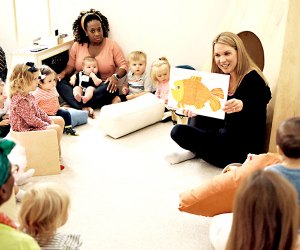 Tig & Peach offers a variety of programs for the 6-and-under crowd.
All services cater to the 6-and-under crowd. Tig & Peach offers semester-long classes , which currently include Toddler Yoga and Mindfulness with Music, Multilingual Music Class, Intro to STEM, and Baby Movement, to name a few. Classes are designed with enrichment in mind and are taught by experienced professionals, including those with an advanced degrees in early childhood. Adult classes are also offered, including prenatal yoga.
Weekly drop-off programs are in the works, but these are pricey; a 2.5-hour program offered on Yom Kippur ran $100. Drop-in open play runs $30 per session. The venue also is available for 90-minute birthday parties, with the option of a complete party package that includes all the trimmings except cake for 15 children running $799, or renting the space for a DIY affair for $499.
Tig & Peach offers membership packages, which entitle families to unlimited open play and discounted tuition and birthday parties, among other perks. Membership is $119 for the first child, $209 for two siblings, and $299 for three siblings. The rolling membership is by month and requires a 30-day advance cancellation, so any such membership would begin with a two-month commitment. Gift certificates are also available.
Looking to round out your outing? A visit to Tig & Peach can be combined with a meal or snack across the street at J Café or ice cream down the block at Double Rainbow.
Tig & Peach Hours
Saturday – Sunday: 9am–1pm (weekend afternoons reserved for parties)
Photos courtesy of Tig & Peach