Westchester Children's Museum Expansion Underway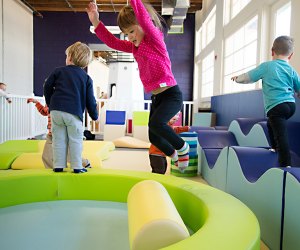 Good news for families in and around Westchester: The Westchester Children's Museum has broken ground on a much-anticipated expansion to its already popular space.
Phase 1—now called the Hoch Laager Boardwalk Galleries and spanning approximately 6,500 square feet—opened in 2016 with interactive exhibits, play spaces, and a book nook where children can explore, play, and create. The current capital improvement and renovation project will transform the remainder of its 22,000-square-foot space into a haven for learning and creating.

The transformed space will include classrooms, makerspaces, exhibits, additional restrooms, and other amenities.
Plans for the currently unused space include installation of and upgrades to electrical, plumbing, and IT systems, plus additional restrooms, multi-use classrooms, expanded makerspaces, and the addition of a shadow play theater and a wind and air exhibit. New amenities include a gift shop and snack area, plus a new admission and entrance circulation area. Plans for a future water-play exhibit and climbing structure are in the pipeline as funding becomes available.

Funding for these upgrades and renovations come from generous donations from foundations, businesses, and individual contributions, plus a matching grant of $824,000 funded through the New York State Council for the Arts/Empire State Development Arts & Cultural (and administered by the Mid-Hudson Regional Economic Development Council). In other words, this was a community-wide effort and the result of a lot of hard work and earnest collaboration.

The best part of this expansion is that we don't have to wait much longer to enjoy it! Completion is slated for May 2019, just in time for summer fun along the Long Island Sound. The Hoch Laager Boardwalk Galleries (the beloved existing museum space) will remain open throughout the renovation. A gala is scheduled in May to celebrate the newly renovated space.

The Westchester Children's Museum is open 10am–4pm on Thursdays, Fridays, and Sundays; and 10am–5pm on Wednesdays and Saturdays. In the summer, the museum will stay open until 8pm on the first Fridays of the month so guests can enjoy the exhibits and activities until sunset and then grab a spot outside to watch the Playland fireworks.

Parking is available in the main Playland Amusement Park lot and subject to fees determined by the Park. One-day getaways on Metro-North are also available. Admission is $7.50 per person; babies 12 months and under are free. Memberships are also available.
Photos courtesy of the museum