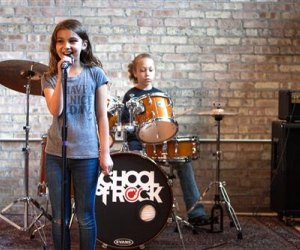 Rock n Roll Classes: Where Westchester Kids can Unleash Inner Jaggers & Joplins
So your child wants to a be a rock n roll star? Then listen now to what we say ...
In response to a growing demand, several music schools here in Westchester have either added rock to their repertoire or opened to exclusively teach the sound to a new generation of aspiring artists. The schools differ in their approaches but all offer both group and individual instruction. Some also encourage public performing or offer opportunities for recording.
Read on to learn about places in our area that offer rock lessons for budding musicians with either amateur or serious aspirations. Looking for more classes in Westchester? Consult our Classes Guide and sign up for our newsletters.
Bach to Rock - Mamaroneck
B2R, as it calls itself, takes pride in preparing their students for the stage. Starting at age 7, kids can take the school's Rock Band class, which puts musicians together based on their age and skill level. This year, B2R has 12 bands according to Site Director Anne Weycker. Groups rehearse for an hour a week, preparing themselves for informal community performances.
Weycker said the school prides itself on teaching students the fundamentals of music while keeping things fun. At the end of the school year, participants compete in a "battle of the bands" against groups from B2B's sister school in Port Washington.
Rock-and-Roll moms (and dads) can get a jump start on nurturing musical kids with the school's early childhood programs. RockToddlers is a music together program aimed at developing children's fine motor skills. Rock City is a drop-off program that introduces pre-schoolers to musical instruments and basic concepts such as rhythm and beat.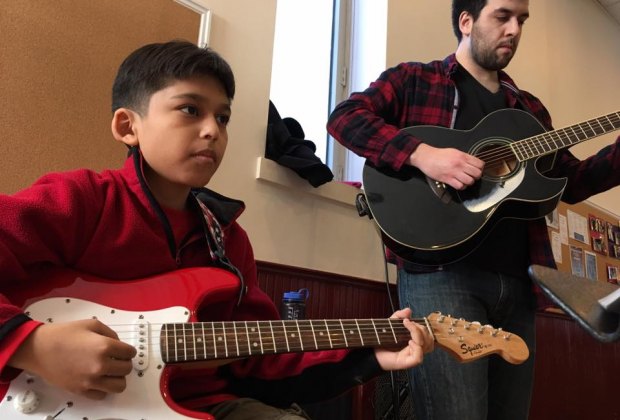 Kids as young as 7 can learn to shred at Bach to Rock. Image courtesy of B2R
School of Rock - Mamaroneck
The name says it all at this music school, which opened in September 2012. Instructors here are versed in classic rock, modern rock, punk rock, British rock, new wave and more "all the sub genres," according to Tory Ridder, who owns the school along with his wife Vanessa. The school offers weekly instrument lessons that include music fundamentals as well as weekly group practices. Students start with varying degrees of experience and knowledge.
While most fall between ages 7 and 17, the school currently has one 6-year-old and one 64-year-old student. All are encouraged to work together in themed ensembles that perform for the community. The school currently has eight such ensembles, each with a different musical style. The goal is to get students to work together as a group focusing on a particular style of rock. Ridder says the system encourages team work while offering students the flexibility to shine as an individual. Classes and bands meet weekly. School of Rock currently has eight ensembles, each with 6-14 musicians.
Lagond Music - Elmsford
Lagond focuses on all styles of contemporary music including jazz, funk, reggae, rock and more. Students are taught all aspects of music development including reading, writing, playing and performing.
What sets this school apart is its emphasis on college preparation and serious career development, including opportunities to record and engineer songs in the studio. The focus reflects the vision of the school's co-founder, Charlie Lagond. The experienced musician has himself played with Natalie Cole, The Tempations, The Jackson Five, Chet Baker, Chuck Mangione and others as well as performed at several presidential inaugural balls and for Princess Diana. Many Lagond alumnae have themselves gone on to garner awards and perform professionally.
Two performance spaces offer an intimate lounge-type setting that give shows a lounge-type feel. Classes are offered for students from age 6 through adult.
Cortlandt School of Performing Arts - Croton-On-Hudson
This school has a roster that includes opera, musical theater, classical music and instrument instruction. According to owner Carol Erica, although the school doesn't focus on rock music per se, many of the musical theater productions are rock-based. And while all students are taught classical, jazz and improv, those with a special interest in rock music can get paired with a teacher who has experience in that style.
Lessons are available for students who want to learn how to play guitar, drums, keyboard, or electric bass.
Music Conservatory of Westchester – White Plains
Teens in 8th grade and up can learn tunes by their favorite bands and audition for placement in a small ensemble. Performances are given at the Conservatory and around the community. This is open to singers, guitarists, bassists, keyboardists, piano players and drummers. An Intro to Rockband is also available for kids in grades 5-8 who are just beginning their Magical Mystery Tour into music.
Top image credit: School of Rock