Trunk-or-Treats Near Washington, DC for Halloween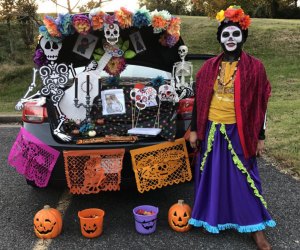 While trick-or-treating on Halloween is a rite of passage for kids, it's not without its downsides. First, it happens only on one day out of the year. Second, traipsing around the neighborhood can be quite tiring for little superheroes and princesses.
Luckily for DC-area kids, there is an alternative—trunk-or-treats! This year there are plenty of trunk-or-treats near Washington, DC that take place on different days, offering kids plenty of opportunities to collect more candy—and wear their Halloween costumes.
For those who are unfamiliar with the term, trunk-or-treats are events at which organizations, groups, or individuals decorate the trunks of their cars with fun Halloween displays. Kids can visit each trunk and receive candy and other goodies.
Read on for our list of trunk-or-treats near Washington, DC. Some of them are more traditional, while others offer a little something extra (candy from a police officer, anyone?). And for more Halloween fun, check out our guide to Halloween events and activities, our list of the best free Halloween events near Washington, DC, and our fall fun guide for Washington, DC families.