Sunnyside & Woodside Kids' Stores: Best Toy Shops, Children's Boutiques & Thrift Stores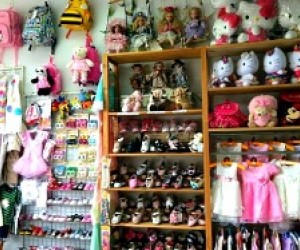 We continue our month-long focus on Sunnyside and Woodside with a look at the best stores for kids in the area. While you'll find lots of big-name national chains like Deals, Game Stop and crafts mecca Michaels, there are cute, small ma-and-pa shops, too, like children's clothing and toy boutique Tiny You, 99-cent spots stocked with inexpensive party favors and stocking stuffers, and a bunch of thrift shops that are fun to dig through.

The main shopping drags are Queens Boulevard, which turns into Roosevelt Avenue in Woodside, as well as Skillman and Greenpoint Avenues. In addition to our family shopping picks there are lots of wonderful old-world butchers and international food markets, so keep an eye out for those, too, if you want to cross items off your grocery list at the same time. Here are our top nine kids' stores in Sunnyside and Woodside.
Tiny You
46-21 Skillman Avenue between 46th and 47th Streets
The sole children's boutique in Sunnyside is filled with stylish clothes for girls and boys, including high-end brands like Sophie Catalou and Mayoral. Owned and operated by a neighborhood family, the shop also carries many unique items that are made locally like adorable hair clips and other accessories. I always hit the sale rack at the end of each season for incredible steals. There are toys for kids to play with while you shop. Tiny You hosts events, too, like storytimes so check the website. The Sunnyside location has been such a success, the owners recently opened a second store in Long Island City.

Metro Sports
45-13 Greenpoint Avenue at 45th Street
The neighborhood's go-to spot for athletic apparel and footwear recently had a makeover and is now carrying more items than ever for children. It's definitely more family-friendly than before and has all the big-name brands like Nike, Jordan, Adidas, Puma and even Converse, which tends to be a more affordable option.

Stray Vintage
48-09 Skillman Avenue between 48th and 49th Streets
My kids and I love browsing the retro items in this small shop, which specializes in mid-20th-century furniture and wares including clothing, jewelry and records. You'll find some eclectic new items, too, like handmade cards, and earrings and tie clips fashioned from antique typewriter keys and other found objects, all created by local designers. Stop by and spend some time at The Stray, as we locals call it. You'll be charmed by what you find.

Sunnyside Thrift Shop
45-12 Greenpoint Avenue between 45th and 46th Streets
A more traditional second-hand store than The Stray, this thrift has a jam-packed jewelry case in the front, gently-used kids' clothes in the back and even a smattering of toys. Grown-ups can score nice outfits here, too. There's a rotating seasonal section in case you're looking for something for a specific holiday, like costumes for Halloween.

One of a Kind Thrift Shop
45-05 Queens Boulevard near 45th Street
I always hit the table just outside the door to look for books and other small items. In nice weather you may find racks out there as well with clothing, artwork and other wares. Inside, there are kids' toys and games underneath the main table. Don't see what you're looking for? It's conveniently located next to a great 99-cent store!

South Pole
44-04 Queens Boulevard between 45th and 46th Streets
This discount store has a great toy section in the back that is often stocked with playthings by the likes of Melissa & Doug, and Alex Toys. Larger toys and baby items like cribs and high chairs are in the middle. Don't miss the small book and arts and crafts section next to the toys. Shopping here is hit-or-miss and really depends on what's in stock. Look for housewares, comforters and some name-brand kids' clothes like Petit Bateau in mostly small sizes.

H&J Asian Carrier
45-11 Greenpoint Avenue between 45th and 46th Streets
This fun Asian boutique has great Sanrio items, mostly Hello Kitty. There's a nice selection of kids shoes and dresses, as well as hair clips (both Hello Kitty and homemade), cute designer pencils, toys, dolls and colorful backpacks, including a few by Skip Hop. The place sells bubble tea, too!

Minerva's Party Shop
47-59 46th Street between 47th and 48th Avenues
This veteran Woodside shop specializes in custom-made piñatas and balloons, plus decorations, favors and other party necessities. Stroll the aisles for inspiration or ask Minerva herself. She's always happy to share her expert ideas. When buying custom items, place your order at least a week in advance.

Kumari Enterprises, Inc.
45-53 47th Street between Greenpoint and 47th Avenues
Browse beautiful rugs, jewelry, handicrafts, home decor, clothing and accessories including pashminas at this Tibetan/Nepali shop. This is a great place to find unique gifts. When you step inside you feel like you're in a faraway land, and the owners are really sweet.

Sunnyside and Woodside are also packed with family-friendly chains. And while we're all about shopping local, you can't talk about kids' stores in the neighborhood without mentioning the following:
Hallmark at 45-15 Greenpoint Avenue at 45th Street, which has great gifts and some Melissa & Doug items