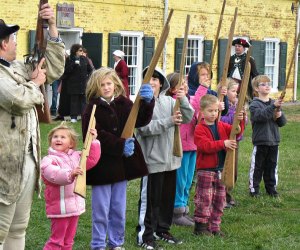 Veterans Day Weekend Things to Do in Philly: CraftNOWCreate, History, Museums November 9-10
This November weekend brings many exciting activities to the Delaware Valley for Philly families. From the city to the suburbs, Philly kids can learn, discover, and grow as they enjoy some of the many options found in our event calendar.
Start out in Philadelphia at CraftNOWCreate. This free event held at the Kimmel Center's Commonwealth Plaza allows guests to participate in a variety of engaging, hands-on activities showcasing artisan techniques. Baby Shark fans can see a one-of-a-kind concert at the Academy of Music as Baby Shark Live! takes the stage. History buffs can visit Fort Mifflin for Siege Weekend to learn about the Revolutionary War as it is brought to life by reenactors or the Benjamin Franklin Museum which offers free admission on Veterans Day to discover the impact of Franklin's inventions on the world.
Cross the river to check out Camden Children's Garden and its annual Train Festival featuring train-themed crafts, stories, games, and rides. Drop by the Garden State Discovery Museum for its Open Arms- Family Evenings especially for those families with children on the autism spectrum. Or, check off a few final fall bucket list items by enjoying a hayride, fall hike, or weekend getaway.
Remember to pause for those who have served to keep our country safe by attending a Veterans Day parade in Media or West Chester, a ceremony on the Cruiser Olympia or museum featuring patriotic activities at the National Constitution Center.
Read on for our top picks and have a great weekend!