Team up with FCS Athletics
Middle & Upper School Campus

Online Robotics Camp
Young Gates - Kids Online Personalized Classes

Artificial Intelligence with Scratch Online Camp
Young Gates - Kids Online Personalized Classes
Sign up for our free newsletters.
Top Paintball Fields for Teens and Tweens Near Philadelphia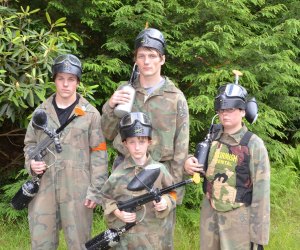 7/25/17
- By
Lindsay Li
While you might not normally think about paintball as a great way to get into the "great outdoors" the fact of the matter is, paintball parks are typically acres of land where your kids will basically get a chance to play an epic game of hide-and-seek with some hilarious, if slightly painful, consequences. Your teen or tween may already be a fan, or you might be trying to find some way to burn off their excessive energy. Either way, you are in luck because the Philadelphia suburbs has some great fields, many of which are family-friendly.
Accurate Paintball—Spotswood, NJ
With more than 13,000 square feet of play space, including an indoor facility, this place is one of the best to go for beginners. They have a "young guns" program for kids 12 and under to learn the rules as well as tips for fair and safe play.
Crusader Paintball—Fairless Hills, PA
Crusader serves as both a store for stocking up on supplies, and home to six separate fields in nearby Bucks County. They also offer a low-impact paintball experience for those who want to play but might be a little on the delicate side (or a total wimp like myself!), and pee-wee paintball for those under 10. Head over as a family for walk-in play, or book a group party.
Outdoor Xtreme—Hatfield, PA
Offering a variety of playing fields and a range of gaming options, including low impact, laser tag, and even the hilarious sounding "splatmaster," OX is sure to please even the most extreme players and novices alike.
Picasso Lake Paintball—Winslow Township, NJ
Picasso Lake is one of the largest outdoor wooded paintball fields in South Jersey, boasting more than 110 acres of wooded fields. Every field is different and they take groups of all sizes.
Poco Loco Paintball—Schwenksville, PA
This is probably one of the best paintball parks for families, with a strong focus on being family-friendly. That said, it is also rather small in comparison to some of the other nearby parks, and the park closes early, usually by 4 PM.
Playground Paintball—Mantua, NJ
Located within Gino's Golf and Paintball in Mantua, Playground specializes in recreational play serving all ages and skill levels. After a hard day of play, they have a pizzeria on site!
Skirmish Paintball—Albrightsville, PA
With 700 acres of paintball play at Skirmish, this may be the largest place to play in driving distance. For first timers, they offer training options. Individuals are welcome to join in as well as groups.
Photo courtesy of Skirmish Paintball