Smith Playground's Kidchella Concert Series: A Parent's Review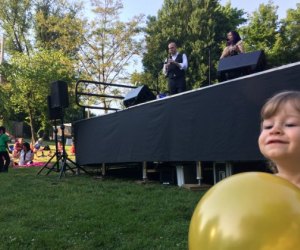 It's that time of year again, Kidchella is back at Smith Memorial Playground! A kiddie play on Coachella, this 3 night concert series is fun for the whole family. Featuring live music from 2 bands each night in the lovely Smith Memorial Playground, kids will enjoy the music and will love to run and play. The weather is beautiful, so get out there and dance.
The evening starts at 5 PM with food trucks set up for dinner and playtime in the 6.5-acre playground. The food trucks may vary each night, but when we were there they had PB & Jams (perfect for the kiddos), Foolish Waffles, BrazBQ, and Curbside Creamery serving ice cream. While the food trucks were a nice touch, I have to say there was a bit of a limited selection as far as foods toddlers will eat go. There were maybe 2 options my toddler would even consider eating (other than ice cream). The trucks that were there accepted credit cards (except for maybe the ice cream truck), but if you're interested in buying food there, you may want to bring cash just in case. If you've got a picky eater, the good news is you can pack a lunch. One family even brought 2 pizzas in with them.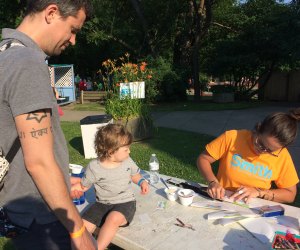 Near the food trucks, Smith set up a little craft station where kids could decorate and make their own shakers with paper plates and rice. This was a fun treat that gave kids a way to interact and join in during the concert.
The concert starts at 6 PM and goes until 7:30 PM. There are 2 bands with a 10-minute break in between. Kids are welcome to roam the playground during the entire concert. So, if your little one is antsy, get up and take them around the playground. You'll probably want to bring a blanket or some chairs. We didn't, and I totally regretted it; the grass was a little wet.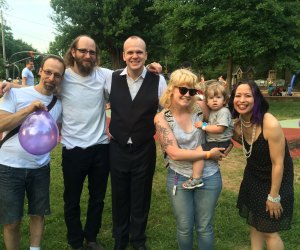 The music itself was great. It was interactive, and fun for kids, but not too cheesey for parents. The stage was set up in a great place where there wasn't really a bad spot in the playground. My kid was loving it; he danced up a storm! We were right in front of the stage and it wasn't deafeningly loud there, but if you've got sensitive kids, I'd recommend sitting a little further back or bringing ear plugs, just in case. The bands are different at every show, so I can't speak for them all, but the two we saw were lovely. One group even gave out balloons.
The concert ended at 7:30, but we didn't end up staying that long. My son is 1.5 and I think an hour and a half of concerts was a bit too long for him to sit through. We played in the playground for the last half hour we were there and then left to get home in time for bed.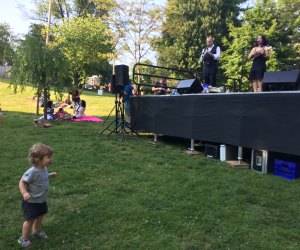 Overall, it was a really fun night that my son thoroughly enjoyed. I'd definitely recommend bringing sunglasses, as it was very bright when the sun was starting to set. Tickets are $10 for non-members, $5 for members, and must be purchased for anyone 1 or over. There is a processing fee when ordering online.
All images provided by the author.