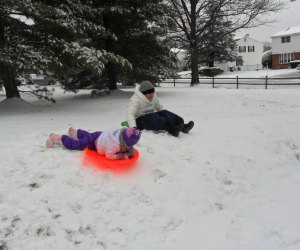 Is It a Snow Day for Philadelphia Kids? Here's How to Find Out
Are the kids praying for a snow day in Philadelphia? When you're a kid, school closings for a snow day means snowball fights, snow angels, sleds, and snowmen. Add in some hot chocolate, warm cookies, and a few indoor activities and you've got one memorable day off from school.
But parents just need to know whether or not the school is open or closed due to snow, so they can get on with planning their workday and commute!
So is the school closed today? Will there be early dismissal or a late opening for Philadelphia schools? We as parents have the same questions, so we've compiled a few local resources, so you can stay up to date on weather-related school closures in Philadelphia.
News Outlets & Social Media
Local TV news outlets typically report school closures, either through news ticker loops continuously running at the bottom of the screen or by periodically updating audience members with on-screen lists of school closures. Reports generally account for public, private, and charter schools in Philadelphia and surrounding counties.
You can also get information by going directly to local news station websites, for instance, NBC, FOX, and CBS Philly stations have dedicated web pages listing snow day school updates. KYW Newsradio 1060 also has a dedicated web page for school closures. Prefer a sign-up that lets you set it and forget it? Once you register with NBC, you'll receive text or email alerts about your child's specific school.
Another idea? Check out your school district's Facebook page. For Philly public and charter schools, follow the School District of Philadelphia at @PhillySchools.
Online Parent Portal
Additionally, the School District of Philadelphia has a web portal through which parents of Philly-district students can sign up to receive text messages, email alerts, and/or phone calls for emergency notifications, including weather-related closings. To register for the Parent Portal, you simply need your child's student number, access to the phone number on file with the school, and a personal email address. For navigation tips, the school has created a helpful video (Hint: Skip to about 20 minutes for information specific to emergency notification alerts). If you're in the suburbs, your school district likely has a similar web portal where you can register for notifications.
And when all else fails, call your child's school or school district office directly.
Be sure to share this article with your friends, and don't forget to like us on Facebook.
Photos courtesy of the author