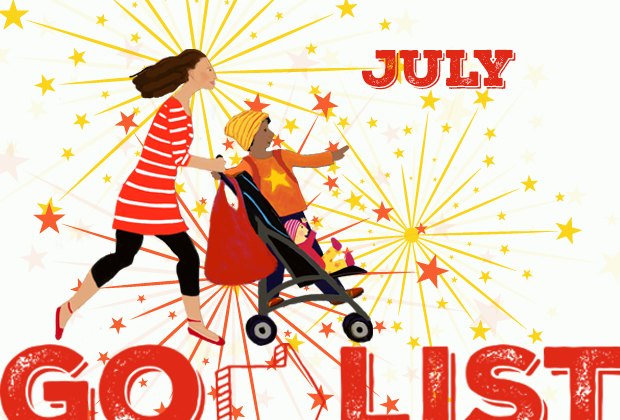 July GoList: Best Things To Do with Philly Kids This Month
1. Kutztown Folk Festival- Kutztown​
July 1 - July 7, 2019
The oldest continuously operated folklife festival, The Kutztown Folk Festival is a week full of entertainment for families. Learn about the traditions of the Pennsylvania Dutch and their way of life, plus experience firsthand a wide variety of Pennsylvania Dutch food, folk artists and traditional American craftsmen, antiques and collectibles, entertainment, music,dancing and a wide range of children's activities.
2. U.S. Army Field Band Concert & Waterfront Fireworks - Phildelphia
July 1, 2019
Families can watch the sky for fireworks over the Delaware River while listening to the U.S. Army Field Band's musical celebration of American independence. Before the show, kids can participate in interactive activities with the Army. .
3. July 4th Concert & Fireworks - Philadelphia
July 4, 2019
Look to Philadelphia's sky and celebrate the 4th of July Wawa-style at this spectacular fireworks display which is part of the Wawa Welcome America festivities. To top it off, rock out to a free concert featuring Pitbull.
4. Hispanic Fiesta - Philadelphia
July 6 - 7, 2019
Summertime fun by the waterfront is found at the Hispanic Fiesta at Penn's Landing. This event features music, dance, entertainment, foods and artisan crafts which celebrate the Latino culture and community.
5. Malvern Fire Company Carnival - Malvern
July 9-13, 2019
Malvern Fire Company hosts its annual carnival complete with games, both kids and family rides, and a variety of food options. Ride an unlimited number of rides at the 2018 Malvern Fire Company Carnival for just $20 per person per day when you purchase online before July 8th. Armbands are available for $25 at the event. A firework show is offered on July 12th.
6. Blueberry Festival - Media
July 13, 2019
Blueberries are the star of the show at Linvilla Orchards. Guests can pick their own blueberries, participate in a blueberry pie eating contest, sample recipes with Judi, meet costumed characters such as Traveling Train, Dr. Duck, and Patrol Dog, as well as enjoy live entertainment.
7. Wineberry Harvest - Philadelphia
July 13, 2019
This event brings the family together for the harvesting of sweet and delicious wineberries at Schuylkill Center for Environmental Education. These bright summer gems are a delight to gather and eat – and they're invasive plants, so visitors can help get them out of the forest. Take home your harvest and make wonderful wineberry pies, muffins, and pancakes or simply eat them fresh from the bramble. Be sure to bring a pail or bag for gathering.
8. Bluegrass and Blueberries Festival - Lahaska
July 20 - 21, 2019
Peddler's Village celebrates bluegrass and blueberries during this weekend celebration. Guests can expect a variety of blueberry treats and can listen to toe-tapping bluegrass and country music. In addition, there are children's activities that little ones can enjoy.
9. Harry Potter and the Goblet of Fire™ In Concert with the Philadelphia Orchestra - Philadelphia
July 20, 2019
Doors open at 6 PM for this unique experience presented by the Mann. This world premiere concert features The Philadelphia Orchestra performing music from Harry Potter and the Goblet of Fire™. Audiences can relive the magic of the film on screen in high-definition while listening to the orchestra.
10. Kimberton Fair - Kimberton
July 22-27, 2019
Enjoy the fun at Burlington County Farm Fair. Visitors can expect a variety of excitement such as pony rides, 4-H animal tent, children's scavenger hunt, antique farm equipment display, crafts, storytelling, entertainment, food, live music, and more. Daily horse shows and daily milking of cows add to the fun. Children's Day is Thursday, 7/19 from 10am - 4pm, where the midway rides are closed but animal tents and the farmer-for-a-day tent are open. There is a $10 donation per car per day and $25 donation for a Multi-day Parking Pass.
11. Paw Patrol Party - Media
July 27, 2019
Visit the Free Library at Media/Upper Providence for this speical event. Children can attend either the 11 AM or 12:30 PM session and experience Paw Patrol fun with Chase, Marshall, Ryder, and the rest of the gang. Activities include games, crafts, and treats..
12. Incredible Insects - Green Lane
July 27, 2019
Curious kids can explore the interesting insects at Green Lane Park during this free event. Children use nets and magnifer boxes to examine critters up close. Please note that all animals are released back into their natural habitat unharmed.
Be sure to subscribe to our email newsletter to get our weekly roundups of events delivered to your inbox.