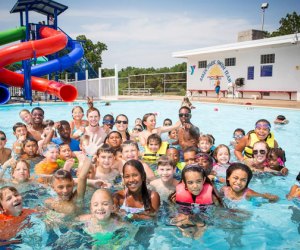 Fun Philly Area Summer Camps for Preschoolers
For working parents of Philly preschoolers, finding a summer camp can be particularly difficult because most places only accept campers who are age 4 or above. Whether you have to work over the summer, or you just want to send your toddler for some fun, we've found lots of great summer camps in the Philadelphia and surrounding areas. Here's a list of places that have special camps for children ages 3 and sometimes under.
Have older kids, too? Check out our Summer Camp Guide and posts about camps for art, STEM, and sports, too.
Summer Camps for Preschoolers in Philadelphia
William Penn Charter School Summer Camp
Accepting campers from aged 3-14, the Penn Charter summer camp includes daily instructional swim, free swim, tennis, art, archery, music, dance, drama, sports, and games. Specialty camps feature pottery, sewing, Minecraft, and chess.
Summer Camps for Preschoolers in Bucks County
Camp Curiosity- Doylestown, PA
This camp offers programs for children 2, 3, 4, and 5 through Grade 10. It's 50 acres provide plenty of opportunities to explore. Outdoor fun, stories, water playground, and centers are sure to keep young ones entertained all summer. Toddlers also have a scheduled nap time to manage the long, exciting day.
Camp NAC Newtown Athletic Club- Newtown, PA
Camp NAC offers specialty camps, perfect for 3-5 year old children. Activities are based on a particular theme for the week and customized pick up (11:30 AM, 1 PM, or 3 PM) allows families a flexible schedule.
Summer Camps for Preschoolers in Montgomery County
Riverbend Summer Exploration Camps - Gladwyne, PA
At Riverbend Environmental Center, Exploration campers are divided into three age groups: Tadpoles, aged 3-4 (half day), Rangers, aged 4 (full day), and Adventurers, aged 5-6 (full day). Each group learns through exploring and experimenting in the natural environment.
Bala House Montessori Summer Camp - Bala Cynwyd, PA
For ages 2 1/2 to 6, Bala House Montessori Summer Camp has flexible schedules and hours, water play, fantasy play, arts and crafts, outdoor games, organized sports, nature walks, gardening, and cooking. The little ones have fun all summer long. This camp is already on a waitlist as they enroll current students first.
Camp Kef at the Kaiserman JCC - Wynnewood, PA
A rare camp that accepts infants and toddlers through ninth-graders, so they can support a whole family with care. Camp Kef offers preschoolers a variety of activities each day, including swimming and water play. Located just outside the city, the Philly JCC has a beautiful campus with pools, playgrounds, and classrooms perfect for the littlest campers. Infant and toddler space is limited.
Friends Central Summer Camp - Wynnewood, PA
Camp Tenderfoot, for those aged 3 to 6, has full-day and half-day options and focuses on social development, independence, self-esteem, and curiosity. Friends Central Summer Camp is a local favorite for the youngest set, so register early.
Abington Friends Summer Camp - Jenkintown, PA
The Early Childhood (EC) and Junior Camp is exclusively for ages 3 to 5 with many of the same activities that older campers participate in, such as art, music, games, free play, storytelling, creative movement, and drama. EC campers enroll for the full summer.
Summer Camps for Preschoolers in Delaware County
Philadelphia Valley Freedom YMCA - various locations
For ages 3 to 5, Camp Small Foot focuses on hands-on activities and fun with arts and crafts, songs, and games. Swimming is available at some locations.
The School in Rose Valley - Rose Valley, PA
Adventure and exploration on the wooded grounds of this school that has an organic garden and walking trails for outdoor play, a swimming pool for water play, and plenty of activities for fun and enrichment. Programs are designed for ages 3-15.
Summer Camps for Preschoolers in Chester County
YMCA of Greater Brandywine - various locations
The YMCA of Greater Brandywine offers summer camp at eight different locations, with half-day, and full-day options.
Darlington Arts Center - Garnet Valley, PA
For the creative-minded, the Darlington Arts Center offers half-day camps for preschoolers focusing on art, music, dance, and drama. To help reluctant campers get used to summer camp, Darlington Arts Center also offers pre-camp classes in early June so little ones can start the summer confidently.
Photo courtesy of the Haverford YMCA's Facebook page.
Updated for 2020