Best of August: Encanto Sing-Along, Cultural Festivals, and More Things to Do with Kids in Philly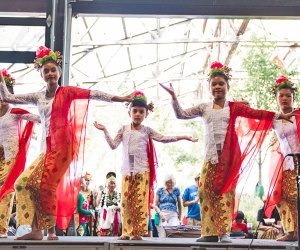 Summer is not over yet! August in Philly is a great time to enjoy outdoor movies and concerts, summer festivals, and the best beach days.
We're over that midsummer hump, but Philly brings the family fun in its summer homestretch. Encanto's been making the rounds on the outdoor movie circuit this summer, but nothing beats the Encanto Outdoor Sing-Along Concert at the Mann this month, with an onstage band playing along with the movie on a big screen. Festivals run the gamut this month, from fruit and harvest fests at Linvilla and Brecknock, to cultural celebrations like the Celebrate Asia Fest at Race Street Pier, to Clay Fest in Kensington. Some summer favorites get ready to close up shop this month, including the Oval XP, so get that summer bucket list ready before school's back in session.
Need a break from the heat and haze? Look no further than our top 40 ways to beat the heat in Philly. Festival season continues all through the warm weather months, so make sure to browse our 50+ Best Summer Festivals for Philly Kids and Free Summer Concerts.
We're adding more events to our family activity calendar every day, so don't forget to check it frequently. Get our picks for every weekend in your inbox—sign up for our newsletters.