Brightline Train to Debut in Orlando: Fun on the Tracks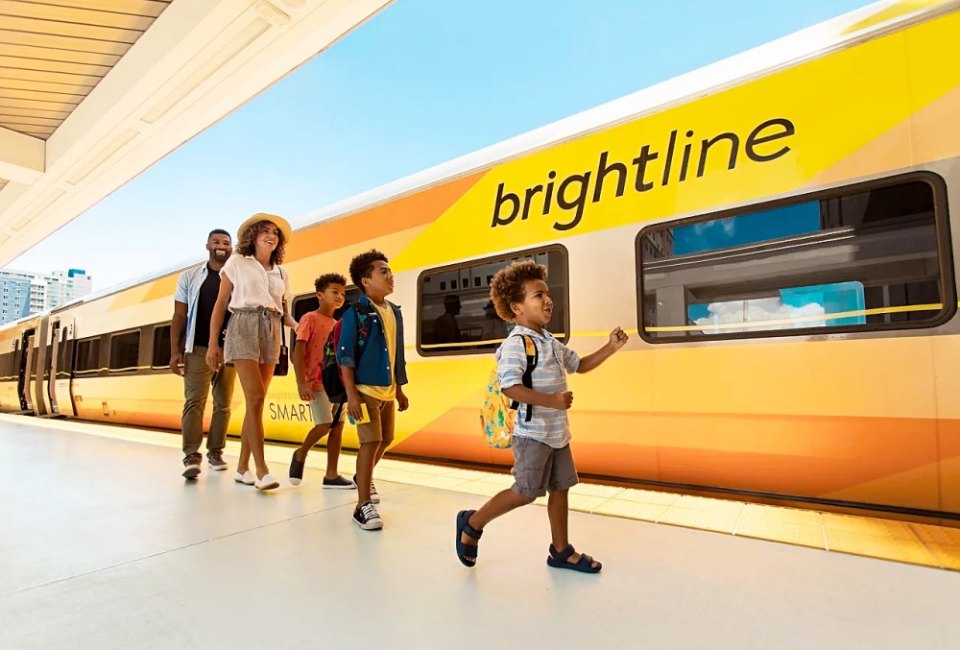 8/25/23
- By
Charlotte B
The City of Orlando, already renowned for its world-class theme parks and attractions, has added a new gem: Brightline Train. Florida's high-speed rail system, known for its seamless travel experience, is extending its tracks to Orlando and promises families a fun, convenient way to explore the Sunshine State. Whether you're a local resident seeking a weekend adventure or a vacationing family looking to elevate your trip, Brightline Train Florida offers a unique opportunity to embark on a stress-free adventure.
The Brightline Train isn't just a mode of transportation; it's an experience in itself! Imagine the anticipation in your children's eyes as they step onto the platform, surrounded by the sleek and modern design of the train. With spacious cabins, the Brightline Train offers the perfect setting for families to bond and create lasting memories while traveling through Florida's picturesque landscapes.
RELATED: Riding the Brightline to Miami

Currently there are five additional train stations in Florida beyond Orlando. Photo courtesy of Brightline
Brightline Orlando: Florida Travel with Style
The new travel option bridges the gap between Orlando and other major cities in Florida, including Miami, West Palm Beach, Boca Raton, Fort Lauderdale, and Aventura. This connectivity allows travelers to explore beyond the theme parks, providing easy access to a variety of cultural, recreational, and entertainment hubs. The Orlando Brightline Train schedule offers 16 round-trips daily, with hourly departures between Orlando and South Florida. At the time of publication, fares are now available for booking with dates beginning September 22, 2023 through early 2024. Fares start at $79 for adults and just $39 for kids, with a 25 percent discount for groups of 4 or more.
Traveling with a family can sometimes be daunting, especially when dealing with the logistics of getting from one place to another. Brightline Train takes the stress out of the equation —no more long hours in the car or security lines at the airport! Brightline's spacious seats, free Wi-Fi, and onboard dining options make the journey as comfortable as it is enjoyable. And for little ones, the excitement of the train ride itself is bound to keep them entertained.
RELATED: 10 Scenic Train Rides in Florida for Every Family to Enjoy

Start your train adventure the second you land at Orlando International Airport. Photo courtesy of MCO
The new Brightline Train station in Orlando is strategically located at the Orlando International Airport (MCO), making it a perfect launchpad for family adventures. The station connects to the airport's Terminal C parking garage, with over 350 spaces just for Brightline passengers. While Orlando's theme parks are a major draw, families now have the opportunity to explore diverse South Florida cities, from the vibrant art scene in Miami to the charming streets of West Palm Beach.
Whether you're a Florida resident looking to explore the state or a visiting tourist seeking an easy travel solution, the Brightline Train promises an unforgettable experience that combines convenience with excitement. Learn more about the Brightline Orlando Station opening September 22, 2023.
Places featured in this article:
---
Brightline Orlando Station

Sign up for our free
newsletters.
Mommy Poppins is a family activity website that helps people find things to do with kids.
©
2023
MommyPoppins. All Rights Reserved.
mp-prod4-v4.32.99
We use cookies and other data collection technologies to provide the best experience for our customers.
Learn More
Sign up for the Mommy Poppins Newsletter today!