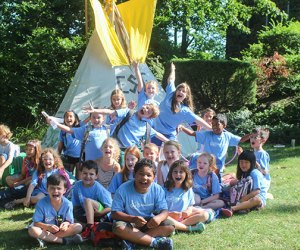 Five Country Day Camps within New York City Limits
Sunshine, fresh air, plenty of running around and sports. Those are some of the great reasons to send your child out of the city to one of the many wonderful country day camps that surround the city. If you (or your child) aren't quite ready to head out of the city, here are five camps in NYC proper that approximate the country day camp experience.
Find more options in our Camp Guide and Directory.
Downtown Day Camp – Battery Park City
Ages 5-13
Downtown Day Camp is the largest day camp in downtown Manhattan. Run out of PS 234 and PS/IS 89's lovely facilities as well as the Downtown Community Center, Downtown Day Camp offers swimming in the Community Center pool, sports at the Battery Park City fields, karate, and other indoor gym activities, plus musical performances, arts and crafts, and more. While kids get out and enjoy a lot of active time, they also have a good amount of indoor time to give them a break from the heat and sun. Camp sessions are three to six weeks, with an additional add-on week option. Buses are available in select Lower Manhattan neighborhoods.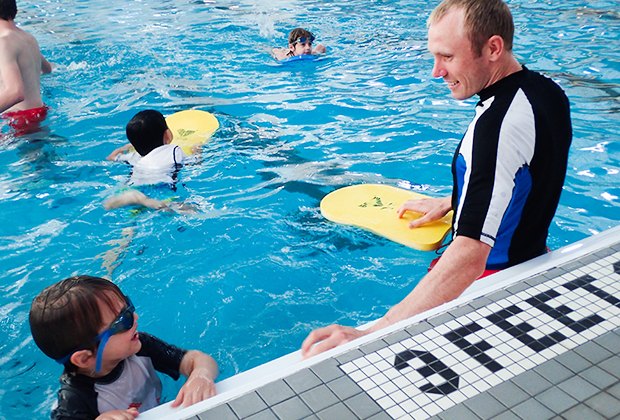 ESF Day Camp at Riverdale Country School – Riverdale, the Bronx
Ages 4-8
ESF Campers take over the tony private school campus and swim daily. Beyond the pool, days are filled with traditional camp activities like gaga games, theme days, and special events. A camp show is staged and there are a variety of sports to fill the calendar in addition to educational classes, art, and even fencing. Older kids are welcome to attend senior camp on the same campus. Transportation is provided to families in Manhattan, the Bronx, and Westchester County.
Oasis Camp – Citywide
Visit the website for a location near you
Ages 3-15
Kids spend almost the whole day outside, learning to swim in neighborhood pools and playing sports in city parks. Kids also participate in a full spectrum of camp activities like environmental studies, orienteering, rock climbing, arts and crafts, and more. Expect your kids to come home dirty, tired, and sun-kissed. Each location has a nearby indoor spot where children are dropped off and picked up, which can also be used in case of inclement weather.
Poly Prep Summer Experience Day Camp – Dyker Heights
Ages 3-15
Poly Prep's day camp experience is more convenient for Brooklyn and Lower Manhattan children than bussing outside of the city. The Poly Prep summer program is situated on its 25 acre campus in Brooklyn. Most campers swim regularly. Other sports offered include basketball, baseball, lacrosse, and soccer. Though sports are a big focus, there are many other specialty programs like engineering, fashion design and sewing, and chess. Bus service is provided from Lower Manhattan and most of Brooklyn.
Richmond County Day Camp – Tottenville, Staten Island
Ages 4-15
This popular Staten Island camp is housed on a spacious campus complete with indoor and outdoor basketball courts, an outdoor splash pad, multiple sports fields, air-conditioned indoor spaces for activities like dance, martial arts, and fencing. Campers partake in traditional camp activities and games like gaga and capture the flag. Theme days liven up the atmosphere. Weekly trips take campers further afield to places like the Liberty Science Center, zoos, amusement parks, and more.
For more New York City Camps, check out our Summer Camp Guide!
This post originally published in January 2012.
Top photo: ESF Day Camp at Riverdale Country School. Photos courtesy of the camp.