NYC Toy Stores for Special Needs Children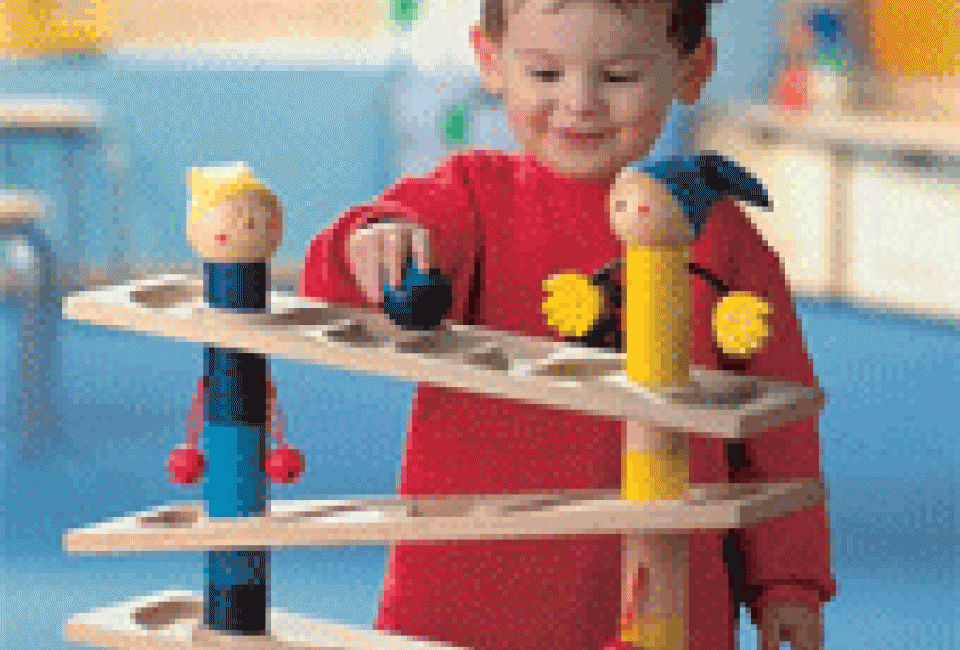 5/14/16
- By
Anna Fader
As anyone who's gone toy shopping in NYC knows, the choices are endless. For parents of children with special needs, shopping for toys brings on a whole different bunch of considerations. I've learned this whether buying or receiving toys as gifts for my two children who each received Early Intervention services.
Whether you're shopping for your own special-needs child or the child of a friend or relative, here are some New York City toy stores that carry outstanding products for children of all abilities. There are no chain stores here, just excellent independent shops where you'll get personalized attention (if you want it) from a knowledgeable staff who has seen and heard it all.
Kidding Around – West Village & Midtown East
60 West 15th Street, 212-645-6337
Grand Central Terminal, 212-972-8697
Voted Best Indie Toy Store by New York Magazine, this shop is popular with parents and teachers alike (my son's speech therapist heads here for toys to use with her young clients.) It's a child-friendly place with wide aisles and groupings of toys by themes, such as dress-up or kitchen/food play. It carries many brands of European and wooden toys which are otherwise hard to locate.
Boomerang Toys – Tribeca
119 West Broadway
212-226-7650
This family-owned store sees its fair share of celebs (Kate Hudson's son Ryder was spotted here with his dad) and won a 2009 Parents Picks Award. Yet, it remains a low-key neighborhood shop where you'll get personalized attention if you want it. The store carries top American and European brands (Playmobil, Corolle, Haba, Bruder and Schleich, to name a few) and the walls are packed floor to ceiling with playsets, dolls and doll accessories, building sets and transportation toys. You won't find any Elmo here, but I guarantee your kids will love whatever you bring home.
Mary Arnold Toys – Upper East Side
1178 Lexington Avenue between 80th & 81st Streets
212-744-8510
Mary Arnold Toys has staked its claim as the oldest toy store in the country, so you can't argue with their experience! In addition to the usual high-quality and educational toys—construction sets, toddler toys, pretend play, etc.—this store stands out for its book section near the front entrance. You'll find wonderful "life-skill books" for typical and special needs children on topics such as children being "different," children adjusting to school or a new sibling or children coping with illness. Note: the store can be a bit crowded and the aisles are narrow. Skip the stroller if you can.
West Side Kids – Upper West Side
498 Amsterdam Avenue at 84th Street
212-496-7282
West Side Kids has been an Upper West Side institution since 1981. This family-run store—now located just one block north of the Children's Museum of Manhattan—has survived the influx of larger chain stores. Owner Alice Bergman and her grown daughter staff the store and have backgrounds in teaching and early childhood development, and it shows (they also offer a discount to teachers who buy here, a nice touch.) There are no electronic toys here, no licensed character toys and no weapons. Each item in the store has been carefully vetted, from toys to books. Stop by after a visit to the CMOM or the American Museum of Natural History, which is also nearby.
Bonus Option: Shop online
If you're not in New York City, or prefer to shop online for special needs-friendly products I recommend Beyond Play. Its catalog is a mainstay for special-needs parents and therapists (I used to hand over our catalog to my kids' therapists so they could circle which toys we should get to help in sessions.) The products here are chosen for young children receiving services through Early Intervention. They're categorized by function so you know, for example, which ones are helpful in demonstrating cause and effect (pop-up toys) or promoting oral/motor skills (bubble blowers.) Visit the website to shop online or order a free catalog in the mail.
Tips for Buying Toys for Special Needs Children
While there is no way to choose the "perfect" toy for any child, a little understanding of special-needs kids goes a long way when toy shopping. Beyond the obvious—asking the parent or child him/herself what they'd like—here are some guidelines to help you:
When in doubt, buy "younger." A parent of a special needs 3-year-old will appreciate (rather than be offended) that you bought toddler-aged Legos rather than a complex set for ages 5 and up.
Don't buy things with too many bells, whistles and lights. Sensory overload is real for some special-needs kids. Musical toys are great, but go for the non-electronic ones, like maracas or egg shakers.
Classic/retro toys are often winners—think Lincoln Logs, wooden alphabet blocks or simple cause-and-effect toys like a Jack in the Box. Simple works best. Ditto for "tactile" toys that encourage sensory exploration such as Playdoh and squishy balls.
Since many special-needs children receive therapy through creative play, puppets, plush animals or small dolls are always welcome additions.
Watch out for choking hazards. Some special-needs kids "mouth" objects past age 3, so make sure the toy will be safe for the child (see No. 1).
Shopping for special-needs kids, like everything else in parenting, is an art, not a science. You never know what just might "work." Though I generally advise against bells and whistles, when my low-muscle tone 8-month-old was learning to roll over in physical therapy, a loud musical Fisher Price porcupine was the toy that got her to do the trick as she kept reaching for it. I keep that toy in the closet, too, this time for sentimental value.
For other great gift ideas, check out our Holiday Gift Guide.
Joanna Dreifus is a mother of two and the author of the blog MyMomShops.
This post was originally published in February 2010.