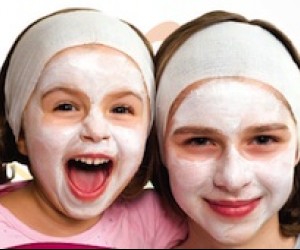 Spa Parties for Kids in the Hartford Area
My daughter, like many other little girls, loves to dress up and pretend to be a Princess. This is probably just the start of many years to come of her wanting to get pampered. Really, what woman doesn't enjoy a day at the spa?! As she gets older I envision many special mom and daughter day trips to the salon getting our nails done together. For the little girl, adolescent or even teen who enjoys getting all dolled up, a spa party with her friends would be a perfect way to celebrate a birthday. There are some great selections in the Hartford County area that cater to just that kind of party! If a spa party in Fairfield County might be more convenient for you we've covered some options there as well. For even more great party ideas check out our Party Guide.
Polka Dots in Glastonbury offers great spa package parties with a "Pamper Me Pretty" theme for ages 8 and up. They have a Hard Candy Dessert Bar where the girls will get to create their own hand soak and Hot Fudge Lotion. Each guest will enjoy a manicure as well as exciting games with prizes, Karaoke and get to go on a fabulous shopping spree where they will receive an adorable purse with a $10.00 gift card to shop in their whimsical store! The Birthday Girl always receives a "Sweet Treat".
In Southington there is a children's hair salon called Snip-It's that has spa parties. Some of the party services include a chocolate cupcake or peaches & cream mini-manicure, a chocolate mousse or strawberry lemonade min-pedicure, and a cucumber extravaganza facial. The birthday child receives a special treat and all the guests will get a goody bag. You can check the website now to fill out an online inquiry form for more information.
La La Lil' Spa is a party service that sends a host to your home or other site providing pampering for your spa themed party. They offer things like aromatherapy, relaxing music, manicures, pedicures, hair and makeup products, facials and more through a variety of packages to choose from. The rates range from $275-$460 for up to 8 guests, and includes everything from candles, custom robes, invitations, soothing gel stress-free balls, crafts supplies, and much more!
The Little Green Tambourine in Canton has a special spa themed party for girls ages 6-14. The drop-off party includes making homemade perfume and face masks, yoga, dancing, and manicures. Each guest will get to take home a goody bag filled with their spa creations!
Hidden Oasis is a spa to go service and they offer party packages for both the little girl and teen! All parties last 2 hours and include a variety of options with things like manicures, pedicures, facials, make up application or massages. The guests get to wear fun pink robes while enjoying sparkling cider with strawberries or fresh smoothies.
Have fun getting pampered for the day and pretending to be like a Princess!