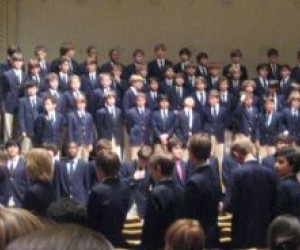 NYC Children's Choirs: How to Join a Kids' Chorus in New York City
Got a little songbird who's always singing around the house? Maybe it's time to get them out of the shower and into the spotlight. For kids who love to croon, New York City is a Mecca of children's choruses, ranging from casual to competitive to pre-professional, with plenty of performing opportunities for all. Plus members do a lot more than just sing, they also learn how to read music and how to sight-sing, and really expand their repertoire so you don't have to hear that same tune over and over and over again (like you do now).

We've rounded up seven sensational children's choruses in New York City. Best of all, a few are even free to join (although an audition is required).
The Young People's Chorus of New York City – Upper East Side
In residence at the 92nd Street Y, 1395 Lexington Avenue at 92nd Street
Founded in 1988, the Young People's Chorus of New York City is one of the most famous kids' choirs in the country. In addition to being the resident chorus at Frederick P. Rose Hall at Lincoln Center, YPC makes frequent TV appearances, has won many awards and just this past 9/11 performed "The Star-Spangled Banner" in the morning at Ground Zero and again at dusk at the Evening of Remembrance in St. Patrick's Cathedral. The chorus boasts eight different divisions. Kids can try out for six of them: Prelude (girls and boys ages 7 to 10), Intermezzo (girls and boys ages 10 to 15), Amani (boys ages 11 to 14 with changed voices), Cantare (girls and boys ages 11 to 16), Young Men (ages 12 to 18) and Concert (girls and boys ages 12 to 18), while Chorale (Young Men's and Concert combined) and the Honor Chorus are invite only. A limited number of new children between the ages of 7 and 18 are accepted every year. No previous musical training is necessary but an audition is required. Currently, YCP is particularly interested in recruiting young men for its Amani division. Auditions are held year-round by appointment only. Kids will be asked sing a song of their choice and to repeat a few basic musical patterns. There is a fee to participate but scholarships are available as needed. Call 212-289-7779 extension 10 or e-mail audition@ypc.org for more information.

Trinity Youth Chorus – Financial District
Trinity Wall Street, 74 Trinity Place near Rector Street
Known as "The Voice of Lower Manhattan," the FREE in-residence youth choir of Trinity Wall Street includes students from many downtown schools as well as children throughout the city. Peppercorns start at age 5, move on to Junior Choristers at age 8 and become Senior Choristers by age 11, where they can remain until age 18. In addition to honing their vocal skills and performing, participants learn about music theory and history, and how to sight-sing. Though affiliated with the church, the chorus is not a religious program and students of all faiths are welcome. In addition to giving two major annual concerts, Trinity Youth Chorus performs throughout the city and has appeared in movies, on TV and even NPR. Auditions are usually held in September by appointment. Call Melissa Attebury at 212-602-0798 or email mattebury@trinitywallstreet.org for more info.

Children's Aid Chorus – Upper East Side
Children's Aid Society Rhinelander Center, 350 East 88th Street between First and Second Avenues
Despite having multiple centers across the city, the Children's Aid Society only has one chorus. Advanced singers ages 11 to 18 are trained to perform a wide range of music including classical and pop, in two-, three- and four-part harmony, often with choreography. Over the previous year, the group has performed at Radio City Music Hall and sang the National Anthem at major sporting events. Auditions are ongoing and full scholarships are available for those who qualify. Call 212-876-0500 or email kcampbell@childrensaidsociety.org for more information.

The Metropolitan Opera Children's Chorus – Upper West Side
64 Columbus Avenue near 62nd Street
This FREE program for children ages 7 to 10 consists of three divisions, Beginners, Intermediate and Advanced. Kids receive lessons in operatic music appreciation, and those in the Advanced group can audition for singing roles in the Met's productions. Auditions are held in the spring for admittance the following fall. Kids will be asked to sing "Happy Birthday" with piano accompaniment, followed by an ear test. Those interested in applying for 2013 should keep an eye on the website for next year's dates.

New York City Children's Chorus – Upper East Side
Madison Avenue Presbyterian Church, 921 Madison Avenue at 73rd Street
While most youth choirs don't consider kids under age 7, the New York City Children's Chorus accepts children ages 4 to 6 into its Preparatory Division. Although an audition is still required, little ones who don't feel up to performing a song can opt for a short musical play session instead. For older children, there's the Training Division for first through fifth grades, Concert Choir for sixth through ninth grades and In Harmony for high schoolers. Concerts are scheduled throughout the year, and auditions are held over the summer, though individual appointments at other times are occasionally available. Email info@nycchildrenschorus.org for more info.

The New York University Children's Chorus – Greenwich Village
Frederick Loewe Theatre, Steinhardt School of Culture, Education, and Human Development, 35 West 4th Street between Greene Street and Washington Square East
This program isn't just tuition FREE, it's audition free as well! The NYU Children's Chorus is open to all children ages 6 to 12 who love to sing and can commit to attending rehearsals every Tuesday from 3:45-4:45pm. Participants learn proper vocal technique and musicianship, and get to perform alongside older divisions. New singers are usually accepted in September, but exceptions may be made. Call Professor Gates at 631-261-2783 or email e_l_gates@yahoo.com.

Brooklyn Youth Chorus – Cobble Hill
179 Pacific Street between Clinton and Court Streets
BYC's Cross-Choral Training Program combines voice instruction with a comprehensive method of teaching sight-reading and other music skills. There's a Preparatory Division for ages 7 to 9, a Junior Chorus for ages 9 to 14, an Intermediate Chorus for ages 10 to 17, a Senior Chorus for ages 11 to 17, a Young Men's Ensemble for ages 14 to 21, and a Concert Chorus for ages 11 to 18. Kids can audition throughout the year by singing (wait for it...) "Happy Birthday," along with a pitch-matching exercise and scales. Unlike the other programs we've profiled, this one reassesses its members annually to make sure they're progressing. To schedule an audition, fill out this online form. Scholarships are available.

And even though it's only open to kids in a specific school, we couldn't write about NYC children's choirs without mentioning the super-famous singers of P.S. 22 in Staten Island. Since becoming a YouTube sensation in 2009, the chorus has performed on Oprah, at the Academy Awards and has already been booked to sing at the 2013 Presidential inauguration! Admission to the chorus is by audition, however admission to P.S. 22 is for families living in school district 31. Then again, New York City parents have been known to move for less....
OUR LATEST VIDEOS