Chinese Mid-Autumn Moon Festivals in New York City: Moon Cakes and Flying Lanterns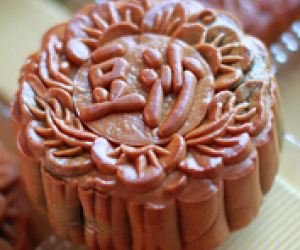 Recently we rounded up a slew of outdoor fairs and fests in September. Below we're spotlighting the Mid-Autumn Moon Festival, a Chinese tradition that's celebrated all over the city.

Basically a Chinese harvest festival, the Mid-Autumn Moon Festival marks the fall equinox. Traditionally, families go out to admire the big autumn moon, eat elaborate moon cakes and light pretty paper lanterns. There are a number of organized celebrations around the city.
Autumn Moon Cultural Festival – Chinatown
Mott Street between Canal and Bayard Streets
Saturday, September 6 at noon
FREE
Located in the heart of Manhattan's Chinatown, the Better Chinatown Society's fete features cultural performances, arts and crafts and food vendors.

Mid-Autumn Moon Festival Family Day – Chinatown
Museum of Chinese in America, 215 Centre Street between Howard and Grand Streets
Saturday, September 6 noon-4pm
$10, free for children under 2
Head to MOCA to learn the art of calligraphy, paper folding and lantern making; snack on moon cakes; strike a celebratory pose with the moon goddess; go on a scavenger hunt; and enjoy an Alvin Ho storytime with author Lenore Look. Space is limited so buying advance tickets is recommended.

Mid-Autumn Treat & Tea – Flushing
Queens Botanic Garden, 43-50 Main Street near Dahlia Avenue
Saturday, September 6 1-4pm
Free with admission: $4 for adults, $2 for children ages 3 and up
Enjoy tea demos, storytelling, holiday arts and crafts, and a teabag making workshop (additional fee applies; supplies limited).

Mid-Autumn Moon Festival – Chinatown
Division and Forsyth Streets
Sunday, September 7 noon-5pm
FREE
The Chinatown Partnership Local Development Corporation sponsors this fest featuring cultural performances, arts and crafts, and community info tables.

Autumn Moon Chinese-Am Cultural Week Festival & Lantern Parade – Sunset Park
Leif Erickson Park, 66th Street and Eighth Avenue
Sunday, September 21 noon-5pm
FREE
The second celebration hosted by the Better Chinatown Society is also the biggest. Enjoy cultural performances, arts and crafts, sports activities, food vendors and a traditional children's lantern parade at 2pm, which marches down Eighth Avenue from 68th to 55th Streets.