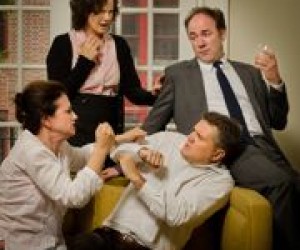 "God of Carnage" at Mile Square Theater: Review and TICKET GIVEAWAY
If you're wondering why the word "carnage" is popping up on your happy family go-to site, it's because this carnage is a very profound and very funny play about parenting. (Or lack thereof.) Tagged as "A Comedy of Bad Manners", the Mile Square Theater and director Chris O'Connor do an excellent job of bringing to life two sets of parents who attempt to have a civil discussion about their children's recent altercation. The result is disastrous, hilarious, and nearly as bloody as the title suggests.
Obviously, this topic could not be more timely, considering all the uproar and furor about bullying in the schools. In Yasmina Reza's "God of Carnage", Alan and Annette's son Benjamin has hit Henry, Michael and Veronica's son, in the face with a stick and knocked out two of his teeth. The 'how's and the 'why's obviously need to be worked out by their upscale, civilized parents, so they meet for coffee and pastries in Michael and Veronica's home. What ensues is a very entertaining 75 minutes of the descent into Hell. The couples' priorities, questionable parenting styles, and shaky marriages are increasingly unmasked and a shared bottle of expensive rum puts the finishing touch on the chaos.
We don't want you to miss this wonderful production, so Mommy Poppins is thrilled to be able to offer two tickets to two lucky sets of parents. Get a babysitter and get thee out to Mile Square Theater—not only will you laugh like crazy, you'll go home feeling like you're the best parents in the world by comparison.
Prize: Two two-packs of tickets for any performance of "God of Carnage" at Mile Square Theater.
How to Enter: To enter the contest leave a comment below answering this trivia question: Name one of the stars in the upcoming Roman Polanski film "Carnage" based on the Yasmina Reza play. Comments must be entered by 5pm on Tuesday, October 11. Two winners will be drawn at random and notified on Wednesday, October 12. Please leave your correct email address (one that you check frequently) when you leave your comment because that is the only way we will be able to reach you. If you do not respond to our email notification within 48 hours, another winner will be drawn. Email addresses of entrants will not be collected, sold or otherwise abused.
Mile Square Theatre presents God of Carnage, by Yazmina Reza. October 6 through October 23 at the Monroe Theatrespace. Photo from lower left, clockwise: Patricia Buckley, Annie McAdams, Matthew Lawler, and Charlie Kevin. Photo by Craig Wallace Dale.
Note: Mile Square Theater will have post-play discussions with the cast, local child psychologists, family counselors and other experts in the field on the following dates: 10/6, 10/8, 10/9, 10/13, and 10/15, all after the 8pm performance.