What's For Dinner: Cooking Classes to Help with Feeding Kids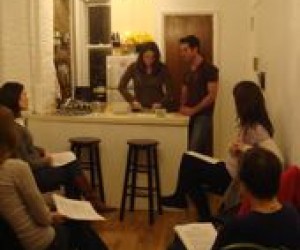 [UPDATED: July 18, 2012]
We hear a lot about the benefits of cooking and eating healthy meals together as a family, but despite our best intentions, it can be tough to make that happen on a daily basis, whether for lack of time, energy, creativity—or all of the above.

You can get a little help in the kitchen and have fun doing it by taking a cooking class to learn easy, healthy recipes and techniques for getting food on the table for your kids. Despite what you might think, cooking classes don't have to be fancy or expensive, there are some casual options here in the city that are a good fit for parents for making family meals.
I was excited to recently sign on for one such class with a group of friends who, like myself, face the challenge of feeding toddlers, kids, husbands and themselves at home. On a Monday night we headed down to the West Village for a lesson in healthy cooking. Here's a taste of our experience:

The "healthy" theme for the evening was set on arrival. We climbed five flights of stairs to enter the apartment of nutrition consultant Marko Wurm, who gives weekly classes under his company Nufitbalanz. His tiny living room was set with folding chairs facing his even tinier kitchen. But Marko would show us that a small city kitchen is no excuse for not cooking up some big flavor. He led us through recipes for a Brussels Sprouts starter and Chicken Sausage & Kale Stew while casually chatting about nutrition. We talked about our personal cooking habits and covered topics such as eating with the seasons, buying local vs organic vs conventional and cooking in bulk. I picked up a better way to chop an onion and learned about Kale and Quinoa, two uber-healthy foods I definitely never had on my plate growing up. (See below for a recipe.)

For the $25 class fee, at the end of the evening my friends and I left armed with a few new recipes, ingredients and cooking tips for feeding our families. We had had a great time and after eating a bowl of healthy stew in the class, we stopped on the way home for cupcakes followed by cocktails. Hey, everything in moderation, right?

Here are a few family-friendly cooking classes available in NYC:

Nufitbalanz
43 Jane Street
Mondays from 6:30-8pm & 8:30-10pm
$25 for singles or groups up to 10
$20 for groups between 10 and 20
* Its a small space so bigger groups may be crowded. Also, if you already know the basics about healthy cooking, you may want to call ahead to make sure the class is appropriate for you.

Whole Foods Bowery Culinary Center
95 East Houston Street
Offers a variety of events including:
FREE Cooking Demo and Tasting "Small Budget, Big Flavor"
See store calendar online for dates. There is a cool one for future chefs coming up from July 30-Aug 3 ($400) called "KIDS COOK NYC!"

Taste Buds Kitchen
109 West 27th Street
Fun and unique classes for kids and adults alike. See website for info and dates.

Camaje
85 MacDougal Street
Weeknight Dinners--How to prepare speedy, healthy meals that you can make in advance for the week ahead.
$95/pp or $175/for 2
On occasional Sunday evenings, see restaurant calendar online for dates.


Parents Need to Eat, Too by blogger Debbie Koenig also has a book by the same name, filled with recipes for new parents. You can check it out here.

To get started, here is an easy, healthy recipe from the Nufitbalanz class:

Chicken Sausage and Kale Stew
Prep Time & Cooking Time: 45 minutes
Yield: 6 servings

Cooking tip: A splash of vinegar is a long-standing chef's trick for soups. Added just before you serve the soup, vinegar brightens the taste considerably. Use favorite style of chicken sausage to add variety to this dish.

Ingredients:
1 tablespoon extra-virgin olive oil
1 large onion, diced
4 cups kale, torn into bite-size pieces and rinsed
2 14-ounce cans reduced sodium chicken broth
4 plum tomatoes, chopped
2 cups diced cooked potatoes, preferably red skinned
1 tablespoon chopped fresh rosemary
½ tablespoon freshly ground pepper
1 12-ounce packed chicken sausage, halved lengthwise and sliced
1 tablespoon cider vinegar

Directions:
Heat oil in Dutch oven over medium-high heat. Add onion and kale and cook, stirring often, until onion starts to soften. 5-7 minutes

Stir in broth, tomatoes, potatoes, rosemary and pepper. Cover, increase heat to high and bring to a boil, stirring occasionally. Reduce and simmer, covered, until vegetables are just tender, about 15 minutes. Stir in Sausage and vinegar and continue to cook, stirring often, until heated through, about 2 minutes more.

To make ahead: Cover and refrigerate for up to 2 days
Per serving: 210 Calories, 7g fat, 40mg cholesterol, 26g carbs,
14g protein, 3g fiber, 345mg sodium
Nutrition Bonus: Vitamin A (140% daily value), Vitamin C (120% dv),
Potassium (20% dv)

For more classes for kids, from after-school programs to Mommy and Me, check out our classes and activities guide.