City Stomp: An Awesome Interactive Music Class for Young NYC Kids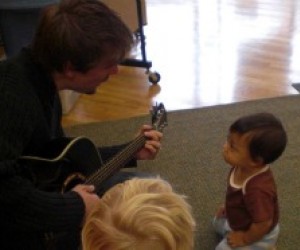 [UPDATED: July 18, 2012]
When I was researching music classes for my two-year-old, a friend of mine recommended I try City Stomp. She said it was as a more interesting and affordable alternative to the ubiquitous Music Together programs.
I was intrigued by the fact that City Stomp was created specifically for New York City kids. Plus, I loved that the class could accommodate my toddler and my newborn. So all three of us hopped aboard the City Stomp train, and boy were we glad we did. This parent-child music class is great fun for little kids (up to about age five), so it really works for sibling pairs!


Kevin McCallum, the founder and director of City Stomp, got the idea for the program back in 2008. He was teaching for Music Together at the time when a dad in one of his classes suggested he break out on his own. McCallum decided to combine children's songs about city subjects (à la Music for Aardvarks) with an educational program that teaches basic music skills.

While McCallum says he loves New York City's sights and sounds, his songs specifically celebrate our city's cultural diversity, so his students get to hear lots of different genres. In each hour-long session, kids sing, play instruments and dance along to songs about garbage trucks, cobblestone streets, the subway, Coney Island and taxis (hey, Music for Aardvarks doesn't have a copyright on that). Each class focuses on a different musical style, like Caribbean, Irish and Latin American, to name a few, and kids get to work on their rhythm, pitch and tone.

My toddler loved singing and dancing, but her favorite part was picking up the instruments. Shakers, little drums, triangles, sticks were all big hits, as was the chance to occasionally strum Kevin's guitar. (She loved putting the instruments away even more than playing them I think!) Meanwhile, my baby gnawed happily on drumsticks. Don't worry: Kevin's so smart he has a special collection bucket for drooly instruments, and he cleans all of them after every class.

One of the things I liked best about City Stomp is Kevin's way with the kids. (We didn't get to meet the three other teachers, but I've heard they're wonderful, too.) My daughter isn't a wallflower, but she gets a bit weirded out when grown-ups get up in her face and scream, "Oh, are you shy?!" the way they sometimes do. Kevin is very open and friendly, but he also realizes that some toddlers need time to warm up a new experience. By the second week, my two-year-old was talking dreamily about her music teacher "Heaven" and playing music class with her stuffed animals, and soon she started singing along in class, too.

Another perk of City Stomp is you get to take home Kevin's professionally-produced CD so you can "practice" at home. (You can hear a few tunes on the website.) It's our go-to driving music now, and reminds my daughter of the class she loves so much. Over and over and over. And over. I'm glad I like the music too.