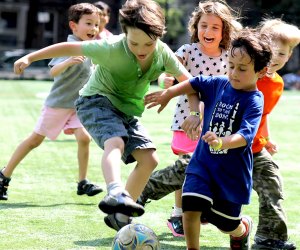 27 Great Spring Break Camps for NYC Kids
School holidays seem to pile up this time of the year. You've just gotten February break sorted out, and it's already time to plan for spring break. Public school kids are off from Thursday, April 9 through Friday, April 17, 2020.
Whether your kid wants to spend their break dabbling in the arts, honing sports skills, is obsessed with all things STEM, or all of the above, New York City seemingly has a camp for every interest. We've rounded up more than two dozen NYC camps across the five boroughs. All are open for spring break and many other school holidays.
Be sure to check out our Summer Camp Guide if you're already deep into planning for summer's much longer school break!
Here's a sampling of the school holiday camps available around NYC. It's always worth checking with your local play space or other neighborhood kid spot to see if it's offering programming. Be sure to click through to the camps' official sites for more details, including hours and pricing.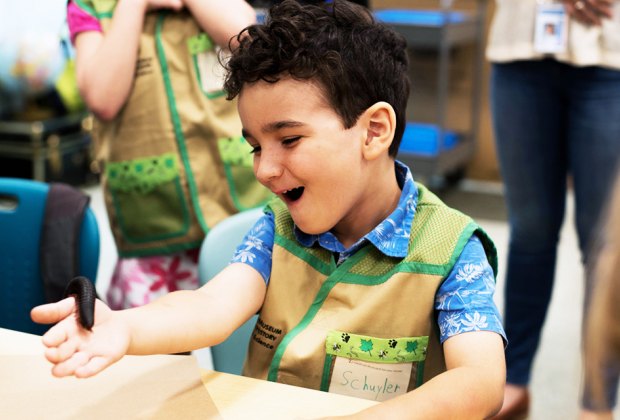 Adventures in Science (AiS) classes at AMNH introduce children from pre-K to grade 5 to a wide variety of scientific disciplines.
Spring Break Academic Enrichment Camps
Adventures in Science at AMNH – Upper West Side
Ages 4–11
Children are introduced to a range of science topics at these American Museum of Natural History camps. Kids are divided into grade-level groups to spend the week as scientists. Selections change with every break, and programs are offered on select weekends, so there's always something new to explore.
Backpacks + Binoculars – Multiple locations, Brooklyn
Ages 2–12
The brainchild of NY City Explorers, this program takes kids on excursions across the five boroughs. Art and science experiments, scavenger hunts, and nature explorations challenge kids to problem solve and think critically about the world around them.
Brooklyn Robot Foundry — Manhattan and Brooklyn
Ages 5–10
Spring springs eternal at this camp, where robot creations abound with the springy parts, such as a homemade bobblehead and an accordion. Check your nearest location for details about summer sessions for 2020.
RELATED: 50 Rainy Day Activities for NYC Kids

Spend a week immersed in themes relating to the Intrepid's collection of aircraft, spacecraft, and watercraft.
Camp Intrepid – Midtown West
Ages 5–10
Head to the Intrepid Sea, Air, and Space Museum to spend a week immersed in themes relating to the museum's collection of aircraft, spacecraft, and watercraft. This year's spring break theme is spy science. Little explorers learn how science makes super-secret communication possible.
NYChessKids Camp – Chelsea
Ages 4-12
Chess players of all levels, even beginners, are welcome at this program, which includes art, Legos, robotics, and coding, in addition to the namesake game. You don't need to be a master of chess to enjoy it: My son has attended NYChessKids camps several times; he's had a blast and improved his game to boot.
Pixel Academy — Multiple locations
Ages 7–13
At this spot's spring break camps, kids can choose week-long sessions focused on a variety of video games. If you only need a day of coverage here or there, consider signing up for single-day maker space camps where kids use 3-D printers, laser cutters, and more. Camp runs from 9am–3pm, but after-care is available. Lunch and snacks are also included.
RoboFun – Upper West Side
Ages 4–12
Students in PreK through sixth grades build working Lego robots in the morning and work on video-game design in the afternoon. RoboFun also offers half-day camp options, focused on Lego robotics, coding, game design, stop-motion animation, and circuitry.
Taste Buds Kitchen – Chelsea
Ages 4–13
Little foodies can get their game on at this spot's cooking camp. Taste Buds offers half-day programs divided by ages 4–8 in the morning and ages 9–13 in the afternoon. No matter their age, kids go on a culinary adventure learning how to make delicacies like cardamom pastries from India, soda bread from Down Under, and Japanese-inspired sushi rolls.
Spring Wildlife Science Camp at the Queens Zoo – Corona, Queens
Ages 5–9
Young animal lovers spend five days exploring nature at the Queens Zoo. Campers go birding on the marsh, look for native wildlife, and learn about the importance of wildlife around the world and in their own city.
Zoofari at the Staten Island Zoo – West Brighton, Staten Island
Ages 4–6
Students in pre-K through first grade spend a week behind the scenes at the Staten Island Zoo. Kids have up-close animal encounters, go on special tours, and take a spin on the carousel.
Spring Break Sports Camps
Asphalt Green – Upper East Side & Battery Park City
Ages 4–12
This popular pair of athletic complexes groups kids by age (4–5, 6–7, and 8–12) and lets them play all kinds of sports, including soccer, baseball, basketball, and gymnastics. Campers also spend time swimming.
Aviator Sports & Events Center Holiday Break Camps – Marine Park, Brooklyn
Ages 4–11
Kids can have all kinds of athletic fun at this massive Brooklyn facility. Ice skating, rock climbing, soccer, basketball, gymnastics, arts and crafts, and film screenings are just some of what's on tap. Lunch and a light snack are provided.
RELATED: Day Trips and Getaways Guide for NYC Families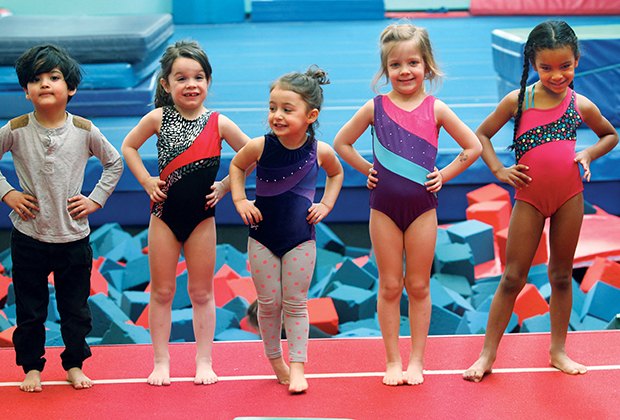 Try out gymnastics at a Chelsea Piers camp where kids work to master age-appropriate skills.
Chelsea Piers Holiday Sports Camps – Chelsea
Ages 3–12
The massive athletic complex offers a variety of specialized sports camps throughout the year, including golf, bowling, and ice skating, where children hone their skills on the facility's state-of-the-art equipment. There's also a half-day program for the preschool set and early and late-care options for older kids.
Kids of Summer Sports – Upper West Side
Ages 6–12
Campers test out their baseball, dodgeball, soccer, and basketball skills at this outdoor sports camp. In the event of bad weather, the camp moves indoors to the nearby PS 75 gym.
The Baseball Center NYC — Upper West Side
Ages 5–12
Little sluggers can hit the popular Baseball Center Diamond Camp whenever public schools are closed. Campers hone their skills performing drills and swinging in the batting cages. Half-day options are available, and full-day pickup is at 3pm.
RELATED: New Exhibits, Galleries, and More Museum Fun for NYC Kids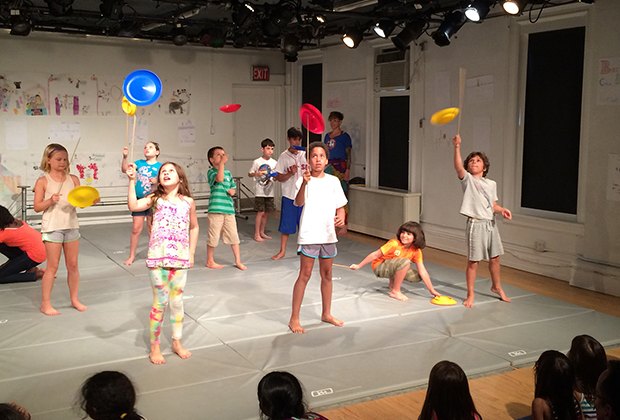 At Brooklyn Arts Exchange, it's truly a variety show with kids trying activities like dance, circus skills, and tumbling.
Spring Break Performing and Visual Arts Camps
Brooklyn Arts Exchange School Breaks Art Programs – Park Slope, Brooklyn
Ages 5–10
Each day, campers explore a different theme—from fairytale fantasies to mythical mammals—through visual and performing arts workshops led by BAX educators. Register for a single day or the whole week. Older campers, ages 10–14, can take master classes from BAX educators in disciplines like dance, theater, and AcroBax.
Brooklyn Acting Lab – Park Slope, Brooklyn
Ages 5–10
This year's camp is all about creating design props, costumes, set pieces, choreography, and songs or pieces of music. Campers dissect, deconstruct, reconstruct, and perform classic stories, films, musicals, and songs.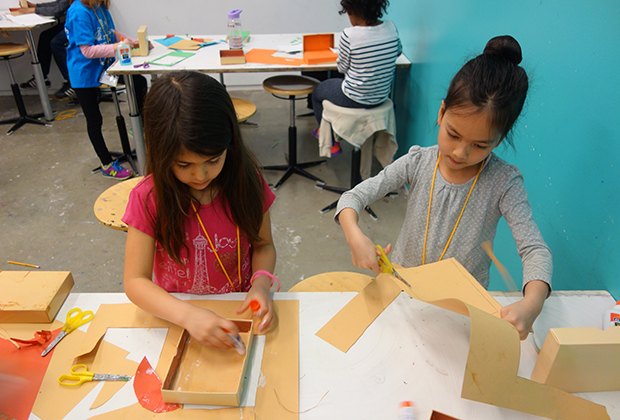 The Children's Museum of the Arts camp goes beyond at-home crafting by letting kids create and present interactive art projects.
Spring Art Colony – Hudson Square
Ages 6–12
The Children's Museum of the Arts offers spring break programs at its state-of-the-art space. Young artists can explore painting and photography, graphic novels, or imagined landscapes. Teaching Artists expose students to a variety of ways to manipulate materials at this camp.
TADA! Musical Theater Camps – Chelsea
Ages 6–14
Aspiring Broadway hoofers work with theater pros to create a mini-musical in just four days. The production is staged to an audience of families on the final day.
Textiles Art Center — Boerum Hill, Brooklyn & Greenwich Village
Ages 5-11
In these classes, students explore subjects such as weaving, sewing, embroidery, printing, felting, and dyeing. Each day is dedicated to a full project and supplemented with organized playtime.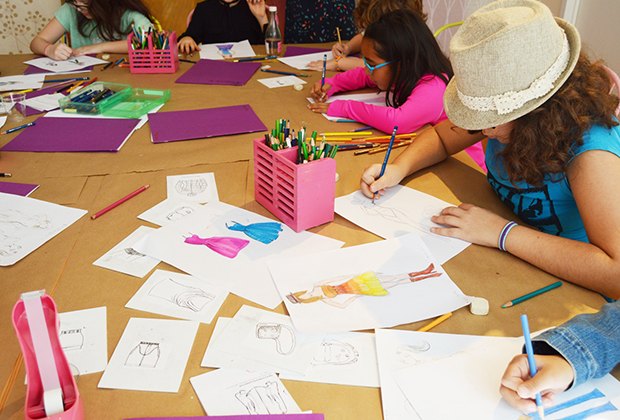 The Fashion Class campers experience fashion life from creating illustrations to walking the runway.
The Fashion Class — Midtown West
Ages 6–12
Kids get a crash course in designing, sewing, and even walking the runway at this fashionista camp. Field trips and face time with professional models are on tap. Full-week campers come away with three newly sewn garments. Projects change daily, making it great for returning campers.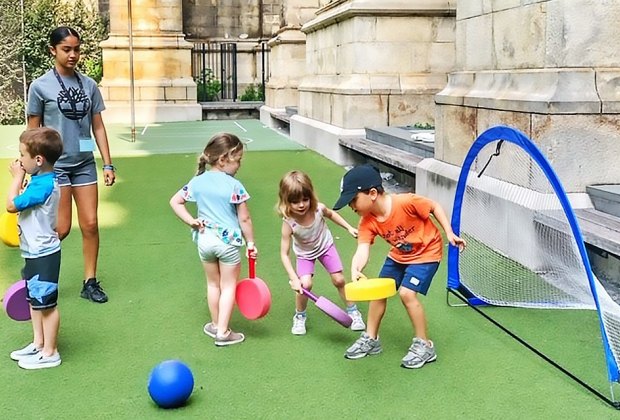 ACT Holiday Camp is an affordable camp and fun way for your kids to spend the break!
Spring Break General-Interest Camps
ACT Holiday Camp – Morningside Heights
Ages 5–13
Kids enjoy arts and crafts, cooking, circus arts, sports, and playing in the iconic cathedral (or on the grounds, weather permitting). Daily themes include crazy science, teamwork trivia, the great ACT cook-off, and more.
Greenwich House – Greenwich Village
Ages 5–13
A community institution, Greenwich House's camp features artistic activities, field trips, games, and sports.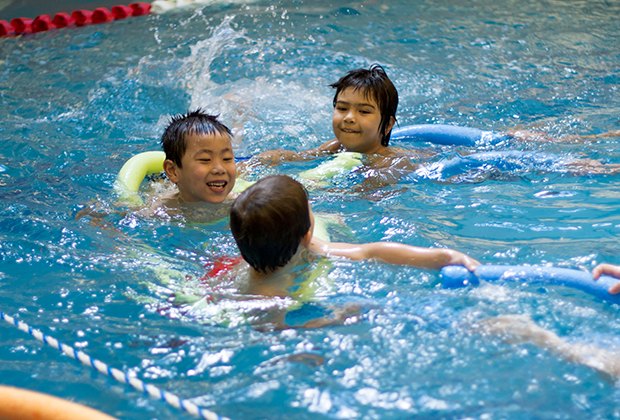 Get a jump on the summer swimming season by splashing around at the Manhattan Youth school holiday camp.
Manhattan Youth: School Holiday Camp – Tribeca
Ages 5–11
Though campers split their time between PS 89 and the Downtown Community Center, this camp is open to all kids and offers sports, crafts, theater, swimming, and other fun. Campers take day trips to Pier 25 and the Battery Park City Fields.
Mini Camp at the Kings Bay Y – Windsor Terrace, Brooklyn
Ages 4–11
Kids at this local Y camp create art and films, work on greening projects, play music and sports, cook, swim, and go on local field trips.
NORY – Various Manhattan locations
Ages 3-12
This camp offers a little bit of everything, which makes it hard to define! Choose from combo swim and STEM programs to soccer and STEM. Kids learn everything from a backstroke to robotics at this break camp. Half-day, full-day, and extended-day options available.
Riverdale YM-YWHA – Riverdale, the Bronx
Ages 5–10
This Y camp offers themed activities, specialty classes, and swimming, keeping your kids entertained with physical fun, plus Lego Robotics, arts and crafts, and field trips.
Unless noted, photos courtesy of the camps
This post, originally published in March 2010, is updated annually. Katie Nave Freeman contributed additional reporting.