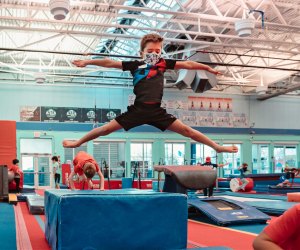 Spring Break Camps for NYC Kids in 2021
School holidays seem to pile up this time of the year. You've just gotten February break behind you, and it's already time to plan for spring break. Public school kids are off from Monday, March 29-Friday, April 2, 2021. In some cases, the camps we've found are offering programs during the private school break, too, and we've noted those dates where applicable.
Whether your kid wants to spend their break dabbling in the arts, honing sports skills, or focused on all things STEM, New York City seemingly has a camp for every interest. We've rounded up 12 NYC camps across the five boroughs. All are open for spring break and many other school holidays.
Be sure to check out our Summer Camp Guide if you're already deep into planning for summer's much longer school break!
Here's a sampling of the school holiday camps available around NYC. It's always worth checking with your local play space or other neighborhood kid spot to see if it's offering programming. Be sure to click through to the camps' official sites for more details, including hours and pricing, and register ASAP as current COVID protocols mean many local camps are limiting group sizes this spring.