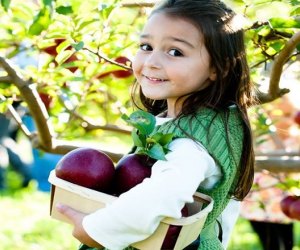 Pick-Your-Own Apple Orchards in Eastern Connecticut
Gala. Honeycrisp. Cortland. Liberty. McIntosh and Macoun. It just wouldn't be autumn in Connecticut without a delicious apple-picking adventure. For most families, it means enjoying the outdoors on a beautiful autumn day, road tripping with friends, or eating nothing but cider donuts and apples for three straight hours (and the inevitable-but-oh-so-worth-it stomachache that follows). If you are heading out to pick straight from the tree, call ahead to see what's available, but meanwhile, check out our Apple Picking Guide, which includes farms all over the state. Below are some wonderful family-owned orchards to consider in Eastern Connecticut:
Scott's Yankee Farmer - East Lyme
One of the largest farms in Eastern Connecticut, Scott's not only offers apples, but also berries, peaches, and pumpkins. Hitch a ride on a tractor and see the farm from a different perspective.
436 Boston Post Road, East Lyme 860-739-5209
Allyn's Red Barn - Ledyard
Allyn's provides pick-your-own apples, as well as a farm store brimming with pies, cider, and other delicious treats. Call ahead to confirm hours of operation.
610 Colonel Ledyard Highway, Ledyard 860-464-7245
Horse Listeners Orchard - Ashford
Horse Listeners boasts a large variety of apples, peaches, blueberries, and assortment of veggies. Children will enjoy pony rides on weekends, and the entire family will appreciate the free apple cider available after a long day of picking fruit.
317 Bebbington Road, Ashford 860-429-5336
Silverman's Farm - Easton
Silverman's is one of the larger apple-picking venues in the area. It offers a picnic area, a farm stand and a gift shop, and a petting zoo. Because its attractions are popular, it can get busy on weekends, so try venturing out on a weekday to avoid the crowds.
451 Sport Hill Road, Easton 203-261-3306
Blue Jay Orchards - Bethel
Hitch a wagon ride through the orchards (weekends only) and pick your own delicious fruit beginning mid-September through mid-October. Don't leave without savoring some cider donuts, or taking home a cinnamon coffee loaf.
125 Plumtree Road, Bethel 203-748-0119
Beardsley's Cider Mill - Shelton
Pick-your-own apples in September and October. The semi-dwarf apple trees here grow only 10-12 feet off the ground, making it fun and easy even for little ones to reach the good fruit. Cash or check only.
278 Leavenworth Road, Shelton 203-926-1098
Holmberg Orchards - Gales Ferry
Holmberg Orchards offers a little of everything: a variety of pick-your-own apples, a superb farmer's market with lots of local offerings, and a winery that features hard ciders and fruit wines.
12 Orchard Lane, Gales Ferry 860-464-7305
Bishop's Orchards - Guilford
More than 20 varieties of apples are available from mid-August to late October. On weekends, enjoy a tractor ride into the orchard. While here, indulge in a luscious pie, decadent fudge, or a wholesome meal, including soups and sandwiches.
135 Boston Post Road, Guilford 203-453-2338
Photo Credit: Photo Courtesy of Lyman Orchards
Originally published on 9/16/12.