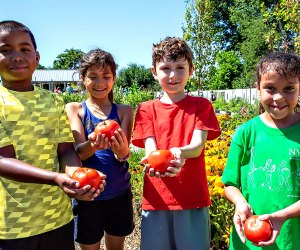 7 Best Children's Gardens in NYC Where Kids Can Dig, Grow, Explore, and Play
While we're beyond grateful to live in a city with endless amounts of theater and museums to expose little ones to, sometimes it's essential to get outside and let them be one with nature. Thanks to beloved children's gardens throughout New York, our city kids have a chance to explore different plants, participate in workshops, and get their hands in the dirt.
Now that the city is in full bloom, it's the perfect time to head to one of the many children's gardens in NYC. So bring your nature-obsessed kiddos to one of these top children's gardens in NYC.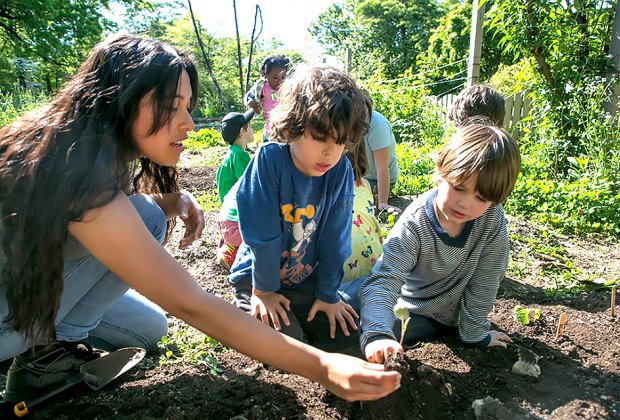 Kids learn planting with volunteers at the Children's Garden at the BBG.
Brooklyn Botanic Garden – Prospect Heights, Brooklyn
455 Flatbush Avenue
Little ones can get their hands dirty in the BBG's Discovery Garden and learn all about botanical wonders, from touchable plants to buildable birds' nests. The nearby Children's Garden invites tiny gardeners to register for a small plot of land and grow their own crops. Over a thousand youngsters now garden in this special spot every year!
RELATED: 25 Ways Kids Can Get Their Hands Dirty in NYC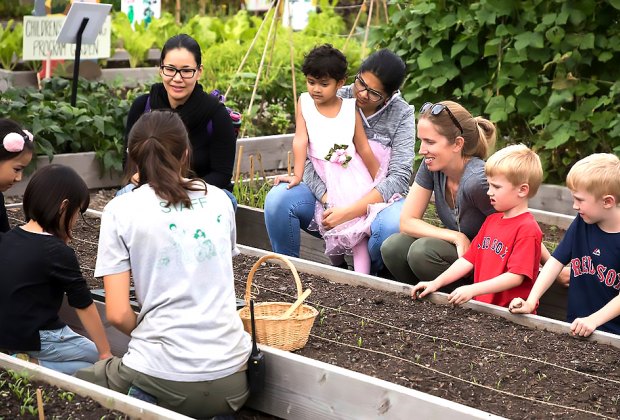 The New York Botanical Garden has kid-friendly garden programming year-round.
New York Botanical Garden – Bronx Park, the Bronx
2900 Southern Boulevard
NYBG's Everett Children's Adventure Garden never fails to impress with gorgeous greenery, a nature center, a playhouse, a hedge maze, and tons of family programming year-round. Kids can make music with instruments made from reclaimed natural materials or explore a play zone with climbable rocks and tree trunks. Elsewhere in the NYBG, little ones can explore the Ruth Rea Howell Vegetable Garden, while the Edible Academy offers a hands-on approach to teaching kids about growing, nutrition, and the environment.
Queens Botanical Garden – Flushing, Queens
43-50 Main Street
The nearly 40-acre garden offers year-round garden programs for little green thumbs, teaching them all about ecological balance, conservation, and sustainability. We're big fans of the Forest School, offering a drop-off adventure program for ages 2 to 6.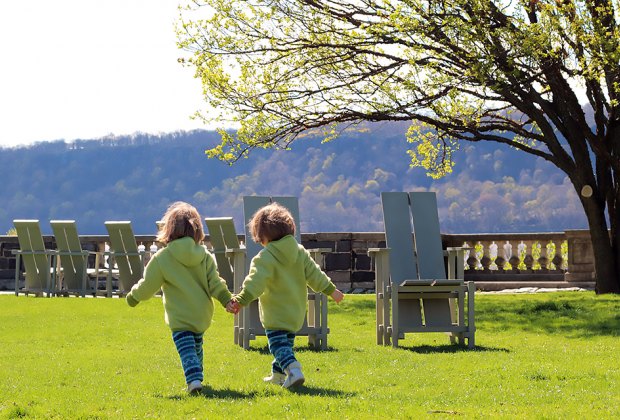 Wave Hill in the Bronx offers weekly family workshops in the garden.
Wave Hill – Riverdale, the Bronx
675 West 252nd Street
Kids will love exploring the 28-acre garden and cultural center, complete with hiking trails and greenhouses. The garden offers year-round children's programming, including free weekend nature crafts and family events.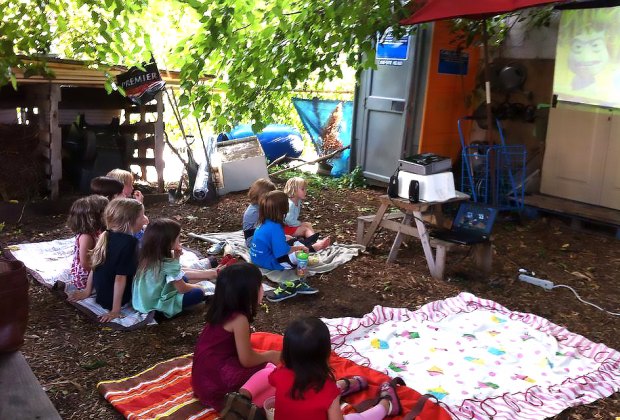 The South Brooklyn Children's Garden is a serene neighborhood oasis.
South Brooklyn Children's Garden – Columbia Street Waterfront District, Brooklyn
204 Columbia Street
This peaceful garden offers a sweet space for little farmers to grow edible plants. The neighborhood greenspace also features a butterfly garden and educational programming.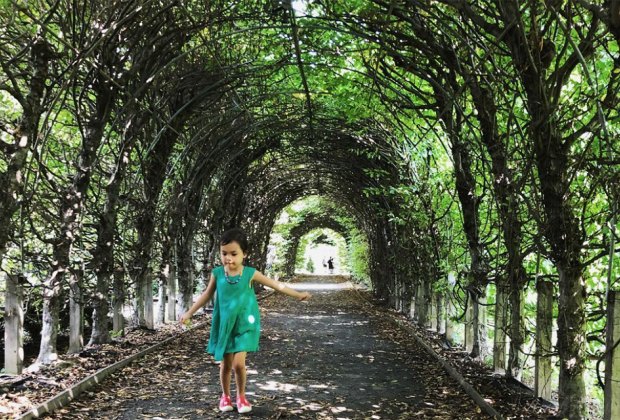 Little fairies will love exploring the secret garden at Snug Harbor.
Snug Harbor Cultural Center & Botanical Garden – Snug Harbor, Staten Island
1000 Richmond Terrace
Over a half an acre in size, the Connie Gretz Secret Garden is special place for kids featuring a brick-walled enclosure which boasts three towers, a shrubbery maze, and plenty of greenery.
Jefferson Market Garden – Greenwich Village
Greenwich Avenue between Sixth Avenue and West 10th Street
This sweet oasis is open to the public Tuesday through Sunday, from 9am to dusk. It features a koi pond, shady trees, and plenty of greenery. Pack a picnic and enjoy the views of the next-door Victorian Gothic Jefferson Market Library.
Photos by the author.