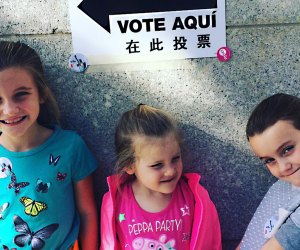 20 Fun Things To Do with NYC Kids on Election Day
New York City kids get a day off from school on November 5, 2019, and it might just be the perfect day for an accompanying adult to call in sick (or civic!). Fall weather usually provides perfect temps for hitting up one of New York City's many destination playgrounds, and we've also scoured our event and museum listings, and combed through our day trip guides to put together a list of 20 great things to do on Election Day when school is out.

If you're among the many (if not most) parents who have to work one way or another on Tuesday, November 5, check out our directory for the many mini camps around the city offered on Election Day. And while you're at it, peruse our November GoList, our Fall Fun Guide, and our list of free family events in November for an action packed November beyond Tuesday.
Read on for 20 ideas on how to spend the day—and maybe hold a family vote to choose one or two.
1. Visit Federal Hall (26 Wall Street) where the first United States Congress met, George Washington was inaugurated President in 1789, and the Bill of Rights was passed. Even though the building is not the same (this one was built in 1842) you can catch a glimpse of the Bible George Washington used on his inauguration day, and take a photo with George's statue on the front steps.
2. Venture out of the city for one of these 30 fall day trips.
3. Take a guided tour of the Metropolitan Museum's American Paintings and Sculpture—offered free with museum admission on Tuesdays at 12:15pm. While you're there, take in the new The Last Knight exhibit and examine all the medieval arms and armor.
4. Take the US Customs House Tour and learn all about the building that is now the National Museum of the American Indian (or just goof around in the ImagiNations Activity Center), and then hit some of the cool playgrounds and attractions in Battery Park City.
RELATED: November GoList: Best Things to Do This Month in NYC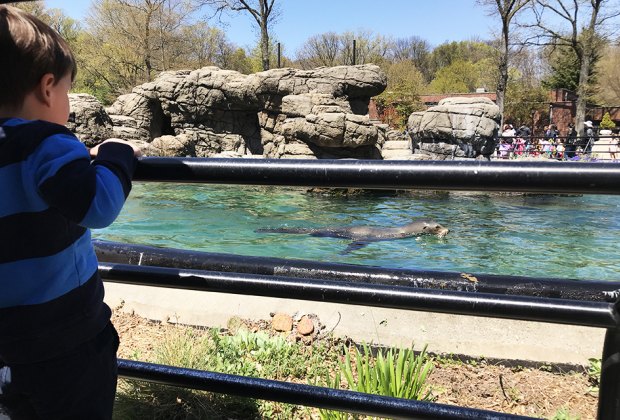 Watch the sea lions perform at the Prospect Park Zoo. Photo by Louise Finnell
5. Visit the Bronx Zoo, the Central Park Zoo, the Prospect Park Zoo, or the Queens Zoo. The New York Aquarium is open on Election Day, too.
6. Check out ArtecHouse, a new large-scale mixed reality experiment nestled in the lower level of Chelsea Market, designed to make visitors reconsider NYC's most famous buildings in a new light.
7. Head to the rink at Bryant Park to take lessons from professional skating coaches. If the weather doesn't comply, don't worry: Bryant Park's winter village offers loads of fun. If Bryant Park isn't local (or worthy of the trek from your location), check out our guide to nine outdoor rinks around the city.
8. Explore the democratic process and civic engagement at the Brooklyn Children's Museum's Election Day celebration, or the Election Day activities at the Children's Museum of Manhattan.
9. Prospect Park rolls out the red carpet on Election Day, inviting kids to vote for their favorite candidates, and offering animal encounters and nature programs. Or burn off energy at any one of Prospect Park's top playgrounds.
RELATED: Guide to Thanksgiving and the Big Parade in NYC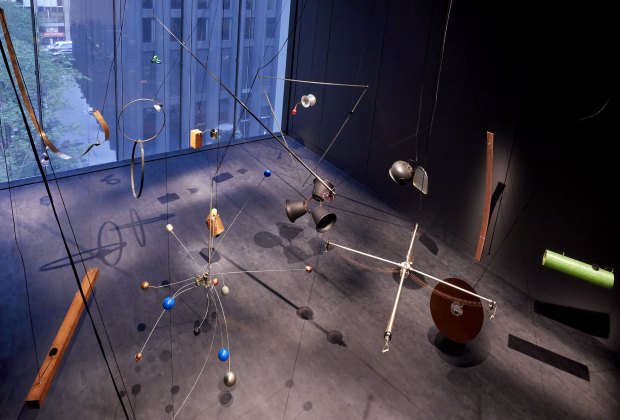 Rainforest V, MOMA's gorgeous sound collage. Photo by Heidi Bohnenkamp.
10. Check out the newly re-opened Museum of Modern Art and the fabulous Creativity Lab on the second floor (best for kids ages 10 and up). Don't miss the amazing the sound installation Rainforest V (variation 1) (1973–2015), which features 20 suspended sound sculptures!
11. If the weather takes a turn for the worse, or even if it doesn't, check out our list of the top 13 indoor play spaces in New York City.
12. LEGO of politics and visit the New York Hall of Science's fabulous Art of the Brick exhibit.
13. Volunteer! Take a little time to check out all the options that might work for your family—from food drives to serving up suppers kid-to-kid—then take the leap and sign up.
14. Staten Island's Snug Harbor goes all in for election day, with a walk-in workshop that invites kids to create campaign stickers.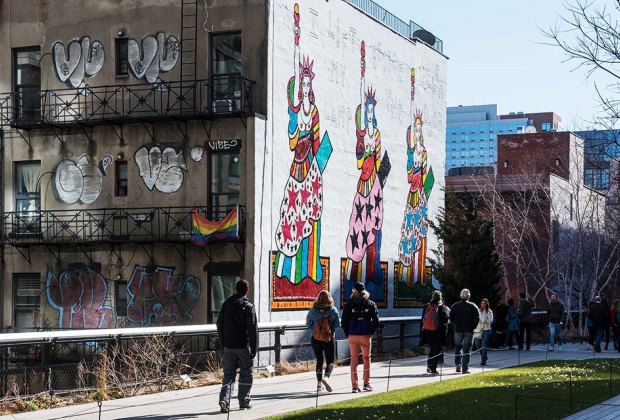 Visit I Lift My Lamp Beside the Golden Door by Dorothy Iannone at the Highline. Photo by Timothy Shenck
15. Stroll the High Line and keep an eye peeled for artist Dorothy Iannone's homage to the Statue of Liberty, titled I Lift My Lamp Beside the Golden Door. Bring a copy of Emma Lazarus' famous poem with you and talk about what it means to you.
16. Jump on the slides at one of our favorite Central Park playgrounds. Stick around afterward to explore a new-to-you corner of the park.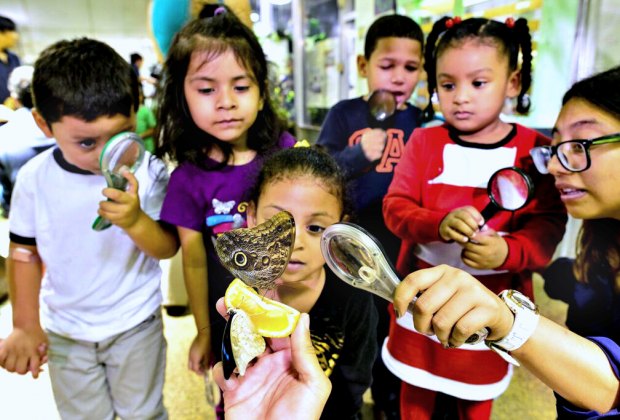 Commune with the butterflies at the American Museum of Natural History. Photo by D. Finnin.
17. The Butterfly Conservatory at the American Museum of Natural History re-opened in October, and remains one of those do-at-least-once-in-NYC activities. If you haven't been, now's your chance!
18. The Museum at Eldridge Street hosts a special neighborhood walking tour and scavenger hunt that takes you to some of the spots that Lower East Side kids in the early 1900s knew and loved.
19. Your library is open! The Manhattan main branch hosts The Lions Lego Zone, and the Countee Cullen branch presents a concert for little ones featuring Ian Hayes. Check out what's going on at your local branch, or just check out some books about America and the democratic process.
20. VOTE! You are allowed to bring children under 18 with you into the voting booth in every state in the country. And you can even let them cast your ballot for you (after you fill it in). What's not allowed? Selfies. Wait till you're outside to snap a commemorative photo.
A version of this post was published in 2016; it has been updated for 2019. Drew Kristofik contributed additional reporting.