SPONSORED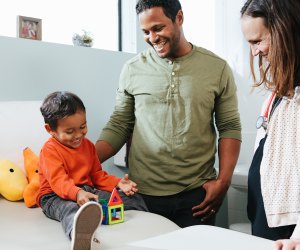 One Medical's Doctors Share How to Find the Best Pediatricians in NYC
You may have heard of One Medical — the super convenient membership-based primary care group that's been winning over New Yorkers for years — but did you know that select locations can treat you and your kiddos? We caught up with the group's Manhattan- and Brooklyn-based doctors to get tips on how to find a pediatrician who's right for your crew.
Not familiar with One Medical? The NYC medical practice seeks to provide exceptional patient-focused healthcare and service. With an annual membership fee, you get loads of parent-approved perks, including same- or next-day appointments, online scheduling, secure messaging with providers, and 24/7 virtual care, so you can get help whenever you need it (yup, even in the middle of the night).
Dedicated to meeting families' needs, the Tribeca and Park Slope offices feature kid-friendly waiting areas with books and toys (despite short wait times), diaper changing tables in well-stocked restrooms, space for breastfeeding and newborn care, and plenty of stroller parking. Plus, your whole gang can see the same doc, or at least doctors at the same practice, giving you a more convenient and cohesive healthcare experience.
To learn more about One Medical and meet the pediatricians, join Dr. Peggy Chapman, MD, MS, FA in Tribeca on Tuesday, June 25 from 6:00 to 7:00pm or join Dr. Penelope Hsu, MD in Park Slope on Tuesday, June 18 from 6:00 to 7:00pm. And to help prepare you, they've shared the top questions you should ask on a pediatrician interview (plus a preview of their answers.)
Top Questions to Ask at a Pediatrician Interview
Question: "What is your practice style?"
Why you should ask: Even when recommending the same course of care, every provider has their own style. Think about what you're looking for in a pediatrician try to gauge if your pediatrician's communication style aligns with you and your family.
Dr. Peggy Chapman says: "My practice style is collaborative, I see my role as working hand-in-hand with parents to help ensure the best health of their child. Other practice styles could be more down to business, choosing not to engage with you around your values and goals or simply may prefer a more one-way, directive approach."
Dr. Penelope Hsu says: My practice style is collaborative and evidence based. I always try to share the most up to date guidance as well as my perspective but am eager to hear parents' concerns and enjoy coming up with treatment plans that satisfy everyone and are in the best interest of the family.
Question: "What is the pediatrician's philosophy around vaccines?"
Why you should ask: As scary as it is, preventable childhood illnesses are on the rise, like the recent measles outbreak. Vaccines are a really important part of protecting little ones from picking something up both in and out of the doctor's office. Make sure to ask about the practice's vaccination philosophy and policies.
Dr. Penelope Hsu says: Vaccines are vitally important to protect not only an individual child but entire populations of people, as we are currently seeing with the recent measles outbreaks. I fully believe in the safety and efficacy of vaccines and highly encourage them for families. We fully support a family's decision and I often collaborate on timing and spacing of vaccines.
Question: "Does my baby need a pediatrician or can my whole family see one provider?"
Why you should ask: Not just any doctor can treat any patient. Pediatricians specialize in caring for children, while family medicine providers can care for the whole family (and internists are just for adults). Find out what kind of the care your doctor can provide and discuss what's best for you and your child.
Dr. Peggy Chapman says: "The choice of a healthcare provider must take into account what works best for you and your family. Pediatricians care for children of all ages, from birth to 18 years. A family medicine provider is trained in the care of children and adults. Either type of provider can take care of your child. I suggest talking to both types of providers to see which works best for you."
Question: "What if my child needs care and you're not available?"
Why you should ask: Of course, no provider can be available 24/7, so make sure to find out who will care for your child when your pediatrician's out. A high fever or a broken arm comes out of nowhere, so it's good to know the team that's backing your doctor up.
Dr. Penelope Hsu says: I work closely with both my office colleagues as well as our virtual care team and have the utmost confidence in them to take care of our pediatric patients. I love caring for my patients, and the beauty of a group practice is that the care of the patient is never compromised, simply because one provider is not available.
Question: "How can I play a role in my child's health?"
Why you should ask: Being a parent is tough, and sometimes really overwhelming. A pediatrician should be your go-to coach for your child's healthcare needs, so it's important to understand how you can best be involved in keeping your kiddo healthy and happy.
Dr. Penelope Hsu says: You are absolutely the most important person in your child's life. They will depend and rely on you for everything, which can be both exhilarating and daunting. My job as a pediatrician is to align with you to provide the best healthcare and advice I can, to support you in creating a loving healthy family.
Question: "What advice do you have on helping my child get healthy sleep?"
Why you should ask: Sleep is crucial to your baby and to you. Find out how your pediatrician approaches sleep and how you'll be set up for success.
Dr. Peggy Chapman says: "Good sleep is vital to health - for children and parents! The best advice I can offer is around the importance of teaching your child how to put themselves to sleep. It is not always an easy task but with the right resources and guidance it is often the most effective way to achieve a good night's sleep for all and a happier, healthier family"
Question: "What if I want to minimize the amount of medication my child is prescribed?"
Why you should ask: The best treatment plan will be prescribed by a provider who's willing to work with your priorities. Trust is what's really key here. If you know your pediatrician has your child's best interests in mind, you're more likely to be comfortable with their recommendation, even if it doesn't match your initial preferences.
Dr. Peggy Chapman says: "All parents want to do what is best for their child. If they have questions about the safety of vaccines, for instance, I try to answer them with the best evidence available. Sometimes, parents are hesitant to give a medication, like an antibiotic. I will work with the parents to address their concerns and come up with a plan that will work for all involved."
Question: "What makes your practice unique?"
Why you should ask: At the end of the day, every practice is different. Understanding what sets a doctor's office apart from the others will help you decide if you've finally found the one.
Dr. Peggy Chapman says: "I love being a One Medical pediatrician! Having practiced in more traditional pediatric offices, the differences at One Medical are clear to me. There is more time during visits to get to know families. Our Nurture Room and family-friendly office design provide everything parents need — a quiet place to breastfeed, family restrooms, and plenty of stroller parking. One Medical pediatric patients' experiences are as warm and welcoming as they are for our adult patients. For instance, having toys and books in the waiting room and exam rooms puts children at ease and keeps them occupied while I talk to parents. My go-to is a toy doctor's kit that kids play with while I examine them — it really empowers them to 'use' the same instruments I do!"
Dr. Penelope Hsu says: The One Medical pediatric experience is a special one. Our offices are big and bright and we aim to see our patients on time. Unlike most pediatric practices, our providers take the time to answer your questions and make sure you feel heard.The technology we use to stay in touch with our parents is unlike any other practice, from video visits with virtual providers, to being able to message us 24/7 using our mobile app and get a timely response. All of this creates a unique, patient-centered experience.
Ready to find a provider for your little one? Learn more about One Medical by registering for an upcoming open house with Dr. Chapman in Tribeca, or Dr. Hsu in Park Slope. You can also read more about pediatrics at One Medical here, or go ahead and register your child now.
One Medical - Tribeca
25 Hudson Street
New York, NY 10013
One Medical - Park Slope
794 Union Street
Brooklyn, NY 11215