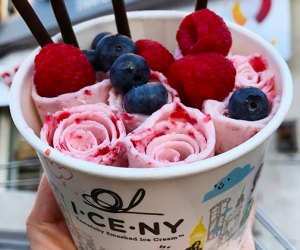 Thai Rolled Ice Cream Joints in NYC: The Stuff of Kids' Dreams
Here's the scoop on the latest ice cream trend: There is no scoop. If you're looking for something other than your typical ice cream shop this spring and summer, take the kids to try ice cream rolls. Rolled ice cream started in Thailand and, lucky for us, many shops have opened right here in New York City.
Find more fun foodie options to try with the kids in our NYC Restaurant Guide.
If you're not familiar with rolled ice cream, the process involves picking your base flavor, then choosing ingredients (Oreos, candy bars, Froot Loops, strawberries, chocolate shavings, lychee, red bean, etc.). Here's where the fun really starts. Guests can watch the entire process and delight in watching their ice cream rolls take shape.

The ice cream starts as a liquid base that is poured onto a chilled metal plate (as cold as -23 degrees!). Add-ons are thrown in and chopped up as the cream base begins to freeze. Working quickly, staffers then fold it all together until it's thoroughly mixed. The mixture, now the consistency of ice cream, is then spread into a thin layer on the metal plate. Using metal paddles, the ice cream is rolled into five or six rolls and placed into a cup. Add additional topping and voila! You have an Instagram-worthy treat. Try one—or all—of these NYC spots to indulge in your next savory ice cream craving.
RELATED: Best Candy Stores in NYC

Frozen Sweet on Mulberry Street might be the best choice for little kids. The panda bear cookies are just too cute. Photo by the author.
Frozen Sweet — Nolita
184 Mulberry Street
My 4-year-old went berserk when she saw the adorable panda bear cookies offered as a topping. Base flavors include vanilla, coffee, green tea, lychee, and Thai tea. Prices include unlimited toppings and non-dairy and vegan options are also available.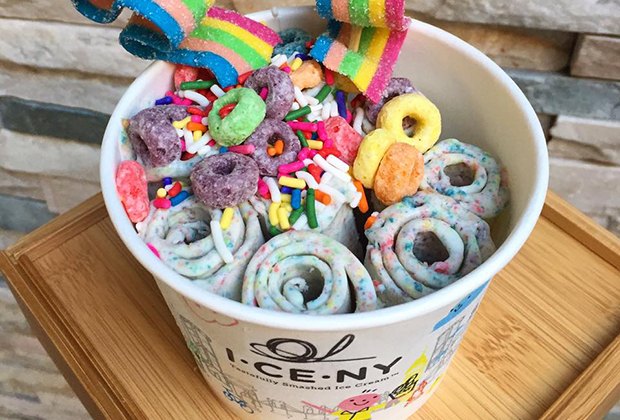 Part of the fun of the rolled ice cream craze is the funky topping options, from candy to fruit.

I CE NY — Greenwich Village
101 Macdougal Street
You'll find vanilla and chocolate base flavors here, but also green tea and Thai tea. This shop seems to have one of the larger menus, with seven base flavors, more than 20 mix-in ingredients and over 32 topping options. Prices are based on how many toppings and ingredients you get.

Juicy Spot Café — Lower East Side and Chinatown
109 Ludlow Street
33 Pell Street
The base flavors here are yogurt, green tea, and chocolate. Like all the other spots on this list, you can build your own or go with their combinations like watermelon lychee, black sesame, and cookie butter.
10Below — Chinatown, Flushing, Lower East Side, East Village
See website for addresses.
With combinations like banana and Nutella or key lime pie with graham cracker, it's no wonder this store with multiple locations is so popular. Prices include unlimited toppings.

Penguin Ice Cream — Lower East Side
143B Hester Street
Vanilla, chocolate, green tea, Thai tea, and coffee are the base flavors here. You'll find sesame, red bean, lychee and other Asian flavors in the combinations, but also Nutella, Oreo, and chocolate if that's what you're looking for.
RELATED: 25 Things to Do, Eat, and See in Chinatown with Kids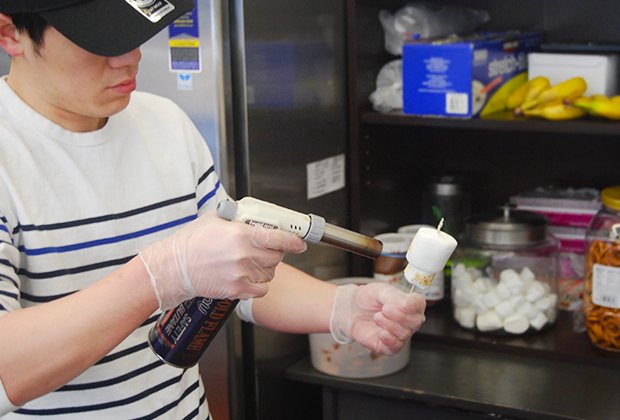 Watch your marshmallow topping get roasted right in front of you at Minus Celsius. Photo by the author.
Minus Celsius — Lower East Side
302 Grand Street
You'll find many of the same combinations and flavors here as the other shops. If you pick a marshmallow as a topping, watch them roast it right in front of you. Prices include unlimited toppings.

Blossom Ice Cream — Cobble Hill
196 Court Street
This Brooklyn spot offers combinations like sesame and graham cracker, or coconut flakes and vanilla. You can even get a mojito-flavored treat, with mint, lime, and graham cracker. The menu includes a wide variety of vegan options, made from an organic soy base.
Top photo: I-CE NY. Unless otherwise noted, photos courtesy of the shops.