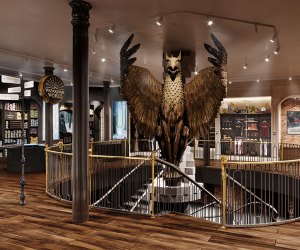 Harry Potter New York Sets June 2021 Opening
Muggles and wizards alike can circle a magical date on the calendar: Harry Potter New York has set its opening for Thursday, June 3, 2021. The flagship store, in the heart of the Flatiron District, transports visitors to the Wizarding World with 15 different themed areas spread out over a sprawling, three-floor, 21,000-square-foot-retail wonderland.
The opening is one of our most anticipated family-friendly debuts of the year. Read on for more magical details and a sneak peek at the shop's interior.
Visitors to Harry Potter New York are greeted by a larger-than-life model of Fawkes the Phoenix, in a preview of what's to come. The hand-crafted creature is but one of the many realistic props that will undoubtedly be filling social media feeds soon.
Photo-ops abound, with chances to step into a London phone booth, try Hagrid's boots on for size, and test out magic skills at an interactive wand table.
Beyond housing the largest collection of Harry Potter and Fantastic Beasts merchandise in the world, Harry Potter New York provides plenty of opportunities to transport yourself into the Wizarding World. Fans with the Harry Potter Fan Club app on their phone can unlock enchanted keys throughout the store to learn secrets, see videos, and bring the store to life.
RELATED: Kids Can Play for Free at These New York City Stores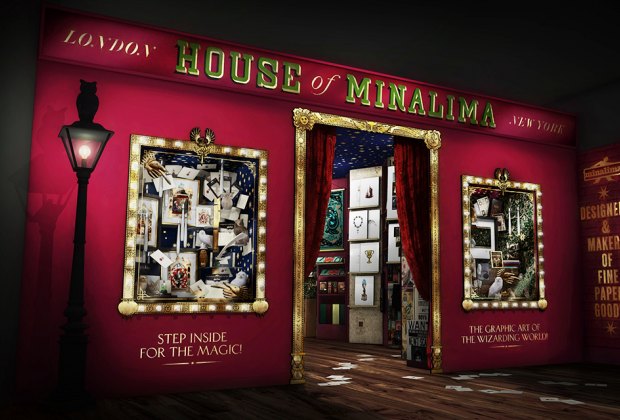 Graphic designers to all things Wizarding World, MinaLima opens a U.S. outpost at Harry Potter New York.
A pair of virtual reality experiences really raises the bar: Chaos at Hogwarts lets you step inside the famed wizarding school to see its mystifying creatures and learn its magical secrets, while Wizards Take Flight lifts you high above London's streets astride a broom to battle Death Eaters.
RELATED: 14 Fun and Offbeat NYC Stores to Visit With Kids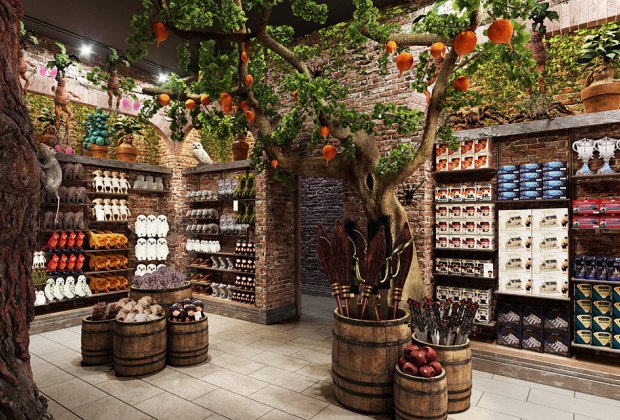 The 21,000-square-foot wizarding wonderland is chock-full of themed merchandise.
When you've had your share of magical playtime, shop for everything from chocolate frogs and magical creature plush toys to an exclusive Golden Snitch wand, personalized house robe, or even brand collaborations with the likes of Spirit Jerseys, Loungefly handbags, and Pottery Barn Teen furnishings.
RELATED: Best Toy Stores in NYC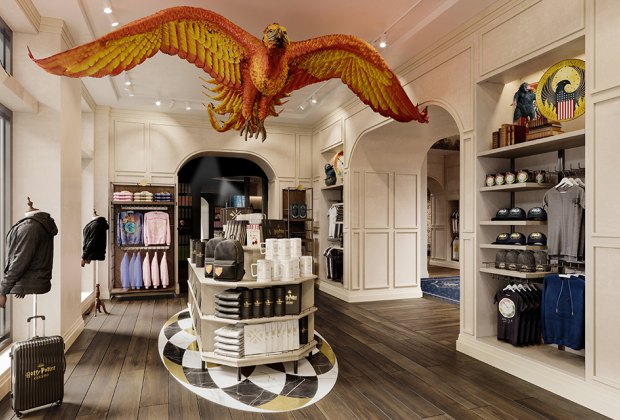 Fawkes guards the entrance to the new Harry Potter New York, set to open later this year.
Opening safeguards include following CDC guidelines to limit visitors so social distancing can be maintained. To do so, a virtual queue will be utilized, allowing visitors to scan a QR code upon arrival and be alerted to return when it's their turn to step inside. While you wait, explore the rest of the neighborhood.
If you just can't wait to get your hands on Harry Potter New York products, the website is up and running, peddling a select assortment of goodies until the doors swing open to the public.
Photos courtesy of Harry Potter New York