Explore the Power of Our Senses at AMNH's Latest Exhibit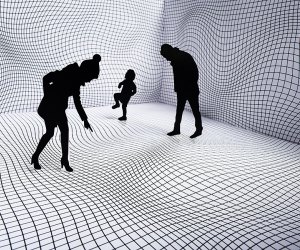 Today's non-stop world, especially in the city, is a full sensory experience. From sights and sounds to smells, touch, and taste, we're surrounded by everyday adventures.
It's how we understand the world around us. Now the Upper West Side's American Museum of Natural History is delving deep into the fascinating mechanics of our bodies with a new exhibit that some have called a little "trippy," Our Senses: An Immersive Experience. Eleven interactive galleries within invite visitors to touch, smell, see, listen, play, and challenge their senses as they wander through.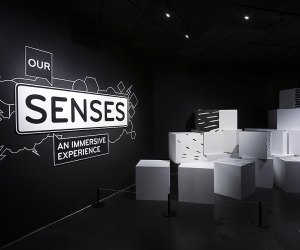 In this experiential exhibition, 11 galleries dare visitors to rely on their senses. Photo by R. Mickens
Our Senses explores the relationship between sense and perception, and the role our brain plays in decoding, prioritizing, and understanding sensory information. The galleries break down a complex topic into clear, hands-on examples that are fun and accessible to both children and adults.
Upon entering the exhibit, the first gallery is a room flooded with changing colored light. As the color shifts from green, to red, to blue, the artwork on the walls appears to change. Kids will "oooh" and "aah" at the changing menagerie of animals visible on the walls.
The next room is bare, except for wavy black and white lines painted on every surface. These lines trick our senses into disagreement, making walls and floors feel warped. Be warned, this room can feel a bit disorienting, but that's the point! Echoes of "woah!" and laughter were common reactions to this funhouse-esque experience.
RELATED: Restaurants for After Your Natural History Museum Visit in NYC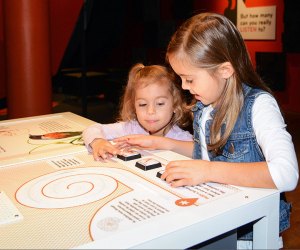 In the "Hearing" gallery, visitors push buttons to hear a sound and see where hair cells in the cochlea respond. Photo by R. Mickens
Everyone will likely enjoy the audio portion of the exhibit. Families are asked to zone in on specific sounds buried in a complex audio collage coming through enormous speakers. My toddler was captivated by the sensation of being surrounded by sound. His eyes widened as he asked me if it was it actually raining.
Children of all ages were visibly excited about the scent portion of the exhibit. A plate of brownies and chocolate cake sits surrounded by scent stations. Can you identify the different smells that make up the familiar scent of chocolate? Children excitedly scampered around the room calling to each other, "Come try this one!"
An engaging 15-minute presentation demonstrates the ways our senses have evolved to keep us safe from harm. We see how our senses combine to create our perception of the world. Visitors even get to see through the eyes of an eagle as it hunts from high in the sky.
RELATED: National Geographic's Ocean Odyssey Debuts with Permanent Sea-Themed Exhibit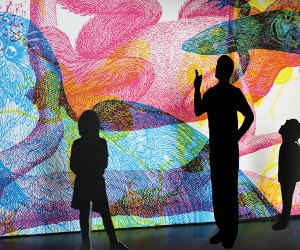 In the "Seeing" gallery, visitors will see how much a world bathed in white light differs from one illuminated by blue, green, or red.
The biggest hit with the younger set was the last room of the exhibit, and exploration of the ways we extend our senses using technology. In the middle of the room is an interactive, brightly lit display with flat, colored shapes. Visitors are encouraged to assemble the shapes into different formations, while a computer tries to guess what we are building. A house? A car? A butterfly? The program snaps a photo of each creation, and keeps them in a virtual gallery. The interactive nature of this room was irresistible, we practically had to drag our toddler out of this portion of the exhibit.
You really get your money's worth: Additional interactive stations include Listening, Senses and the Brain, Eye Tracking, Touch, and Shadow Play.
There is so much to take in as you walk through this exhibition. Parents should be aware that there are moments that may prove be a bit disorienting or overwhelming for a younger child. The museum gets crowded on weekends, so if you can make it on a weekday, I'd recommend it. Although many of the concepts involving perception are advanced and geared toward older children and adults, there are enough lights, colors, scents and sounds to keep children of any age engaged from start to finish! It's probably most engaging for kindergartners and up.
The exhibit requires a General Admission Plus One or General Admission Plus All ticket (about $28 for adults and $16.50 for children ages 2–12). It will remain open through NYC kids' school holiday break and the whole following year, closing after January 6, 2019.
Top rendering of in the "Balance" gallery lets visitors discover what happens when our senses disagree. All images courtesy of the museum.