SPONSORED
Morningside Heights is the Latest Hotspot for NYC Families to Live and Play
Morningside Heights, a homey Manhattan neighborhood steeped in history, is now one of the most desirable areas for families in NYC. Sandwiched between the Upper West Side and Harlem, and running from West 110th Street to West 125th Street, the neighborhood offers an abundance of green space, from the iconic Morningside and Riverside Parks, to the manicured lawns of Columbia and Barnard. Paired with the energy of the universities' students and the area's many family friendly-amenities, it's the perfect spot for both children and adults to live and play.
Adding to the appeal, stunning, classically New York prewar buildings like 30 Morningside Drive offer luxury living in sunny, spacious apartments with large windows, 11-foot ceilings, custom-designed furnishings by Restoration Hardware, and breathtaking park and city views. If amenities such as a 24-hour concierge, a gorgeous garden and roof deck, a gym with sauna, a motion studio, a pet spa, and a children's playroom are calling your name, you might want to consider Morningside Heights your new home.
Keep reading to find out what exactly makes Morningside Heights much more than just a "college town."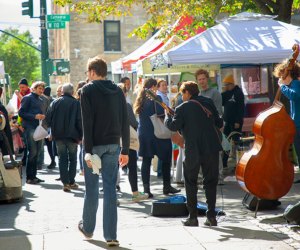 Best Things to Do in Morningside Heights
Perhaps the greatest thing about Morningside Heights is that it features two major, amenity-filled green spaces, Riverside Park and Morningside Park. for even more public greenery, families can roam the beautiful grounds of the Cathedral Church of St. John the Divine. You can enjoy the grassy lawns, landscaped Biblical Garden, massive Peace Fountain, and roaming live peacocks (yes, really). During the spring months, don't miss the chance to view the cherry blossom trees at Sakura Park. For a dose of history, take the kids to visit Grant's Tomb.
Home to Columbia University and its students, as well as college kids from the many other schools in the area, the neighborhood has earned itself the nickname "Academic Acropolis." The gorgeous Columbia University campus are open to the public and children will love running on the lawns, cycling on the paths, and climbing up and down all the steps.
Morningside Heights has no shortage of indoor options for family fun either. Enjoy the no-cost kids' programs at the state-of-the-art Morningside Heights Library, which hosts regular story times, play times, and movies. ACT Indoor Playstation offers an affordable, drop-in play option. HexNYC, a relative newcomer to the nabe, is a board game cafe offering educational programs for kids, as well as a solid espresso for adults.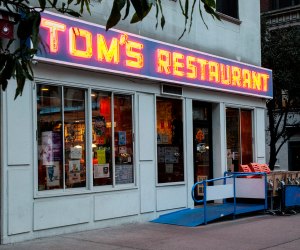 Best Family-Friendly Restaurants and Eats in Morningside Heights
There is plenty of family-friendly fare in the neighborhood. Broadway and Amsterdam Avenue overflow with cozy cafes and casual eateries, and during the warmer months, sidewalk-dining options are plentiful. Grab a burger and frozen custard at Shake Shack or slurp noodles at Naruto Ramen. Opt for classic, kid-approved diner fare at Tom's Restaurant and score an oversized cookie at Levain Bakery or authentic treats from Hungarian Pastry Shop. Absolute Bagels sells some of the best bagels in the city and Oren's Daily Roast makes a mean cup of coffee for tired parents..
Top Shopping Spots in Morningside Heights
This ever-evolving neighborhood has all of your shopping needs covered. Hit the year-round Columbia Greenmarket on Thursdays for fresh food directly from nearby farms or stop in at Westside Market for all the 24/7 staples. Grab a new pair of kicks at The Shoe Tree, a family-owned and operated children's shoe store. Fitting with the intellectual focus of the 'hood, there are two amazing bookstores Book Culture and Bank Street Books, each have wonderful children's book collections and offer free story times.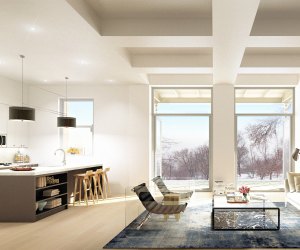 Luxury Living with Park Views
If this virtual neighborhood tour has you daydreaming about life uptown, imagine living in a luxurious yet family-friendly rental apartment in a stunning landmarked building. Designed by renowned architect Ernest Flagg and reimagined by CetraRuddy, 30 Morningside Drive occupies an entire city block front on Morningside Park, surrounded by its own landscaped gardens. It features four pavilion towers and a central carriage house complete with original finishes, wrought iron ornamentals, and a limestone façade.
Inspired by historic excellence and meticulously designed for modern life, amenities include a charming children's playroom, a 3,000-square-foot fitness center, breathtaking outdoor spaces, and a breathtaking two-story lounge featuring a library, catering kitchen, residents' bar and business center. Residences feature spacious floor plans with plenty of room for your whole crew to spread out, and family-friendly features like central heating and cooling, Nest smart thermostat, and Bosch washers and driers. Parents will also appreciate gorgeous details like the strip wood flooring, white quartz countertops, Italian-crafted lacquer wood cabinetry, and Herringbone pattern floor tile.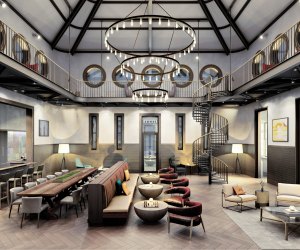 If you're ready to make the move to Morningside Heights, contact the 30 Morningside Drive sales team at (332) 877-5001 or email leasing@30morningsidedrive.com to set up a private showing. Special offers available.
Photos courtesy of 30 Morningside Drive