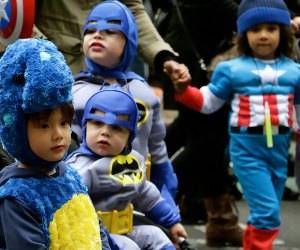 14 Not-So-Scary Halloween Events in NYC for the Preschool Set
With a little one who gets tired after one or two blocks of trick-or-treating, I find myself hunting for Halloween events that are more geared towards his age group. Luckily for us, NYC boasts plenty of less spooky, pre-bedtime events for the littlest ghouls and goblins.
With that in mind, we've put together a list of 14 Halloween events perfect for the preschool set, many of them FREE. Enjoy these gentle Halloween events while you can—your kids will be celebrating at the Village Halloween Parade before you know it.
Find even more festive happenings for all age groups in our Halloween guide (including kid-friendly costume parades around the city), and of course in our events calendar, which is continually updated with new, fun events as we find out about them.
Click through to our listings for all the details, including addresses and times. And sign up for our newsletters to get more posts like this delivered to your inbox.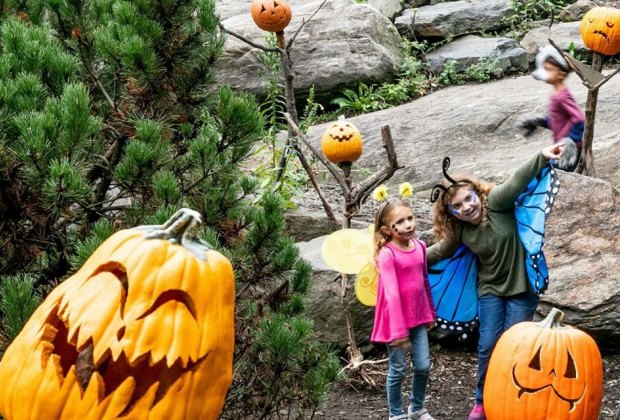 See some amazing pumpkins in the Spooky Garden at the New York Botanic Gardens, ​Photo courtesy of NYBG
Spooky Pumpkin Garden — Bronx Park, the Bronx
Saturday, September 21 through Thursday, October 31
While away a crisp fall day in the NYBG's Everett Children's Adventure Garden where festive fall photo ops abound. More than 100 oversized scarecrows decorate the space along with plenty of gourds and pumpkins. Weekends mean arts and crafts, plus pumpkin carving demos, and more fall-themed fun.
RELATED: Best Fall Events for NYC Preschoolers

Boo at the Zoo in the Bronx is the perfect way to enjoy the season with preschooler fun like daily costume parades and hay mazes.
Boo at the Zoo — Bronx Park, the Bronx
Weekends, September 28 through November 3
Head to the Bronx Zoo for its annual not-so-scary fright fest. Kids can make Halloween-inspired crafts, collect treats, watch pumpkin-carving demos, musical performances, magic shows, and enjoy storytime. Come in costume to participate in the twice-daily parades. See plenty of zoo animals, many of whom are given pumpkins full of treats to chow down on. Want more Boo at the Zoo fun? The Prospect Park Zoo also celebrates with smaller weekend events. Most Boo at the Zoo festivities are included in admission, which varies by location.
Harvest Festival — Upper East Side
Saturday, October 12
Head to Carl Schurz Park for a small pumpkin patch, hay rides, and a rocking dance party with Thunder and Sunshine. Rain date: Sunday, October 13. FREE
Harvest Homecoming Festival— Prospect Heights, Brooklyn
Sunday, October 20
Replacing the annual Ghouls and Gourds fest at the Brooklyn Botanic Garden, this event still features lots of festive fun including hay rides and lawn games. As in previous years, kids will have a chance to debut their Halloween costumes in a sweet children's parade winding through the Garden.
The Laurie Berkner Band's Monster Boogie Halloween Concert — Upper West Side
Saturday, October 26
Celebrate Halloween with bestselling children's recording artist Laurie Berkner and her band of crazy sidekicks. Parents and children alike are encouraged to attend in costume, with stuffed animals to boot—a nod to her hit, Pig on Her Head—and be ready to boogie. Dancing in the aisles is encouraged! Tickets start at $39, and are getting snapped up.
Bklyn Boo: Albee Square — Downtown Brooklyn
Saturday, October 26
This after-party following the Prospect Park Haunted Halloween Walk (which is geared towards older kids) is the perfect place to bring little trick-or-treaters. Dance to spooky tunes and enjoy face painting, nail art, and balloons. FREE
Halloween Celebration at AMNH — Upper West Side
Saturday, October 26
It's practically a rite of passage for Upper West Side tots to hit this big shindig at the American Museum of Natural History. There are crowds aplenty, but also tons of room to roam in the museum's vast halls. Preschoolers delight not only in the free treats, but also in the friendly costumed characters—think preschool pleasers such as Curious George and Clifford the Big Red Dog. There are live musical performances and plenty of arts and crafts to enjoy, too.
Halloween Parade and Party — Tribeca
Sunday, October 27
Washington Market Park's popular annual party kicks off with a costume parade from CitiGroup Plaza to the green space. Once inside, a dozen free activities await including penny-in-a-haystack, a bone dig in the sandbox, a hay circle on the lawn, and other classics. Strollers will not be allowed in the garden but a stroller check is available nearby at Duane and Greenwich streets. FREE
Children's Halloween Festival — Floral Park, Queens
Sunday, October 27
Head to the Queens County Farm Museum in your best costume for live music, hayrides, pony rides, and a seasonal petting zoo. While you're there, accompany your little ones through The Amazing Maize Maze and then grab a pumpkin at the Farm Store (depending on availability).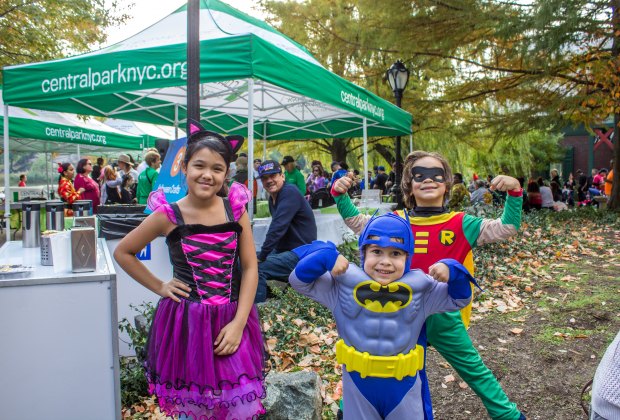 The magical Halloween Parade and Pumpkin Flotilla is the perfect way to ease your little one into Halloween. Photo courtesy of Central Park Conservancy
Halloween Parade and Pumpkin Flotilla — Harlem
Wednesday, October 30
Head to the Harlem Meer on the northern edge of Central Park for this annual favorite, with arts and crafts, pumpkin-carving demonstrations, and spooky stories read aloud. The event ends with a leisurely costume parade around the Meer, with treats to collect along the way. As the sun sets, illuminated jack-o-lanterns take to the water for a magical photo-op. You can even set yours a-sail, but visit our event listing for details on drop-off times and size restrictions. If you have any downtime, there's a spectacular playground nearby. FREE
RELATED: Free Costume Parades for NYC Kids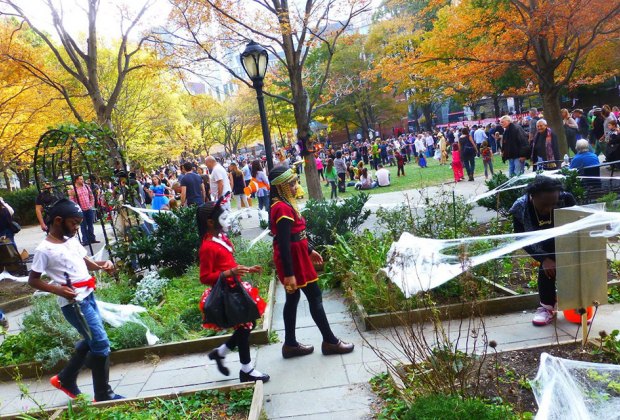 Washington Market Park's Halloween Parade and Party is an entire day of fun in the park.
Hippo Playground Halloween Parade — Upper West Side
Thursday, October 31
The Hippo Playground Halloween Parade draws tiny trick-or-treaters from miles around. Children line up at the Soldiers and Sailors Monument and parade into the playground for treats, games, and plenty of playtime before that sugar crash hits. This year, singer/songwriter Esther Crow will perform. While this one can be crowded and overwhelming, some kids revel in the excitement. FREE

The Children's Halloween Parade in Greenwich Village is much mellower than the other famed parade in this nabe. Photo courtesy of NYU
Children's Halloween Parade — Greenwich Village
Thursday, October 31
Before the big parade steps off, NYU and Community Board 2 sponsor this much more kid-friendly celebration in and around Washington Square Park. Children will parade around the park, pick up free goodie bags, and enjoy rides and games following the event. FREE
BAMboo! — Fort Greene, Brooklyn
Thursday, October 31
This annual fete from BAM has all the trappings of a preschooler party, from the bounce house to arts and crafts. Of course there's a too-cool kids' DJ, costume contest, and candy, too. The late-afternoon start time is just right for those with earlier bedtimes. Brooklyn families with toddlers and preschoolers can hit this outdoor party and call it a night. FREE
Inwood Pumpkin Pageant — Inwood
Friday, November 1
If you didn't stay out too late on the big holiday, consider a visit to Isham Park for this spectacular sight. Locals donate their carved pumpkins for the occasion and the results are breathtaking. The Park's paths are lined with lit jack-o-lanterns for an ultra-cool, unique community-centered event. Don't forget your camera for some cool photo ops. Kids get to vote for their favorite designs. FREE
Unless noted, photos courtesy of the events/venues
A version of this article was first published in 2016; it is updated yearly.