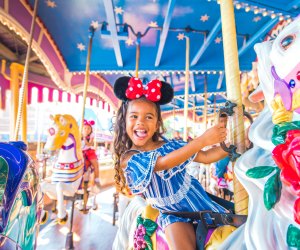 Mommy Poppins Launches in Orlando and Atlanta for the Holidays
We at Mommy Poppins get almost as excited about the holidays at this time of year as your kids do—in fact we're so excited that we want you to unwrap our two new Mommy Poppins city sites right now! Welcome to Mommy Poppins Orlando and Atlanta!
Our two new sites join our growing family of cities that includes Washington, DC, Chicago, Boston, Los Angeles, Philadelphia, and Houston, as well as NYC, Long Island, New Jersey, Westchester, and Connecticut.
Launching just in time for the holidays means families looking for vacation break fun in one of these great cities can find all sorts of holiday events and activities on our Atlanta and Orlando event calendars—or check out articles like 50 Things To Do in Orlando Other than the Theme Parks, 35 Fun Things To Do in Atlanta with Kids, and Orlando's Best Restaurants with Play Spaces. Our team of local parents is working hard to uncover all of the best opportunities for family fun this season and beyond!
If you have friends or family living in or visiting one of our cities, please let them know to check out our event calendars and holiday activity ideas. Local families can sign up for our weekly emails to get activity updates for every weekend.
Thank you for being part of the Mommy Poppins community, whether you are brand new or have been watching your kids grow along with our own for nearly thirteen years. Many of us on the team started tracking local family activities for you with our toddlers, who have mysteriously become teens; what hasn't changed is the joy we get knowing that other kids and parents are having more fun because we spread the word. And welcoming new parents with little ones in Atlanta and Orlando helps us spread the joy even farther!
Happy holidays and here's to more adventures together in the new year!