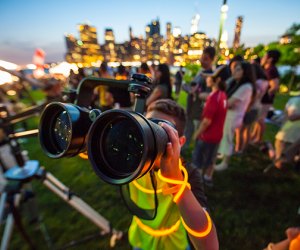 World Science Festival Expands in NYC with New Kid Events
The annual World Science Festival opens June 1 at venues across New York City. Now in its ninth year, the festival adds to its already engaging, kid-friendly lineup a new traveling, interactive mini-fest that debuts in the Bronx and will continue on to other boroughs later this spring.
The five-day multidisciplinary science celebration includes more than 50 events and culminates June 5 with one of our favorite FREE annual festivals for families, the Street Science fair at Washington Square Park.
The festival launches a new event and interactive exhibit, City of Science, this year. Debuting at Lehman College in the Bronx on May 7, this precursor to the main festival is FREE and indoors. Event organizers promise a "buzzing metropolis of science, technology, engineering and mathematical possibilities." This interactive show will visit each borough for a day; the next stop is the Street Science fair in Manhattan (details below) during the World Science Festival.
With the goal of making scientific discovery accessible and engaging to all audiences, many festival events are FREE; others require the purchase of an advance ticket. While the schedule isn't finalized yet, check out the website for information about this year's event.
Here are our picks for the best things to do with kids at the 2016 World Science Festival.
Science and Storytime — Greenwich Village
Kimmel Center at NYU, 60 Washington Square South
Saturday, June 4
1-4pm
FREE
Celebrated children's science book authors read from their work all afternoon. A selection of children's science books will be available for purchase and authors will sign copies.
Baking Chemists Apprentice — Gowanus
597 Sackett Street
Saturday, June 4
10am
Kids in fourth grade and up should bring an appetite and a love for science to Four & Twenty Blackbirds Bakery, where they will explore the science of baking.
Saturday Night Lights: Stargazing in Brooklyn Bridge Park — Brooklyn Heights
Pier 1 Brooklyn Bridge Park
Saturday, June 4
7pm
FREE
Stargaze through a high-powered telescope (or bring your own) and meet astronaut Anna Fisher at this event near Brooklyn Bridge. Expect an interactive light show, gravity-defying skateboard demo and a soccer-playing robot. Several world-renowned astronomers, physicists and scientists are expected to attend.
The Great Fish Count — Various locations
Saturday, June 4
Various afternoon times
FREE
Pull on waders and cast a net to see what's living in our city's waterways. At locations including Lemon Creek in Staten Island and Fort Washington Park, ecologists and biologists will help participants examine New York City's underwater world. Check the festival website for updates on times and locations.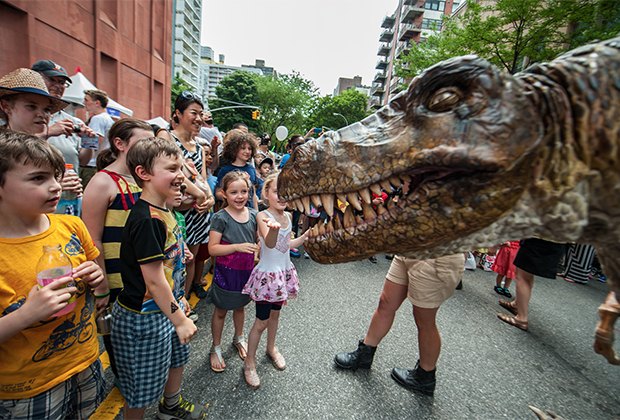 A T-rex at the Street Science FREE outdoor event spooks the kids, but only a little.
Street Science — Greenwich Village
Washington Square Park
Sunday, June 5
10am-6pm
FREE
This is the not-to-be-missed capstone event of the festival. Crowded? Sure. But it's also super fun and engaging for families. Along with hands-on science fun for kids, live shows and interactive demonstrations, this year's fair includes displays from the traveling exhibit City of Science. If you missed this new interactive exhibit at its Bronx debut, be sure to check it out at the fair.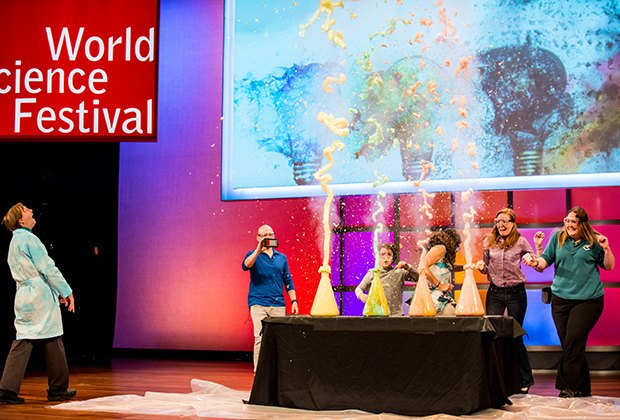 Give kids a taste of what their future might hold with the Cool Jobs event.
Cool Jobs — Greenwich Village
NYU Kimmel Center, 60 Washington Square South
Sunday, June 5
12-1pm
Hosted by science educator and performer Science Bob, Cool Jobs offers young enthusiasts a glimpse into exciting science careers.
Top image: Stargazing at Brooklyn Bridge Park with the World Science Festival. All photos courtesy of the festival.