The Very Hungry Caterpillar Show
DR2 Theatre

NYC Easter Brunch Cruise 2023
Event Cruises NYC

Easter Fun Cruise with Egg Hunt 2023
Event Cruises NYC
Sign up for our free newsletters.
Act Fast to Claim a FREE Tree From NYRP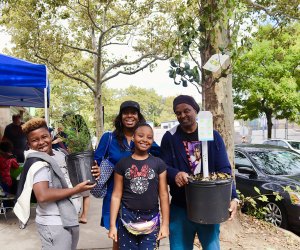 4/5/22
- By
Vanessa Leigh
Spring has sprung in NYC. The daffodils are blooming, and it's about time to soak in the beauty of the gorgeous cherry blossoms. It's also time to celebrate the return of the New York Restoration Project's (NYRP) popular FREE tree giveaway program. This year, 2,000 native species trees will be distributed to local NYC residents and the best part is, they're all FREE!
After a 2-year pandemic-induced pause, NYRP has reinstated its tree giveaway program and is distributing FREE trees across all five NYC boroughs. Read on for details on these green giveaways and learn how to complete the required registration to get your own arbor. Find more ideas for a greener planet in our new Earth Kids Guide.
Subscribe to our newsletters to get stories like this delivered directly to your inbox.
The FREE tree giveaway dates range from Saturday, April 16-Saturday, May 21, depending on the location, and anyone who wants one of these FREE trees must register on the website for a location in the Bronx, Brooklyn, Manhattan, Queens, or Staten Island.
Once you're on the registration page, you'll be able to choose which species of tree you want to take home. This year, FREE tree options include black cherry, black gum, Eastern red cedar, hackberry, hornbeam, persimmon, redbud, river birch, serviceberry, swamp white oak, and sweetbay magnolia, though not all species are available at every location. The online registration form shows how many of each type are left, so we recommend signing up ASAP for the best selection.
RELATED: 12 Recycled Crafts for Kids to Celebrate Earth Day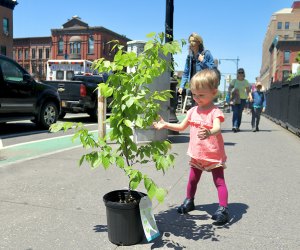 NYRP's free tree giveaway program benefits New Yorkers of all ages by providing a greener landscape city-wide.
NYRP asks for information regarding where the tree will be planted (e.g., in the back or front yard of a house, at a community center, in a private garden, etc.), so make sure you have the exact address on hand. If you're planning to plant your tree in a community garden, there are very specific rules and guidelines provided on the website for NYC Parks properties and GreenThumb gardens, so be sure to read carefully and adhere to the agreements on the form.
Once you've got your tree, brush up on care tips with NYRP's Tree Care Guide.
The tree giveaway program is but one of NYRP's contributions to building a greener city. Founded by actress Bette Midler in 1995, the organization works to renovate gardens, restore parks, and educate citizens to help transform the city's green spaces and open more public green spaces for community use. Among its achievements, NYRP was integral in the success of former Mayor Michael Bloomberg's plan to plant 1 million trees across the city and now helps care for and maintain the trees planted as part of the program.
Photos courtesy of NYRP